Dear Class of 2020 and Families,
This Friday, May 22nd, Administration, Faculty, Coaches, and Staff adhering to appropriate social distancing guidelines will spread across the circular driveway in front of the main entrance to the school to honor and salute you. We will be distributing to you in advance of your Graduation Mass, your graduation gown, tassel, State diploma and jacket (not Farrell diploma), and one of your Alumni Farrell Apparel gifts. Once back home, we would love for you to take pictures with these items possibly during Mass, and
email them
to us so that we can continue to celebrate you on social media and through our website.
For your safety and convenience, we will also be giving you the remaining contents of your locker, minus state textbooks. We ask at this same time, that you please return, in a bag with your name clearly printed on it, any of your state textbooks that you might have in your possession. Please note that your language textbooks are yours and do not need to be returned.
Please note the schedule for this Friday:
11 am -12 pm / Abbruzzese - D'Angelo
12 pm -1 pm / Decaro - Justiniano
1 pm - 2 pm / Kaferi - Palazzo
2 pm - 3 pm / Pampinella - Zuntag
All cars must enter the circular driveway heading northbound on Amboy Road towards Tysens Lane, making a right into the circular driveway.
After the greeting and exchange, all cars exiting must make a right onto Amboy Road headed towards Tysens Lane.
Please consider making a non-perishable food donation to benefit The Project Hospitality Food Pantry. In accordance with social distancing, no one will be permitted to get out of their cars. We will greet you, and pass your items over to you through the car window and accept any bagged and labeled with your name, state Textbooks as well as any non-perishable food donations boxed or bagged separately. We ask that all of the occupants of your car to be wearing face masks when you pull up. One car per student. It is preferable that our Faithful Men are seated on the passenger side. Any senior who does not have access to a car, please
let us know
.
We ask for your cooperation, please.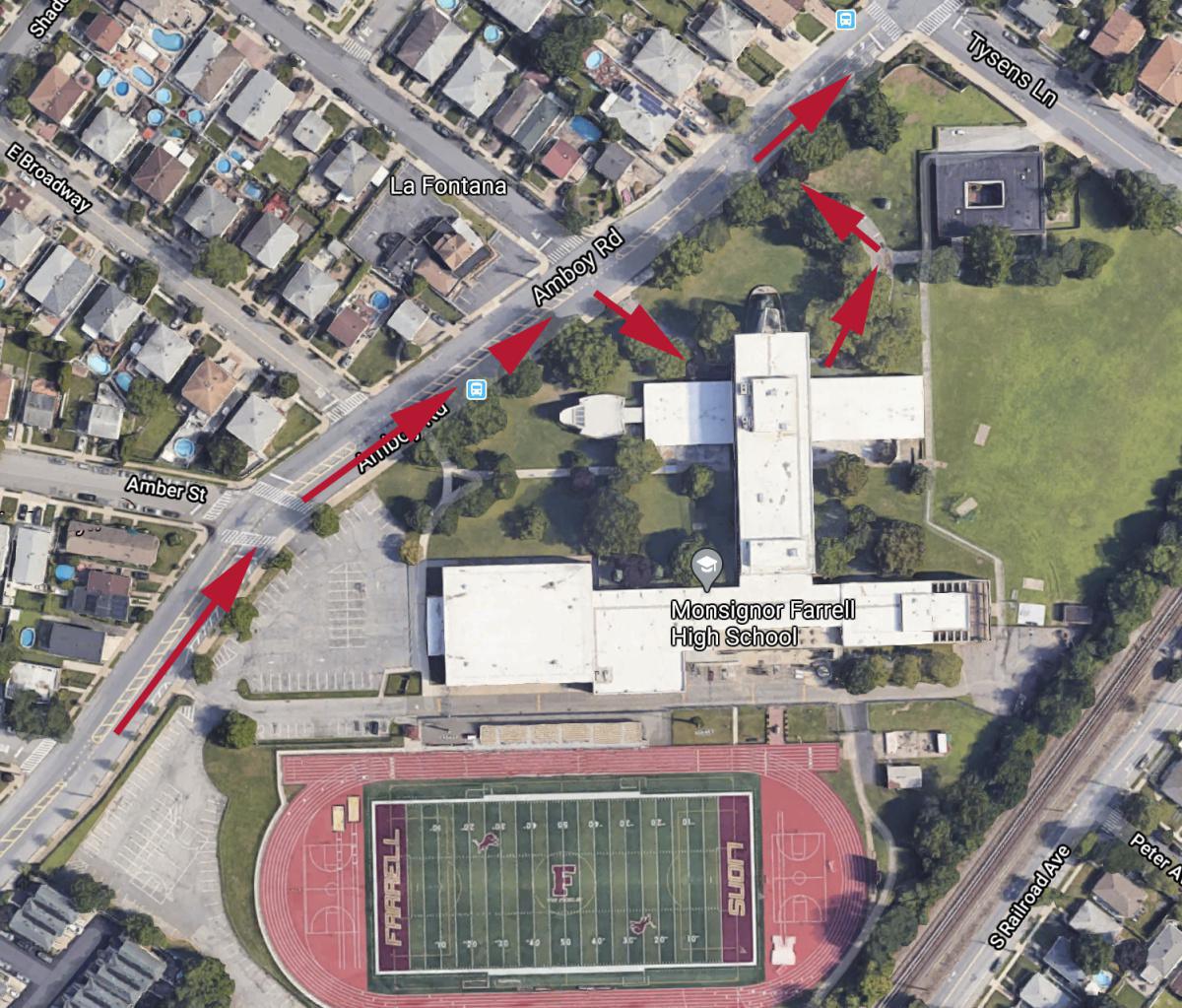 Virtual Prom
As you know, all catering venues across the state, including The Hilton Garden Inn, have been closed, with no certain insight as to when they can reopen. In the meantime, we are grateful to Monsignor Farrell Alum, Anthony Gerardi '94, of Partners in Sound Productions for his thoughtful gesture and donation of a Virtual Prom for you and your guest.
This live interactive event is scheduled to take place this Wednesday, May 20th from 8 pm to 10 pm. via
Twitch.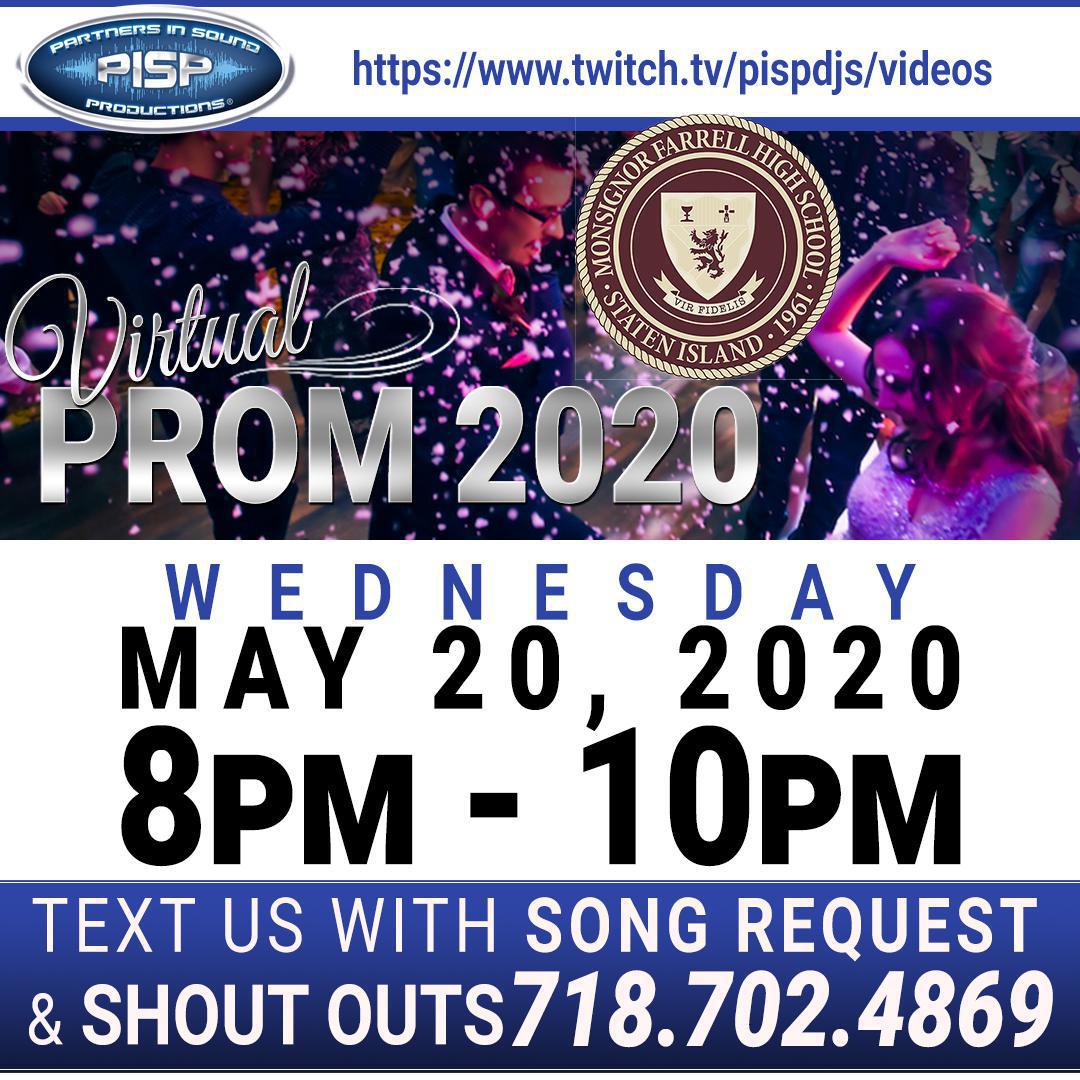 Graduation Mass - YouTube Live
Your Graduation Mass this Saturday, May 23rd at 4 pm is being celebrated by Bishop Whalen '76. Please access the Monsignor Farrell YouTube Channel. It is recommended that you subscribe to the channel in advance. After the Mass is live-streamed it will also be posted to the channel to be viewed at other times. You will all be individually recognized and a special pictorial and video montage will be played.
To date, the Yearbook is still being created and has not been sent to print. The embroidered custom Senior gift has been ordered. We will update you on these, as it progresses.
Please respect that these plans are final as is. It is quite obvious to all that we are not in an ideal situation. However, we all must continue as best we can, to make the best of these unprecedented circumstances. Let's continue to be positive role models for our children, showing them that strength and perseverance are the order for the day. We have tried our best to accommodate as much as we can, while still being socially responsible and adhering to regulations that have been placed upon us. We hope that these plans can give you and your family some comfort and enjoyment in these truly trying times.
Again, should anything drastically change in the near future and if we are permitted to assemble in large groups, we will accommodate an in-person Graduation Ceremony sooner. If not, we look forward to joining with you on Saturday, November 28th, at 10 am in the gymnasium.
We are very proud of you and you all remain in our thoughts and prayers daily.
Best regards,​
Louis R. Tobacco '90
President & CEO
Monsignor Farrell High School
Lawrence V. Musanti
Principal
Monsignor Farrell High School
Daniel T. Fisher
Assistant Principal for Academics
Monsignor Farrell High School