Denino's Comes to Farrell!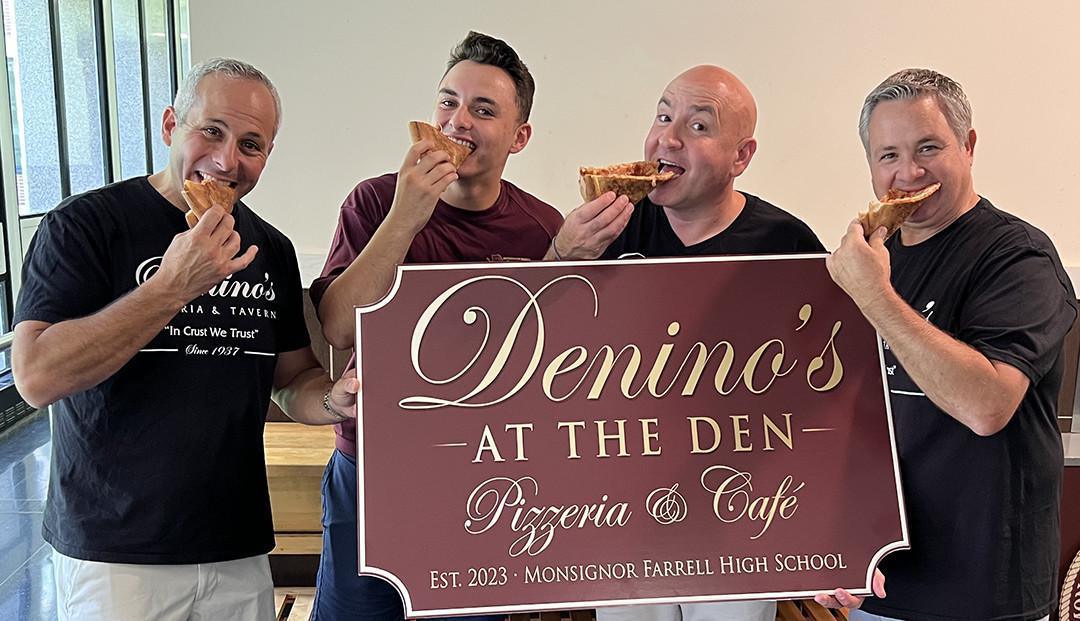 Mike Burke '92, Michael Burke '21, Lou Tobacco '90, and Dan Vaccaro '85 sample the pizza​
Fresh off of the announcement of Denino's opening its Thousand Oaks, California franchise location, co-owner Mike Burke '92 and Monsignor Farrell President Lou Tobacco '90 have announced the creation of Denino's at the Den.​
---
The famed Staten Island pizzeria and restaurant will take over the in-school food service at Monsignor Farrell High School starting in September. "We are excited to welcome Denino's to Monsignor Farrell and to welcome Mike Burke '92 and Dan Vaccaro '85 back home to their alma mater," said Farrell's President, Lou Tobacco '90.
Denino's History
In 1887 at the age of two, John Denino immigrated to America from Sicily with his family. In 1923, Denino opened a confectionery store on the corner of Port Richmond Avenue and Hooker Place in the Port Richmond section of Staten Island which he then converted into a tavern in 1937.
Following Denino's death in 1951, his son Carlo took over the business and began serving pizza in the tavern. The rest is Staten Island pizza history. "Denino's became a household name on Staten Island and beyond," said Mike Burke, Carlo's stepson and current co-owner of Denino's. In 2000, after the sudden passing of Carlo Denino, Burke began to manage the business along with his mother, Palma (Carlo's wife), and his sister Carla. "We continue to follow in Carlo's footsteps, honoring his tradition of serving authentic NY Style Pizza," Burke said. "We prepare our own dough, sauce, and handmade cheese, all made fresh daily."
In addition to their original 86-year-old location at 524 Port Richmond Ave., (officially renamed Carlo Denino's Way in 2003), Burke and his family have expanded the pizza empire. Denino's now has restaurants in Greenwich Village, Manhattan, Brick, NJ, and their newest location in Thousand Oaks, California, with plans to open at least 20 more Denino's franchises in the future.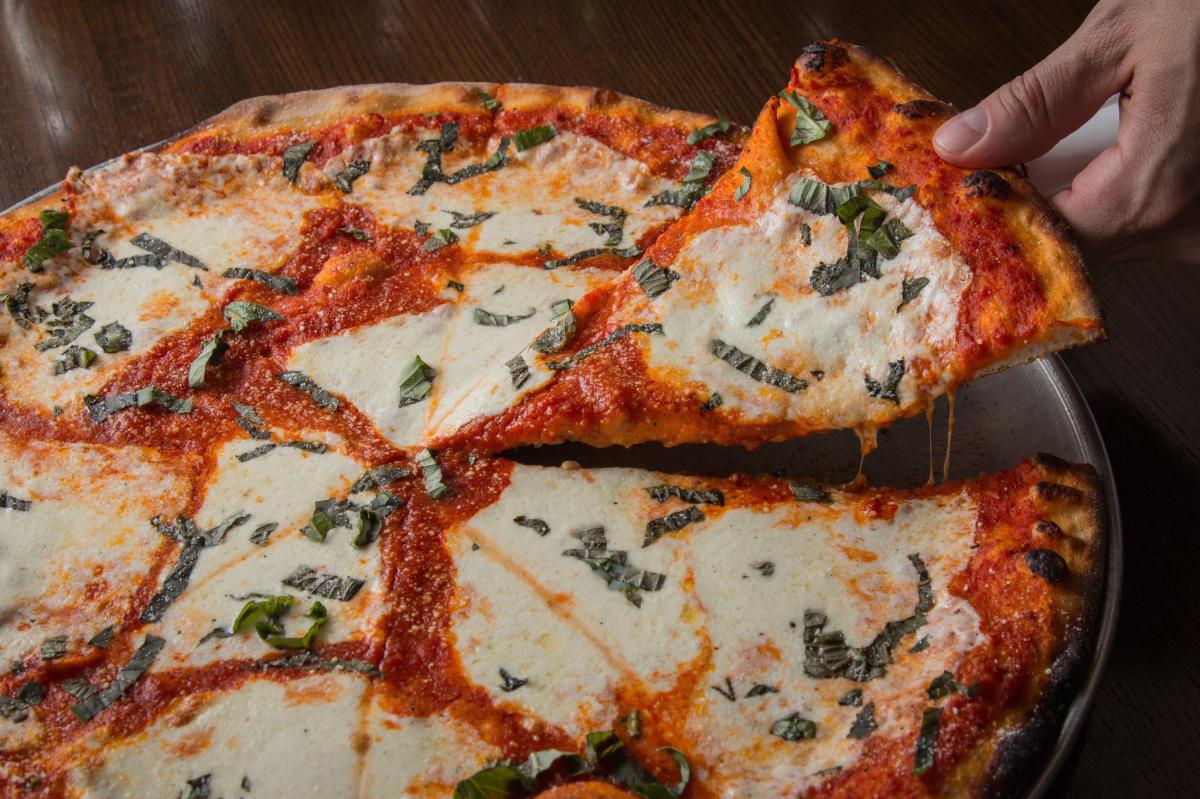 Denino's pizza (courtesy of Denino's): Denino's famous NY-style pizza features homemade dough, sauce, and handmade cheese - all made fresh daily.
Denino's at the Den
Burke, a 1992 graduate of Monsignor Farrell, and member of the school's prestigious alumni hall of fame, will take over Monsignor Farrell's in-school food service from fellow alumnus and Staten Island restaurateur Ed Canlon (Class of 1980), chef and owner of Canlon's Restaurant. Canlon's Farrell Cafe provided breakfast and lunch service at the Oakwood school since 2020.
"The entire Monsignor Farrell Family is grateful for the tireless dedication, passion, and service that both Chef Eddie and Jeannie Canlon have given to our Faithful Men, faculty, coaches, staff, and families," said Tobacco.
"They were instrumental in helping us navigate the uncharted rough waters of the COVID-19 pandemic," Tobacco noted. "We sincerely appreciate their sacrifice and loyalty during those unprecedented times."
The Canlons made the difficult decision to close Canlon's Farrell Cafe when school ended in June. "Happily, post-COVID, Canlon's Restaurant is once again thriving and the Canlons need to focus on its continued success," explained Tobacco. Monsignor Farrell will continue its close relationship with Canlon's through catered events.
In addition to their famous pizza, Denino's at the Den will be serving a full breakfast and lunch menu during school days. "No pizza for breakfast!" joked Tobacco when asked about the menu. "Our Faithful Men will have to wait until lunch to get a taste of the famous pizza," he added.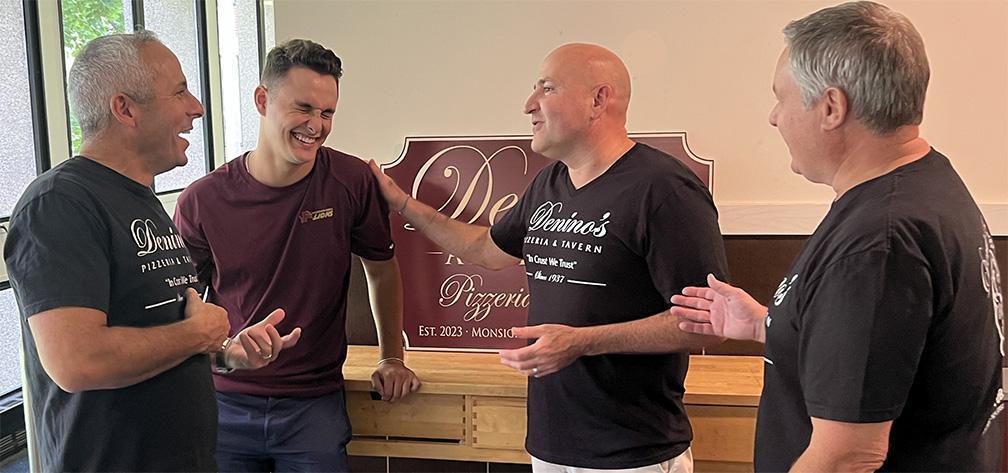 Mike Burke '92, Michael Burke '21, Lou Tobacco '90, and Dan Vaccaro '85 share a laugh in the cafeteria - the future home of Denino's at the Den.
While the pizza will certainly have a starring role, Burke has developed a menu that will also offer healthy dining options, including fresh salads and fruits, as well as daily and seasonal specials. "It is going to be challenging," admitted Burke, as Denino's at the Den will be responsible for preparing thousands of meals for the student body, as well as faculty and staff during a regular school week. "It's also going to be fun," he added.
"Denino's is exactly 360 steps from my front door," noted Larry Musanti, Monsignor Farrell's Principal, whose family has been eating at Denino's for 45 years. "I'm very happy for Mike and I'm looking forward to Denino's at the Den," he added. "I know it will be a great success."
See You in September
Upgrades to Monsignor Farrell's kitchen and cafeteria are currently underway. "We are in the process of installing a new pizza oven and getting the kitchen ready for September," Burke explained. Denino's at the Den is scheduled to be up and running for the first full day of school.
"The renovations that have been made to the building since I started as a freshman have been incredible," said Dominick Angelone, who will begin his senior year at Farrell in September. "I was excited to return to Farrell in September, now I'm really excited!" he admitted.
"I can't wait!" exclaimed Joseph Sorrentino, also a senior at Monsignor Farrell. "My friends and I love Denino's. We can't believe they are coming to Farrell," he added.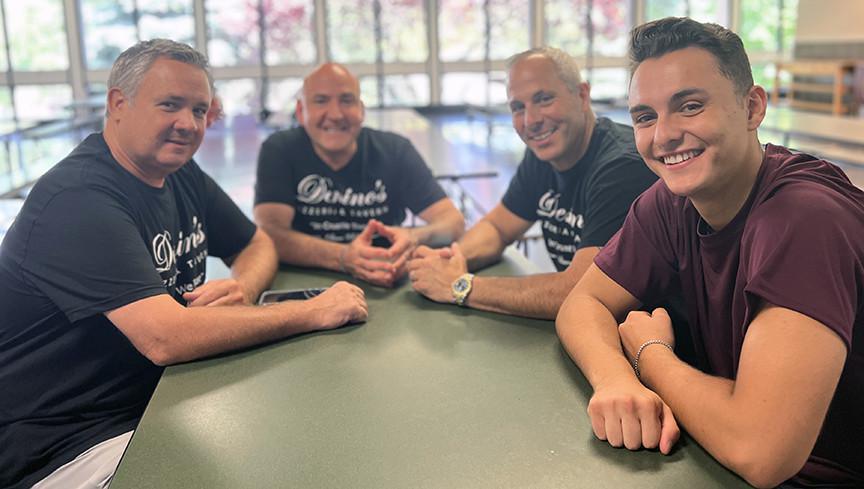 Dan Vaccaro '85, Lou Tobacco '90, Mike Burke '92, and Michael Burke '21
A Farrell-Family Affair
Although Burke will oversee Denino's at the Den, he has entrusted day-to-day operations to fellow alumnus Dan Vaccaro '85, who will serve as Burke's right hand.
"Mike and I are looking forward to being back at Farrell and taking care of our younger Farrell brothers," Vaccaro explained.
In addition to being alumni, Burke and Vaccaro are also parents of recent Monsignor Farrell graduates. Mike's son, Michael, is a member of the Class of 2021 and is a junior at the College of Charleston. "We are excited to give our Farrell brothers a helping hand," said Michael, who has been making Denino's famous pizza since he was 13 years old.
Dan's oldest son Danny, a member of Farrell's Class of 2019, recently graduated from Villanova University and is a junior broker with Tullett Prebon, part of TP ICAP group, one of the world's leading interdealer brokers. His younger son Mathew, Class of 2022, is currently a sophomore at the University of South Carolina.
Michael and Danny both plan on helping out at Denino's at the Den when they are home during college breaks. "We have a few special menu ideas," the younger Burke hinted. "I think the guys are going to like them."
"Monsignor Farrell has always been a big part of our lives," noted the elder Vaccaro. "We are proud alumni, proud Farrell dads, and we are proud to be back to serve the Monsignor Farrell community. We can't wait to get started."
Vir Fidelis!
---
*Complete details about Denino's at the Den will be sent to all current Monsignor Farrell parents and students before the start of school.
Please do not contact Denino's Restaurant with questions about Denino's at the Den.