Construction is Underway!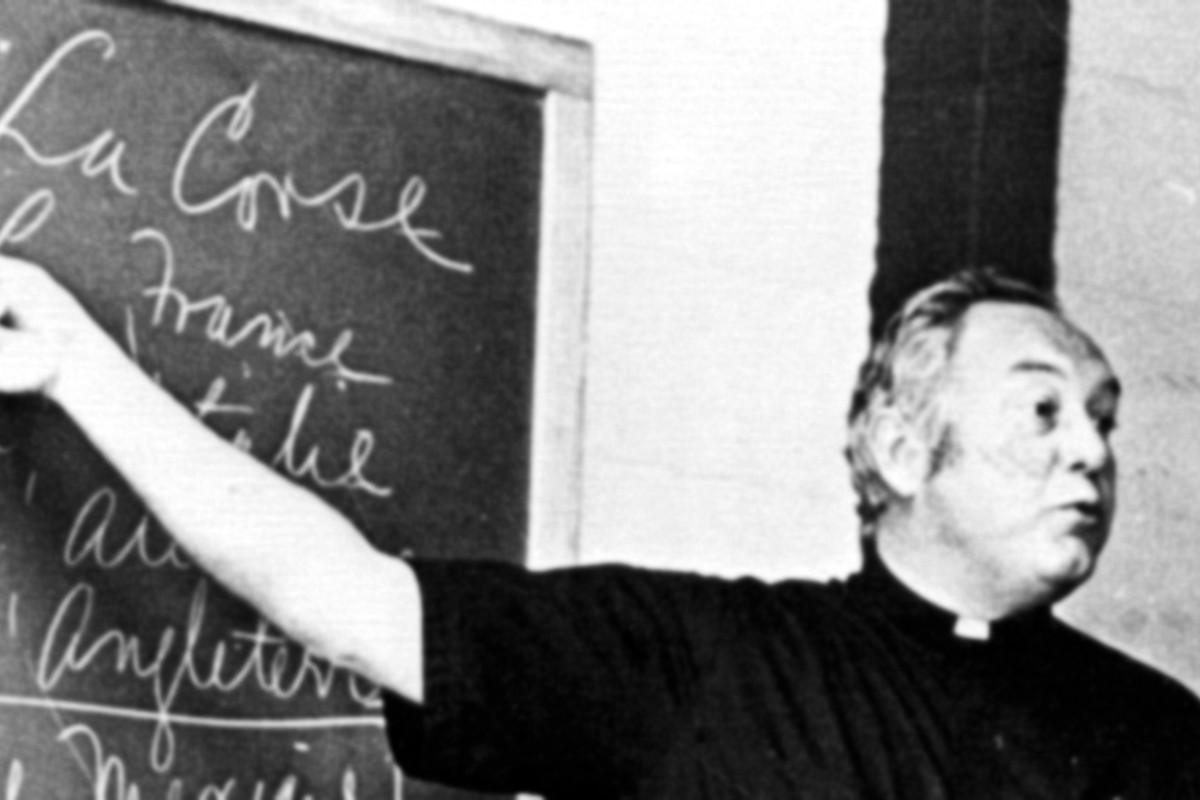 The Project
---
Following the announcement of Farrell's new governance structure with Lou Tobacco as Farrell's new president & CEO and Mr. Larry Musanti as principal, two generous donors (who wish to remain anonymous), have pledged that they will match donations dollar-for-dollar, up to $150k, towards the construction of the new Brother Henry S. Wright Learning Commons.
---
"The Brother Henry S. Wright Learning Commons will be a state-of-the-art environment that will be conducive to our young men learning in the way that they need to for the 21st century." - Louis R. Tobacco '90, President & CEO - Monsignor Farrell High School
Past-Principal Bishop Edmund Whalen '76 was the inspiration behind the initiative to renovate the library into a state of the art, multi-purpose learning center to better prepare students for college. Before he was called upon by the Cardinal to serve the broader Archdiocese, then-Monsignor Whalen was focused on modernizing and improving the facility at Farrell in a way that not only provided students with an environment where they would want to spend time, but an educationally functional environment that prepared them intellectually and socially for the challenges that lay ahead.
"At Farrell, we have been blessed with educators and men of faith who have dedicated their lives to preparing young men to be strong leaders in their communities. Bishop Whalen embodies that type of educator and man of faith, and even he has been inspired by others who have come before him, like Brother Wright." - John Cusick '88, Director of Institutional Advancement & Development
A Dedicated Educator
---
Brother Wright joined the Farrell faculty in 1974 and dedicated over 43 years of service to the students of Farrell, serving more than 60 years as a Christian Brother. For more than four decades, Brother Wright joyfully worked for the education of the young men at Farrell, teaching French and Latin. Brother passed away on Sunday, October 29, 2017.
"Brother Harry Wright has had an immeasurable impact on 43 years of graduates from Monsignor Farrell. He was a humble man who, by his excellence and dedication as a teacher and coach, served as the perfect example of what it means to be a Christian Brother." - Bishop Edmund J. Whalen '76
Monsignor Thomas Bergin, who served as Farrell Principal from 1983 - 1992, and who has been the Chairman of the Board of Trustees since 2009, shared Bishop Whalen's sentiments. "I can think of no better improvement to Farrell and no better person to dedicate it to than Brother Harry Wright," he said.
Groundbreaking
---
Bishop Whalen's vision to create The Commons in memory of Brother Wright was bolstered by a leadership donation by alumnus and Farrell board member Steve Macri '78. Steve's donation allowed the vision to become a reality. ​​
From Steve Macri
---
"From the very beginning, the Holy Spirit joined our family home to Farrell's campus and leaders. In 1959, my mom and dad could barely meet the monthly bills after buying their home on Tysens Lane. They became founding parishioners at St. Charles and met two young parish priests—Rev. Msgr. Tom Bergin and Rev. Bob Gannon. Those future Farrell leaders encouraged my folks to choose Catholic education for their sons. Shortly thereafter, just up the block from the family home, the neighborhood watched in wonder during the construction of the Farrell campus and my folks set a path for their sons.
Mom and dad had the courage and faith to sacrifice their own needs for the intellectual and spiritual development of their sons. Mom passed away the year before I entered Farrell and the year prior to my brother's graduation. After a lifetime of service to his family, his country and his city, dad joined her in eternal life last September.
After dad's funeral Mass, when Msgr. Ed Whalen shared his vision for a college-style seminar center, the Holy Spirit provided us with a way to bring mom and dad "home" to Farrell. Theresa and I believe that it is the best way to memorialize them because it ensures that their greatest gift—a Catholic education of the highest quality—will be available for hard-working families who seek a better life for their sons."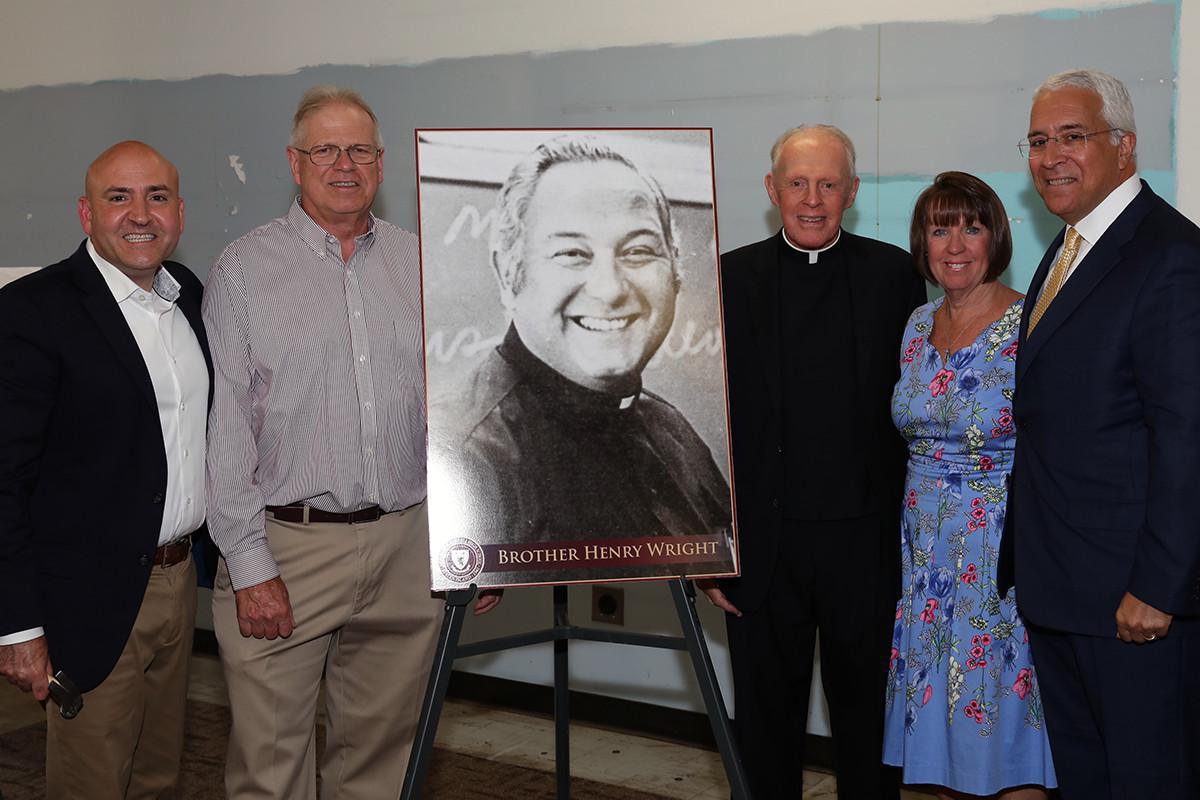 Lou Tobacco, Larry Musanti, Monsignor Thomas Bergin and Theresa and Steve Macri at the Brother Henry S. Wright Learning Commons Groundbreaking ceremony.
​
The Design and Build
---
"To ensure that we deliver to the students the learning center that Bishop Whalen envisioned, we have worked with professionals at the college level in library management and technology, and we have enlisted the help of an accomplished architect," John Cusick explained. Principal Larry Musanti added, "The input we have received from local colleges and universities on how best to develop the space will allow us to provide our students the resources they need to excel at Farrell and beyond."
The Board of Trustees fielded several design proposals and selected architect David Businelli, Class of 1983, and his firm, Studio16 Architecture, to head the project.
"I am truly blessed to return to Monsignor Farrell High School for the second time, the first time being when my firm designed the weight room and wrestling addition, said Dave. "I am looking forward to working with the entire team on this project."
The Commons will include computer work stations, research areas, teleconference rooms, as well as a multi-function space. "It will be a comfortable environment for our students to learn in with the ability to host a myriad of student activities and conferences," explained Lou.
"The objective of the project is to provide a forward-looking, state of the art high school learning commons that will provide the latest in technology and have a modern design that is of its time, yet will be timeless like the rest of the building," explained David.
Monsignor Bergin, who began teaching at Farrell in the 1960s, has seen many changes at Farrell during his time as teacher, principal, and now as chairman of the board of trustees. "In all my time at Farrell, the thing that never changed has been the library," said Monsignor. "The time is well overdue for an upgrade."
"When complete, the new facility will be a student attraction magnet. It will have the latest in technology fully integrated into the design, will use space to maximum efficiency, will have the latest in lighting that will be conducive to study, and will have the most forward-looking design of any high school library in the Tri-State area." - David Businelli '83
---
"Since the announcement of our new governance structure, so many alumni have reached out and asked how they can help," said Farrell President & CEO Lou Tobacco '90. "The best way to help right now is to join us in building this incredible facility in memory of a great man, a great Christian Brother, and a great teacher. Together, we can do great things!"
If you prefer to give a gift by check, please print the donation form. For additional information, or to discuss additional ways to make a gift, please contact John Cusick 718-987-2900 ext. 265.
Gifts to Monsignor Farrell High School and The Vir Fidelis Fund are tax-deductible to the extent allowed by law.
---