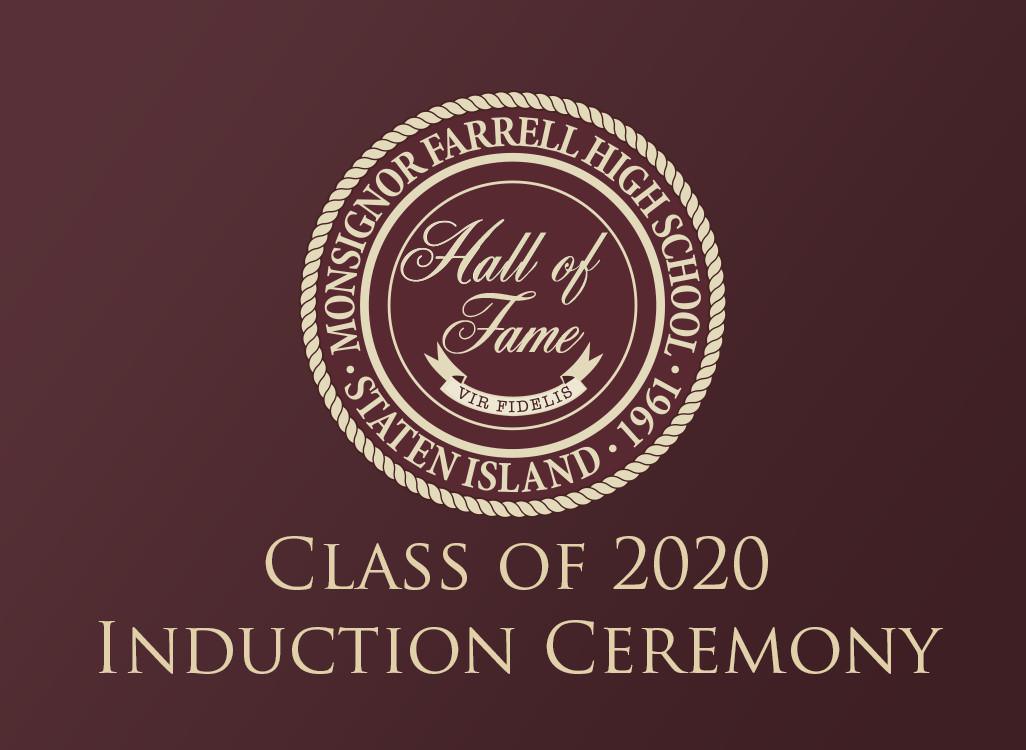 Class of 2020
The 2020 Class of the Monsignor Farrell Alumni Hall of Fame was officially inducted on Thursday, November 4th. Click below to watch the ceremony on-demand.
Henry "Hank" Wohltjen, Class of 1968
Mario Gallucci, Class of 1982
Peter Gabos, Class of 1983
Michael Burke, Class of 1992
The Class of 2020
The 2020 Class of the Monsignor Farrell Alumni Hall of Fame will be officially inducted on Thursday, November 4. As a true "Alumni" Hall of Fame, the selection committee is comprised of thirteen alumni representing six separate decades of perspective, each placing emphasis on the qualities of the Faithful Man that resonate with them the most. To be inducted, each inductee needed to receive a minimum of nine votes from the thirteen-member selection committee*. The leadership of the school does not determine who is inducted, but instead, the decision is made by the inductees' Farrell brothers who give their time and careful consideration to each application, all supporting documents, and letters of recommendation.
This year's four inductees, like those inducted before them, have in varied ways, embodied the key tenants of the Monsignor Farrell mission as they have made the most of their God-given talents and have lived a life for others. Their career achievements, philanthropy, and extraordinary support of Monsignor Farrell High School that were outlined by their nominating groups shone through to their alumni brothers on the selection committee.
The level of generosity and kindness that has been shown by the Hall of Fame Class of 2020 to the Monsignor Farrell community and to their local communities, has been remarkable. Some have selflessly given their time and talents to communities who needed them, others gave of themselves in multiple ways for many years to support and advance their alma mater. Beyond their individual personal successes, it was their living a life for others that truly stood out.
Please join us on November 4 at 6:30 in the Monsignor Farrell gymnasium to congratulate the four members of the Monsignor Farrell Alumni Hall of Fame Class of 2020.
*If you would like to submit your name for consideration as a Hall of Fame Selection Committee Member, please contact the Chairman of the Hall of Fame Selection Committee, Jack Oehm '76: jack.oehm@gmail.com.
Nominations for the Class of 2021 are open through December 31, 2021.

Hank Wohltjen began his professional career by returning to his high school alma mater as a chemistry teacher. After earning his Ph.D. in physical chemistry, he became an integral member of IBM research, exploring the roots of molecular electronics. He moved on to original research at the Naval Research Lab, culminating in his discovery of the microsensor. Currently, Dr. Wohltjen is the Chief Technical Officer for ENMET LLC, a leading provider of creative gas detection solutions. The primary focus of Hank's work for the past forty-five years has been on the reliable detection of trace-level toxic chemicals in the air in environmental monitoring, industrial hygiene, and national security applications. Products developed from his discoveries are used to keep this country and other countries safe from chemical attacks, as well as provide safe environments within hospital settings. Dr. Wohltjen is a published scientist, has issued two dozen patents, and is an author of two books.
Within his community in Kentucky, Hank has shared his time and considerable knowledge advancing education for the youth of Bowling Green. But as a Faithful Man, his support of the students of Monsignor Farrell High School spans decades and has never waned. In recent years, Hank stepped forward as a leading supporter of the Strengthen the Legacy capital campaign to provide the young men of Monsignor Farrell High School the best in Catholic education.
Those closest to Hank describe him as a "renaissance man who has applied wisdom, love for humanity, and passion for discovery at a level admired by many" which aligns with the core tenants of being a Farrell Man and exemplifying "Vir Fidelis".

Mario Gallucci truly understands the meaning of "Vir Fidelis" and has faithfully given of himself to his alma mater personally, professionally, and financially for more than two decades. After graduating from Monsignor Farrell, Mario pursued his passion for studying history, government, and law at SUNY Brockport and then Vermont Law School. To Mario, the study of law is a passion that he wanted to ensure Monsignor Farrell students had the opportunity to experience, and after establishing himself as an attorney, he came back to his alma mater on a volunteer basis and taught a law class. Mario's energy and presence in the classroom inspired many Monsignor Farrell students in the early 2000s to pursue their own law careers.
After graduating from law school, Mario gained valuable trial experience as an Assistant District Attorney in the Richmond County District Attorney's Office. From there, Mario moved into private practice, eventually establishing The Gallucci Law Firm, and he has earned a reputation as a remarkable trial lawyer and top defense attorney. Mario has been appointed to the National Association of Trial Lawyers top 100 ten years in a row, was named Litigator of the Year by the Association of Trial Lawyers in 2019, and has been named the Association of Trial Lawyers Best of the Best for the last seven years.
While Mario has made the most of his God-given talents establishing himself at the top of his field, he has also demonstrated another tenant of the Monsignor Farrell mission by living a life for others. Along with teaching at Monsignor Farrell, Mario has also supported and sponsored numerous Monsignor Farrell fundraising and engagement events, and in 2016, Mario and his brother John, Class of 1985 and Hall of Fame Class of 2010, started the Gallucci Brothers' Scholarship which pays full tuition for a rising senior who best embodies "Vir Fidelis". Outside of the Farrell community, Mario has lived his life for others through his dedicated support of charitable causes, serving homeless children as a board member of The Covenant House, and working with Team Walker, an organization aimed at improving the quality of life for children in under-resourced areas of Jersey City. Mario also has dedicated his time and energy to numerous other organizations focused on a range of issues including juvenile diabetes and breast cancer awareness. Through his charitable work within his community, and his selfless support of the students of Monsignor Farrell High School, Mario has demonstrated what it means to be a Vir Fidelis.

Dr. Peter Gabos, through his life-calling, demonstrates the highest qualities of the Vir Fidelis. As a preeminent pediatric orthopedic surgeon specializing in complex spinal disorders and severe scoliosis, he embodies what it means to be a faithful man who has made the most of his God-given talents and who lives a life for others. Dr. Gabos is a remarkably talented surgeon with a remarkably kind heart, who has chosen the path of dedicating his career to a non-profit that embodies his own mission to improve the lives and alleviate the suffering of children with the most disabling childhood conditions, regardless of financial status.
After graduating from Monsignor Farrell High School, Peter Gabos earned his Bachelor of Science degree from Fairfield University, majoring in biology and chemistry, and proceeded to earn his medical degree from New York University. Dr. Gabos has spent his career with the Nemours Children's Health Center, a non-profit established by the DuPont family. He is currently Co-Director of the Spine and Scoliosis Center at Nemours, a core member of the Chest Wall and Spinal Deformity Study Group, and a guest lecturer and author of numerous peer-reviewed articles, editorials, and reviews. Dr. Gabos takes on the most severe cases from around the world, often involving children with severe musculoskeletal deformities that have been previously operated on unsuccessfully by other surgeons and are deemed too complex to resolve, or that no other surgeon is willing to accept. Dr. Gabos pioneered a surgical approach to thoracic insufficiency syndrome (TIS), a severe congenital spinal and rib abnormality that otherwise results in suffocation, that only a handful of surgeons in the world are qualified to perform.
Beyond extraordinary talent as a surgeon, it is his bedside manner and compassionate nature that the children he treats, and their families, can feel the moment that they meet him. Since many families had been turned away or disappointed by discouraging news by the time they meet Dr. Gabos, many patients speak of his gentle demeanor and empathy that gives them hope. Dr. Gabos's compassion reaches well beyond the borders of his home state, as he established a state-of-the-art surgical suite in the impoverished country of Belize to treat children with severe spinal deformities. He travels there multiple times a year on his own time to treat otherwise inoperable children and to train local surgeons in advanced surgical techniques.
In using his talents to care for some of God's most vulnerable children, Dr. Peter Gabos has spread the message of living a life for others far from the campus of Monsignor Farrell High School.

A Vir Fidelis does the right thing simply because it is the right thing to do. The generosity of Michael Burke has been felt across the Farrell community, and even more broadly across Staten Island, but anyone outside of the families impacted by his kindness will rarely know anything about it. Mike has spent his life working hard and making the most of his talents, and in true Vir Fidelis form, he has used those talents to better the lives of those who cross his path.
Mike Burke began his business career as a teenager at Denino's Pizzeria working his way up from dishwasher to food prep, to eventually running the business. The success of Denino's is well-known among Staten Islanders, but beyond running a successful business, Mike has leveraged his success to help those who need support getting through tough times. After graduating from Monsignor Farrell, Mike went on to study business and marketing at Wagner College. His desire to help those in times of hardship led Mike to the Fire Department of New York (FDNY) in 1999. After a decade with the Fire Department, Michael dedicated himself to becoming an outstanding business owner as he led an iconic Staten Island establishment, Denino's Pizzeria and Tavern, through an expansion of the business to multiple communities in New Jersey and New York City.
Despite his tremendous skill and success in managing and growing a business, Michael's true passion is helping others, and he serves the Staten Island community through his work with several local charities. Michael is currently a Co-Chairman of the Board of Directors of the Kids Benefitting Kids Foundation. Through Michael's efforts, the Foundation has raised over eleven million dollars in support of St Jude's Children's Hospital. He also sits on the Board of Directors for the ECHO (Emergency Children's Help Organization) Foundation which provides financial assistance to children and families who are experiencing a challenging medical or living emergency. Michael also dedicates his time and energy to a number of other charitable organizations and causes including The Stephen Stiller Tunnel to Towers Foundation, Meals on Wheels, and Project Hospitality's Dine Out Against Hunger. During Hurricane Sandy, a time of tremendous hardship for many Staten Islanders, Mike Burke was there with a few of his Farrell brothers ready to take action through a relief and support organization they founded called "Staten Strong". Stories would be told of how, after long days of helping people find shelter and safety, Mike would make his rounds with a mountain of pizza boxes, providing food to people who not only did know where they were going to live but didn't know where or how they were going to cook their family dinner that night.
Michael's support of his local community is vast and well recognized, but what Mike Burke does quietly for the students and families of the Monsignor Farrell community truly embodies what it means to be a Faithful Man. Mike has never forgotten the importance of Farrell in his life, and when he becomes aware of a situation where he can ensure the same opportunities for others, he never hesitates to help. In the words of Monsignor Farrell Principal Larry Musanti: "You will not find a record of most of Mike's generosity to the school in the official alumni donation database, he never did it for the recognition." It is well known within the walls of Monsignor Farrell that if there is a family that is facing hardship and Mike Burke hears about it, he will always do what he can to not only find a way for the family to stay at Farrell, but he will do it in a way that maintains dignity and pride for the family. Michael Burke helps those in a time when they need help simply because it is the right thing to do.