Class of '89 Alumnus Returns Home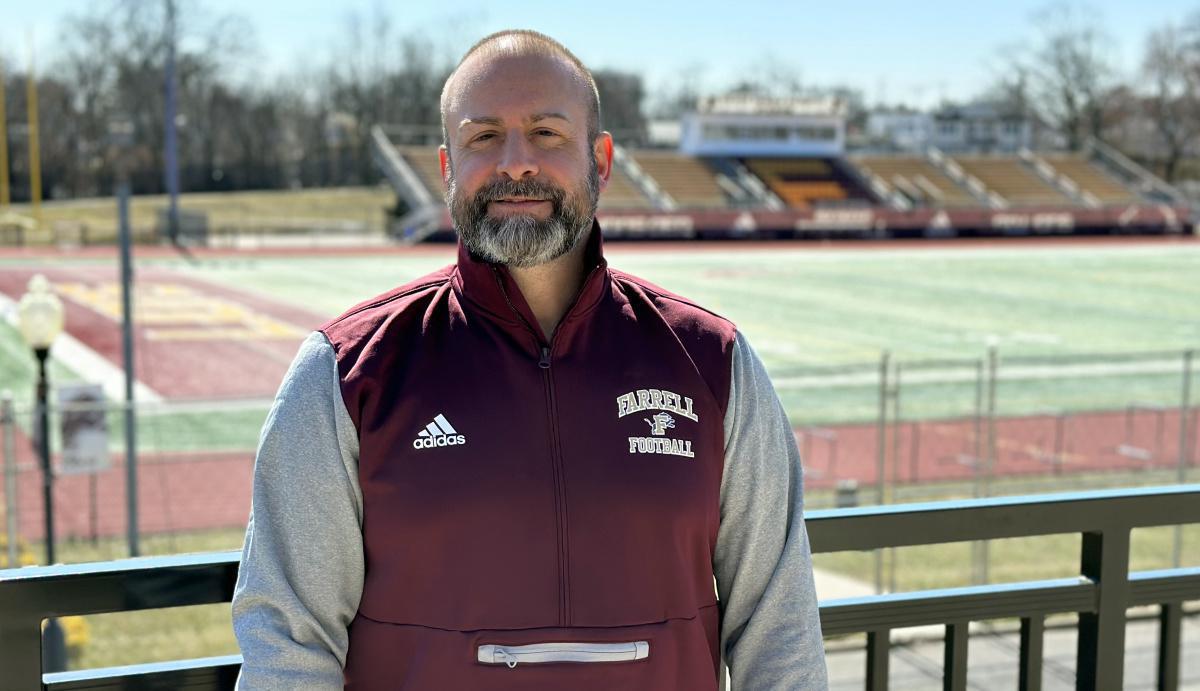 Alumnus Joe Mariconda, Class of 1989, has been named offensive coordinator for the varsity football team and will also serve as the Lions' assistant head coach.

"We are excited to welcome Joe home to Monsignor Farrell to rejoin our storied football program. Not only is Joe an exceptional football coach, but he is an even better person who will be a wonderful role model for our Faithful Men." - Lou Tobacco '90, President

Joe, a quarterback while a student at Farrell, helped lead the Lions to the CHSFL AAA city championship game in 1988. After graduating in 1989, he earned his bachelor's degree from St. John's University and his master's degree from Rutgers University, both in math education. He also holds an administration certificate from The College of Staten Island and is currently an assistant principal at the Paulo Intermediate School, IS 75, a position he has held since 2013.
Widely regarded as one of the best high school offensive coordinators in the region, Joe began his coaching career in 1994 as an assistant coach at New Dorp High School. His first job as an offensive coordinator came in 1996 at St. Joseph by the Sea. The following year, Joe became the offensive coordinator at Tottenville High School and helped lead the Pirates to their first PSAL championship in school history.
Joe during his 1988 varsity season. Staten Island Advance photo.
In 1998, Joe returned to his alma mater under legendary coach Ben Sarullo where he helped lead the Lions to three consecutive CHSFL AAA championship games ('98, '99, '00), winning back-to-back city championships in 1999 and 2000.
Joe then returned to Tottenville High School in 2002 as offensive coordinator and helped the Pirates win their second PSAL championship in 2003. Following the 2007 season, Joe took a break from coaching for health and family reasons. He was able to return to coaching in 2013 when he resumed his role as Tottenville's offensive coordinator and guided the Pirates to the PSAL championship game. He was named assistant head coach in 2016 while continuing to serve as offensive coordinator, once again helping the Pirates reach the PSAL championship game in 2019.
"We're so happy to welcome Joe back home to Farrell," said Monsignor Farrell's Principal Larry Musanti. Musanti, now in his 53rd year at Monsignor Farrell (4th year as Monsignor Farrell's Principal), remembers Joe as a bright student and a good athlete.
"Joe's reputation as an innovative football coach and outstanding educator assures us that he will positively influence his younger Farrell brothers," - Larry Musanti, Principal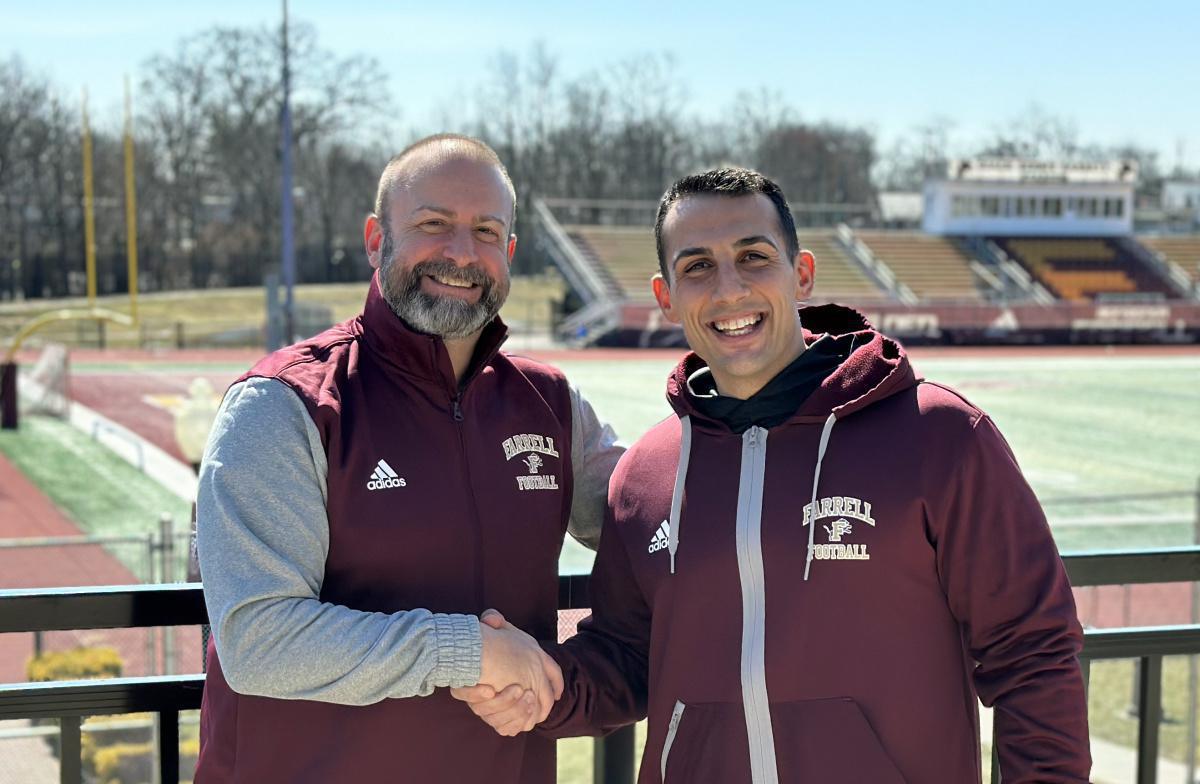 Joe Mariconda shakes hands with Farrell's head football coach Rocco DelPriore

Rocco DelPriore, Farrell's second-year head football coach, echoed the administration's sentiments. "We are thrilled that Joe has come back home to coach," said the 2005 Farrell graduate. "His insights, expertise, and 30-plus years of coaching experience will help our program immensely. He is a proven winner, including in the CHSFL's premier AAA division in which we compete," coach DelPriore added.
Joe was officially introduced to the football team on Friday, March 17th after meeting with the administration and staff. "The team went crazy when we introduced Joe," said coach DelPriore.

"I haven't been back to campus in a while and I am absolutely blown away by what the leadership team has done here. The facilities, programs, and campus are truly first-class." - Joe Mariconda

Joe returns to Farrell after nearly two decades at Tottenville. "I've always wanted to return to Farrell," he noted. "Fortunately, the opportunity presented itself and I'm at a point in my life where I was able to make the move," Joe said. "I'll always be grateful for my nearly 20 years at Tottenville, where I had the pleasure of working with a number of great coaches and student-athletes," he added. Joe also had high praise for Tottenville's head football coach Brian Neville. "I would like to personally thank Brian for everything that he has done for me over the years. I will always value our close friendship and wish him and the program nothing but the best."
Farrell's Director of Athletics Tony Garofalo, Joe's teammate at Farrell in the 1980s, is also excited by his friend's return. "Joe has deep roots with the Farrell football program, as both a former standout quarterback and assistant coach," said Tony, who served as Farrell's head football coach for several seasons before stepping down in 2022. The two Farrell alumni also served as assistant coaches together on Ben Sarullo's staff in the late 90s and early 2000s. "Joe coaches with great detail and teaches the game as well as anyone I know," Tony noted. "He is the perfect complement to our program and I am very excited for this generation of Farrell's student-athletes to be coached by him."
Joe Mariconda shares a laugh with his Farrell classmate Tony Garofalo, Director of Athletics at Monsignor Farrell.​
After meeting the team, Joe plans on sitting down with his staff to teach his offensive philosophy before introducing it to the players. "Classroom instruction will be a big part of my approach heading into spring football practices," noted the seasoned coach and educator. "I'm looking forward to building on the success of our program and providing our Faithful Men with the best high school football experience possible, as it was provided to me when I played here."
The Lions will once again compete in the top division of the Catholic High School Football League. They open the 2023 season on the road at Bishop Hendricken (Rhode Island) on September 2. "I'm grateful to Lou (Tobacco), Larry (Musanti), Tony (Garofalo), and Rocco (DelPriore) for this opportunity. I can't wait to get started - go Lions!"
​