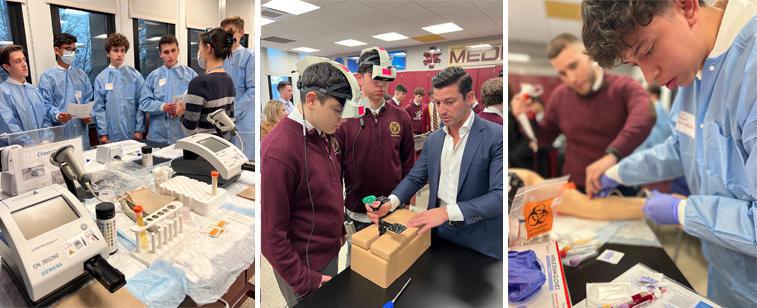 The Medical Education Development Institute at Monsignor Farrell High School presents students with the opportunity to complete volunteer hours at Staten Island University Hospital - Northwell Health which will qualify students to shadow in different departments of the hospital and participate in simulation labs and an "ER to the Classroom" experience.
The unique collaboration with Staten Island University Hospital also brings prestigious physicians, administrators, and other medical personnel of the hospital to Monsignor Farrell where they conduct lectures, educational seminars, and "hands-on" demonstrations.
"The MEDI program has afforded me and my classmates an incredible opportunity to learn from physicians and other medical professionals that we would not have experienced anywhere else." Sean Nieprzeck '23
Through these events, students have an opportunity to learn about a variety of careers in the field of medicine and how to prepare for those fields. Membership to the Institute is open to students of all grade levels, however maintaining membership is contingent upon academic and extracurricular excellence, interest and dedication to the program, and a commitment to partaking in Institute events.


Alumnus Dr. Joseph Basile serves as the Alumni Medical Director of the MEDI program. After graduating from Monsignor Farrell in 2002, Dr. Basile earned his undergraduate degree from Georgetown University and his MD from New York Medical College. He completed his residency at SUNY Downstate/Kings County Hospital. He also holds an MBA from Wagner College.
"Farrell has always been part of my life and still is. Some of the best times of my life were at Monsignor Farrell. I got more out of Farrell than I gave. I am happy to be able to give back through the MEDI program." - Dr. Joseph Basile '02
He is board certified in emergency medicine by the American Board of Emergency Medicine and is the Chairman of the Department of Emergency Medicine at Staten Island University Hospital - Northwell Health.
Dr. Basile is also an Assistant Professor at the Donald and Barbara Zucker School of Medicine at Hofstra University/Northwell.
In 2021 Northwell Health Physician Partners awarded Dr. Basile the Truly Rising Star Award.
He returns to Monsignor Farrell regularly to lecture as part of the MEDI program.

Unique Program Offerings:
MEDI is a unique program that provides Monsignor Farrell students with the opportunity to explore the complexity of the medical field.
"One of the reasons that I chose to attend Monsignor Farrell was the number of academic societies that are available to students, such as MEDI." - James Drew '25
ER to the Classroom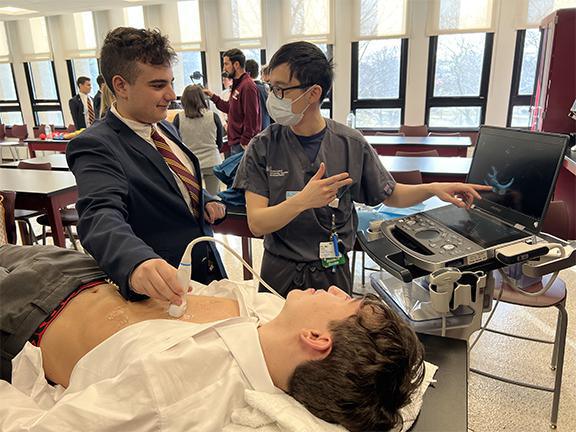 James Papandrea performs an ultrasound during a MEDI event.
SIUH-Northwell Health physicians and staff regularly visit Monsignor Farrell High School to lecture and demonstrate medical procedures and interventions. Students were able to "perform" procedures including ultrasounds and inserting a central line into a patient. Dr. Mitchell Weinberg, Chairman of Cardiology at SIUH/Northwell, recently visited Monsignor Farrell to discuss cardiac care and treatment.
American College of Surgeons STOP THE BLEED© Course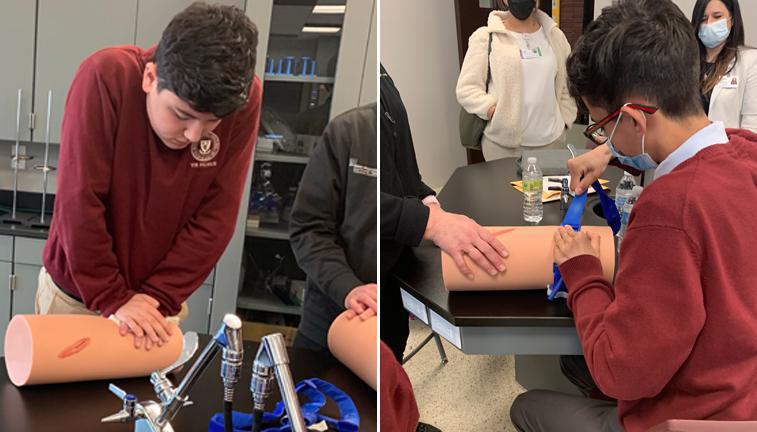 Students learn bleeding control techniques and how to apply a tourniquet in a clinical and non-clinical settings.
Northwell Health Spark! Challenge
Students visited Staten Island University Hospital North where they received information about the variety of clinical and non-clinical jobs within a hospital.
Students were able to observe a cataract removal procedure and were given behind-the-scenes access to several wings of the hospital including the sterilization lab, the radiology lab, and the rehabilitation center (physical and occupational therapy).

Northwell Health Career Development Certificate Program
Students attended virtual information sessions regarding the foundations of the hospital, perspectives from different careers, and the mindset associated with those careers. Students also interacted live with professionals from various disciplines, where they were given further insight into a variety of professions inside and outside of the hospital setting.
Numerous prominent Staten Island University Hospital Northwell Health Physicians have contributed to the MEDI program and work directly with our students.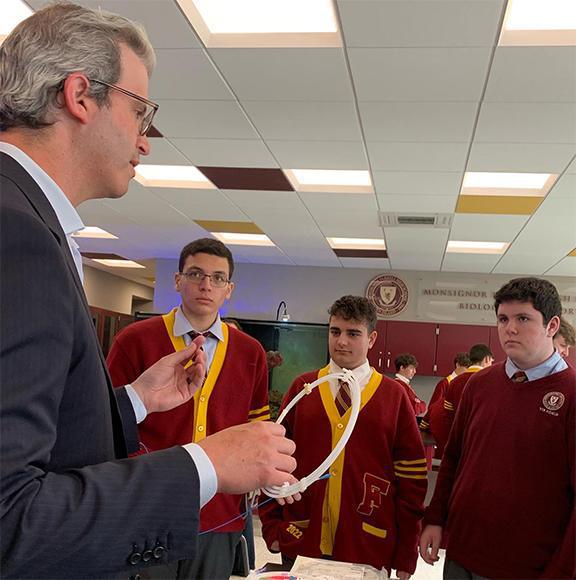 Dr. Mitchell Weinberg, Chairman of Cardiology at SIUH Northwell with MEDI students during his visit to Monsignor Farrell.

Health Sciences Elective
Students interested in taking their experiences in the MEDI program are welcome to take a senior elective course in Health Sciences, designed to give students foundational knowledge needed for careers in the health sciences professions.
Subjects such as Anatomy & Physiology and Hospital Administration are covered in this course.