Faculty Spotlight Q&A with Mr. Williams
Mr. Williams is a faculty member of the History and Social Studies department. He is currently in his ninth year at Farrell, having had two previous stints at Farrell before departing on a tour of the Middle East as part of the U.S. Military each time.
Mr. Williams took a break from his busy schedule to sit and talk with The Lion about his careers in teaching and the military. We appreciate Mr. Williams for his time and thank him for his service to our country.

What do you do here at Farrell?
I teach Global history for freshmen and U.S. history for juniors. I have a homeroom and I'm the founder of the Archeology Society, which I created and started last February.
What are some of your hobbies?
I like to travel, go to museums, and read. I'm a big fan of history, so it all helps with teaching. I do love history in general. I also enjoy going to music festivals and concerts. I went to see Pearl Jam and a lot of other bands at the Sea.Hear.Now Festival in New Jersey in 2021.
I love spending time with my family, but that's not a hobby for me. I'm a family man.
If you could teach any other subject, what would it be?
Besides teaching Global and U.S., I would like to teach Archeology and Military History. If not a history subject, I'd like to teach ELA and literature.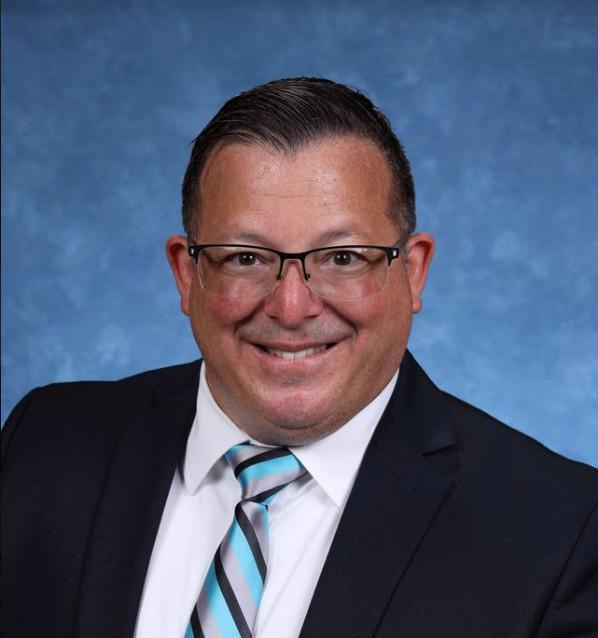 Mr. Williams currently teaches Global 9 and U.S. History 11. He is in his ninth year at Farrell.

What is your favorite part about being a teacher?
My favorite part about teaching is helping set up students for success and getting students into subjects, even if they might not enjoy it. I want to find something in the subject that they may like. I also enjoy teaching skills for life in general. Teaching is just a fun job.
What are some cons that come with teaching?
Some cons are that there are distractions like fire drills and lockdowns, although they are necessary with things that may not involve the subject. They are still important. This, as well as things outside of the school and the job that may affect their life, such as COVID, impacting their time and learning in the classroom.
I also drive from New Jersey every day, and the commute is rough.
Can you talk about some of your experiences being in the military?
I graduated from Poly Prep in 1984 and attended West Point, the U.S. Military Academy, from 1984-1988. I was an infantry officer and served overseas. I served in Germany toward the end of the Cold War and was in Germany when the Berlin Wall fell. I came home in 1992 and then deployed to Somalia in 1993.
I joined Farrell in 1998 and stayed until 2003. I actually taught Mr. Fisher, '05, when he was a sophomore. I was a mobilized reservist after 9/11; I had my first tour of Iraq from 2003 to 2004, when I was a Captain. After I got home from my first Iraq tour, I returned to Farrell.
Then I was deployed again from 2008 to 2009 as a Major before retiring in 2017 as a Lieutenant Colonel.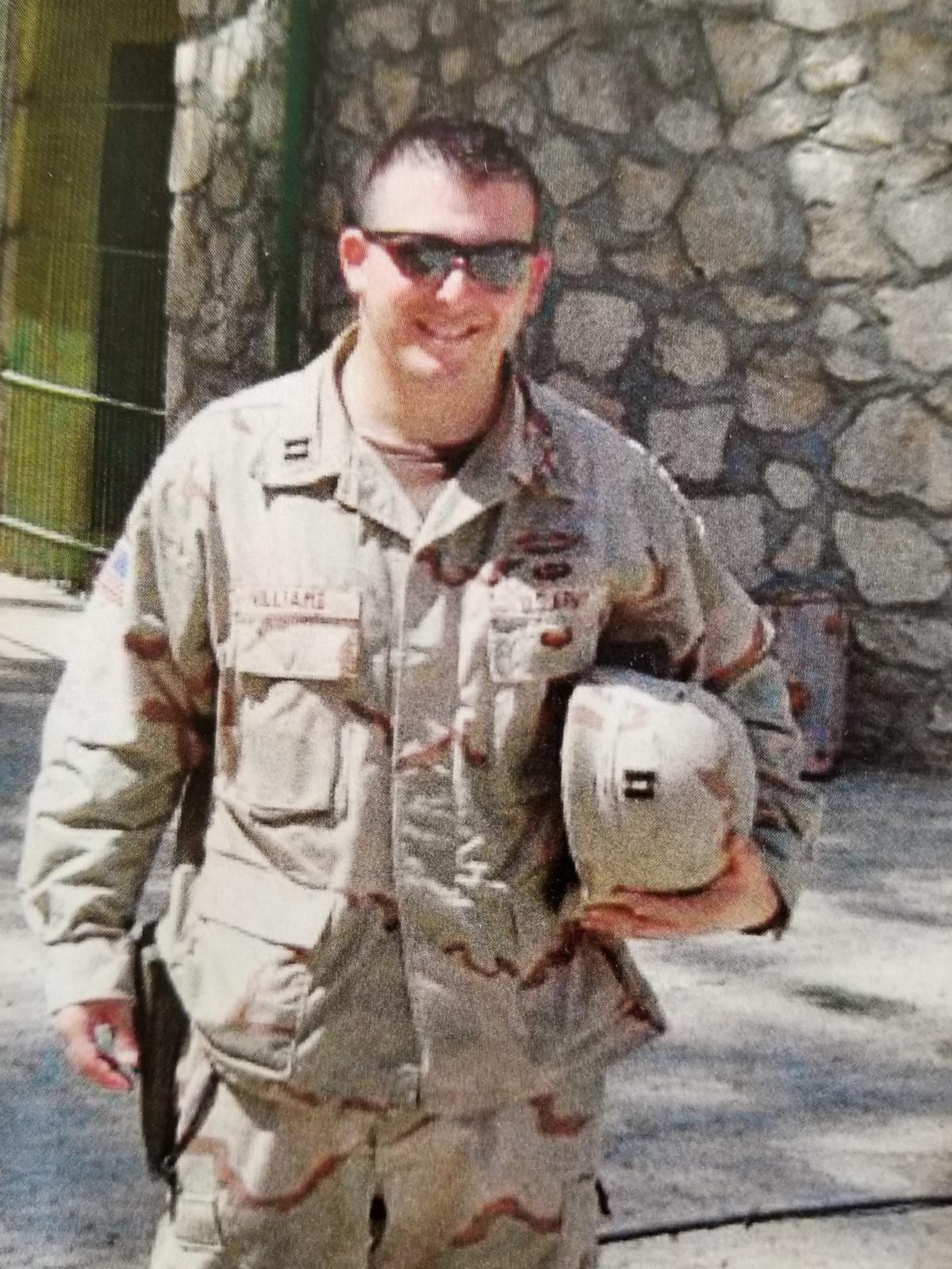 Mr. Williams was deployed twice to Iraq, in 2003-04 and 2008-09 (Photo courtesy of Mr. Williams).
What are some of your most memorable experiences with your overseas tours?
Some of the more memorable things included seeing parts of the world I never thought I'd be able to see -- the places I'd teach about and was teaching about. In Germany, I enjoyed being able to travel and see places in Europe during free time. I got to go to Babylon, Baghdad and other parts of the Middle East. I wasn't a history teacher then, but being one now makes me really appreciate being there when the Berlin Wall came down.
As a history teacher, it was also great to have been to Panama as a cadet for training, before the U.S. relinquished control of the canal and after while I was on active duty, to see change.
What advice would you have for someone thinking about going into service?
First of all, you shouldn't let anyone talk you into it; you have to be the one who wants to do it. You need to realize what you're getting into. You have to be physically, mentally, and spiritually fit. It's not an easy job. You need to be peak performance ability, and academics are important in today's military as well.
Also keep in mind how far away you may be from the ones you love.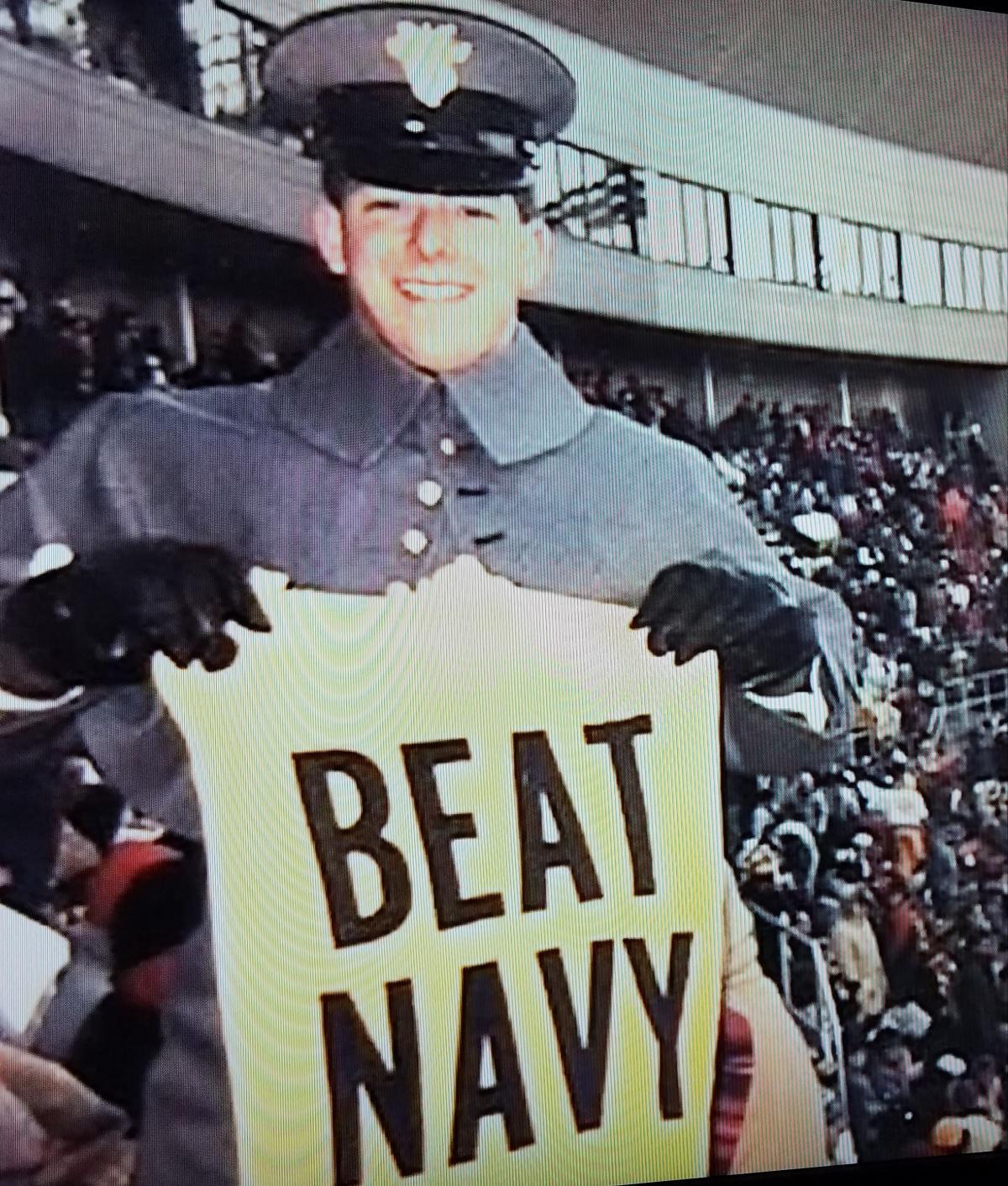 Mr. Williams, as a cadet, attending an Army vs. Navy game at Veterans Stadium in Philadelphia (Photo courtesy of Mr. Williams).

How can a Farrell man take the lessons and values he learns at Farrell and apply it to military life? What are some parallels?
Farrell teaches you integrity and doing the right thing. That is really important, along with bearing responsibility, being truthful and how to be a leader. You also need to know how to look out for each other, and Farrell brings values that set it apart from other high schools. If you can be these things at Farrell, you can do these things in the military. You need to always be prepared.
If not at Farrell or in the military, what would your dream job be?
My dream job would be to be an author and write a book.
Awards earned by Mr. Williams:
Mr. Williams was awarded the Bronze Star Medal, the military's 4th-highest-ranking award, on two occasions for meritorious service in a combat zone in Iraq. He was also awarded the Combat Infantryman's Badge for engagement in ground combat in Mogadishu in 1993.
Legion of Merit
Meritorious Service Medal
Army Commendation Medal w/ 3 Bronze Oak Leaf Clusters
Army Achievement Medal w/1 Bronze OLC
National Defense Service Medal w/ 1 Bronze OLC
Armed Forces Expeditionary Medal (Somalia)
Iraq Campaign Medal
Global War on Terrorism Expeditionary Medal
Global War on Terrorism Service Medal
Armed Forces Reserve Medal w/ 'M' Device (2)
Army Service Ribbon; Overseas Service Ribbon
The Order of the Marechaussee for outstanding dedication and devotion to the Military Police Corps Regiment
Valorous Unit Award (with 2nd Battalion, 14th Infantry in Mogadishu, Somalia)
Joint Meritorious Unit Award (with CJTF-7, Operation Iraqi Freedom 2003-04)
Meritorious Unit Commendation (with 306th Military Police Battalion, Iraq 2008-09)