The Monsignor Farrell Digital Newspaper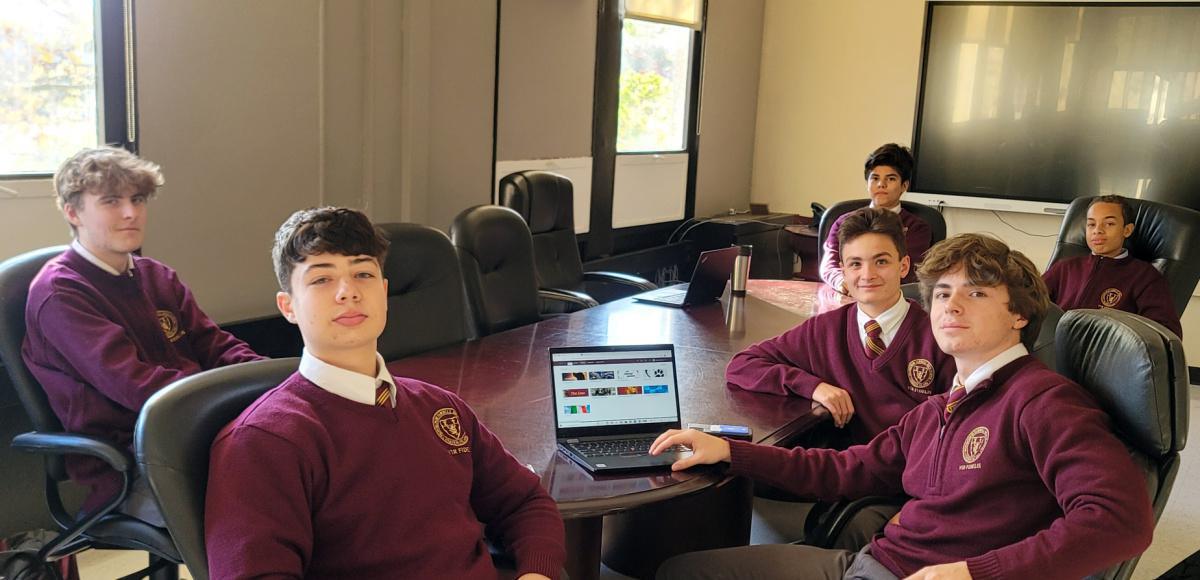 Monsignor Farrell is excited to announce the return of The Lion, the school's digital newspaper.
After launching shortly before the COVID-19 lockdown, The Lion digital newspaper has returned! The Lion is moderated by Mr. Thomas Albano, a member of the Department of English, and a member of the Monsignor Farrell High School Class of 2012. Mr. Albano holds undergraduate and graduate degrees in journalism.
Students on The Lion staff are responsible for holding weekly planning sessions, conducting interviews, taking photographs, and developing, writing, and editing all of the content that is published in The Lion. The staff utilizes the new Communications Center, which is located in the East Wing and features a conference room with a touch-screen SMART Board for planning as well as a suite of iMacs to draft and develop content. Once edited and approved by the Editor-In-Chief and Mr. Albano, the students upload their work to msgrfarrellhs.org which is then featured in The Lion section of the website.
"To say there's been excitement in the first week of The Lion is an understatement."

- Mr. Thomas Albano '12
The Lion Staff
The Lion staff are a group of motivated students who all have their own unique skills that they bring to the table. "I hope that this year they further develop themselves into excellent writers, reporters and multimedia experts. It's an honor to have them all," said Mr. Albano.
Not only does Mr. Albano bring his journalistic expertise to The Lion, but he also offers a unique perspective having been a member of The Lion as a student at Farrell. "I hope to have the same success with The Lion as moderator as it did when I was a part of it as a student," explained Mr. Albano, who joined the Monsignor Farrell faculty in 2021. "My hope is that The Lion will become a well-known presence around Monsignor Farrell and will showcase the big moments of the school year; highlight the talented students, faculty, staff and alumni; and bring interesting stories for the Farrell community to view," he added.
Editor-In-Chief
Matthew Toomey '24
Staff
Tyler Gaetano '24, Jack Lyons '24, Robert Modzelewski '24, Brandon Ritchie '24, Orlando Suarez '24, Anthony Vitale '24, Vincent Proscia '25, Adrian Apreza '26, Angel Mercado '26, Nicholas Ustun '26.
Any student who is interested in The Lion should contact Mr. Albano.