Farrell's Archeology Society
Farrell's Archeology Society provides students another lens to study ancient civilizations
The creation of an archaeology club at a high school is a unique and exciting opportunity for students to explore this field in greater depth and to gain a deeper understanding of the past.
The person responsible for creating the club is a teacher, Mr. Williams, who returned to Monsignor Farrell after serving in the army.
According to Mr. Williams, he was inspired to start the club after realizing that there was a gap in the school's extracurricular offerings. He had previously led a U.S. history club at the school but found that another teacher had taken over while he was away on military duty.
Mr. Williams, the faculty moderator for the Archaeology Society, stands with Dr. Jennifer Janofsky, the director of Red Bank Battlefield Park and a Giordano Fellow in Public History at Rowan University. Dr. Janofsky visited Farrell as a guest speaker this past November.

Mr. Williams, who teaches Global Studies to freshmen and U.S. History to juniors, didn't want to have two history clubs, so he decided to create something new and different that aligned with his own interests and the interest of his students.
"I said, 'I'm going to create something new and different,'" Mr. Williams said. "Farrell never had [an archeology club]. So, this is a new club to Farrell. But I'm not sure any school on Staten Island as archaeology club, and I'm not sure if there's a high school that has archaeology club. I have never heard of one."
He noticed that there was a level of interest among his students in the ancient history subjects he was teaching to his freshmen students. He also discovered that there were no archaeology clubs at high schools in Staten Island or any nearby area. He took this as an opportunity to create a club that would deepen students' understanding of ancient history and offer an additional academic and educational opportunity to the students.
With these ideas in mind, he started Farrell's archaeology club.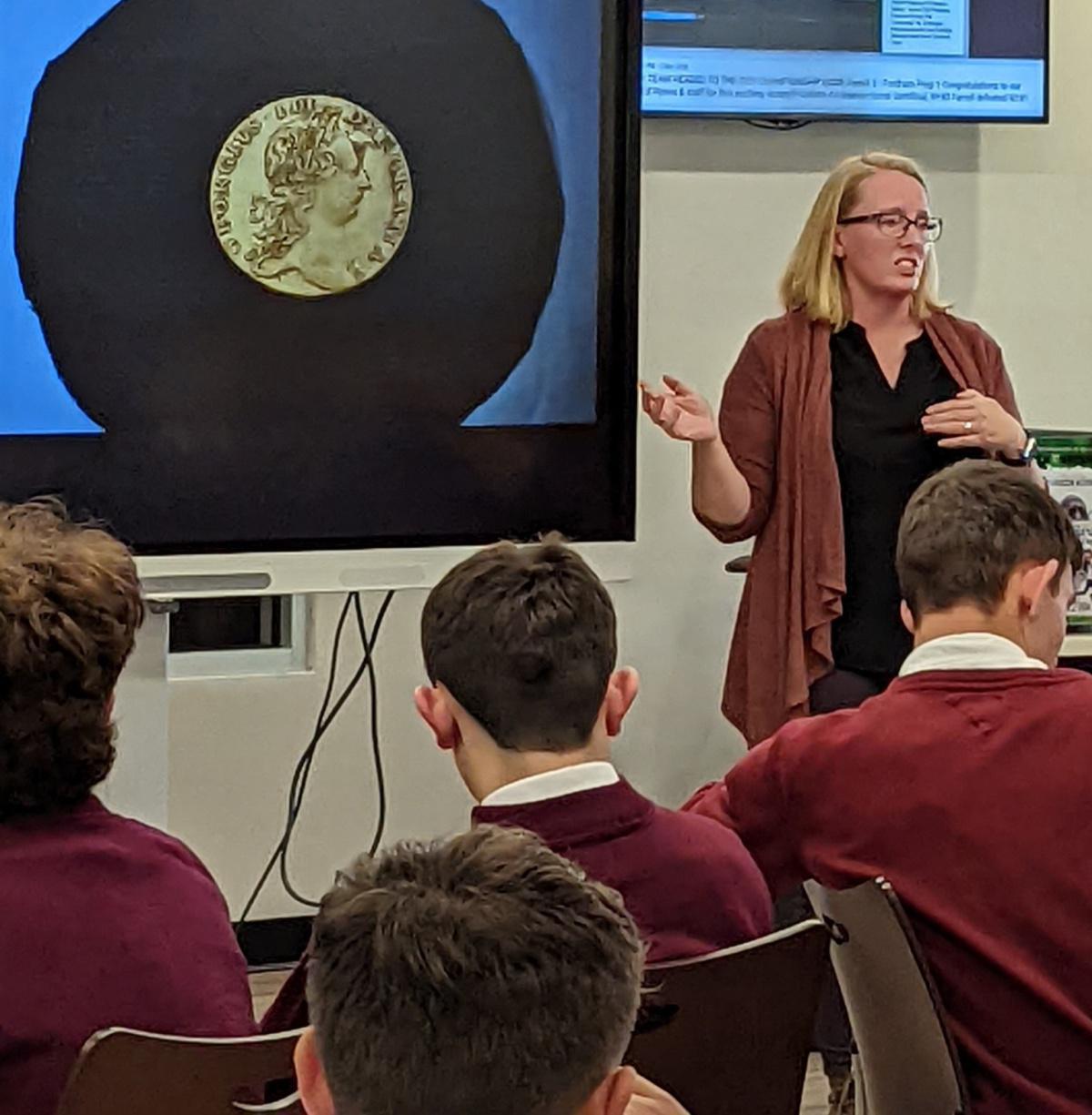 Dr. Janofsky shows off artificats found during a dig at Battlefield Park in Gloucester County (NJ) to students in Farrell's Archeology Society.

"I just saw that there was an opportunity and a need -- something students are interested in. And I felt because I teach freshmen global that there was a high level of interest based on the kids asking me questions, and there's discussions."
The club's values include providing an academic and educational experience for students, as well as being a part of the overall extracurricular experience at the school. Additionally, Mr. Williams emphasizes the importance of the club in providing an opportunity for students to explore their interests more deeply and in a more engaging way.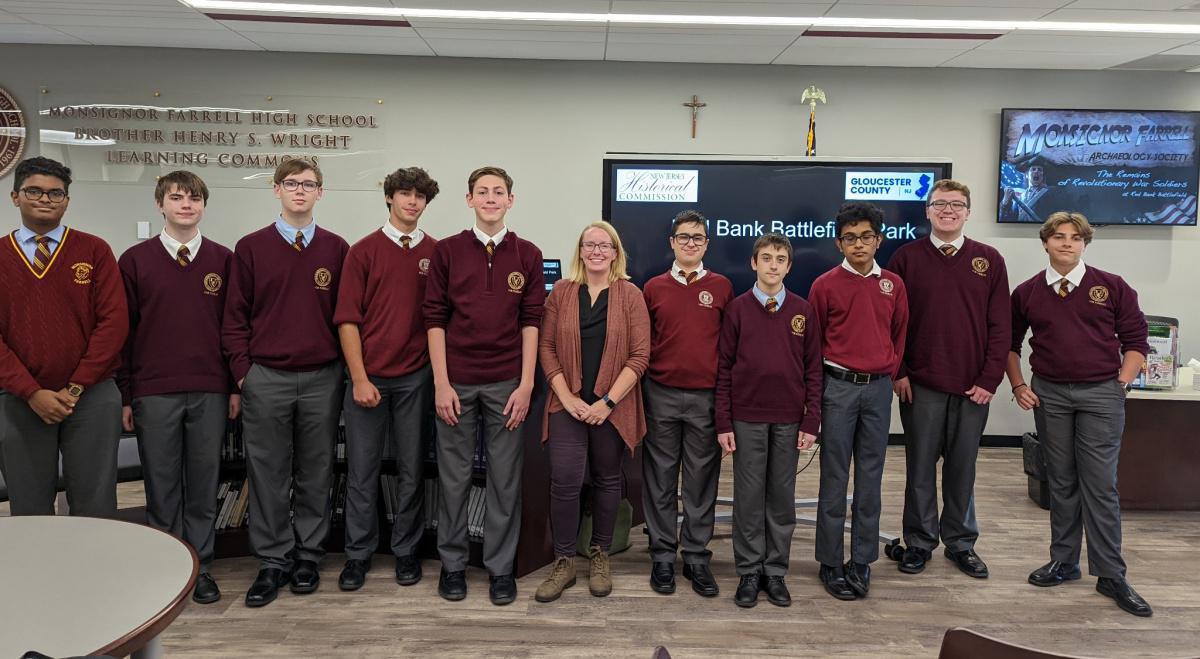 Members of Monsignor Farrell's Archeology Society pose with Dr. Janofsky for a photo following her talk.

According to Mr. Williams, the club is not just about Hollywood representation of archaeology, but about the scientific and historical aspect of it. The club aims to offer students a chance to learn about the subject and leave the meetings or club with a greater understanding of the material.
In addition, the club is also an important part of the Farrell High School experience, as it encourages students to be well-rounded individuals. The club encourages students to take advantage of academics, sports and extracurricular activities offered by the school to develop their full potential.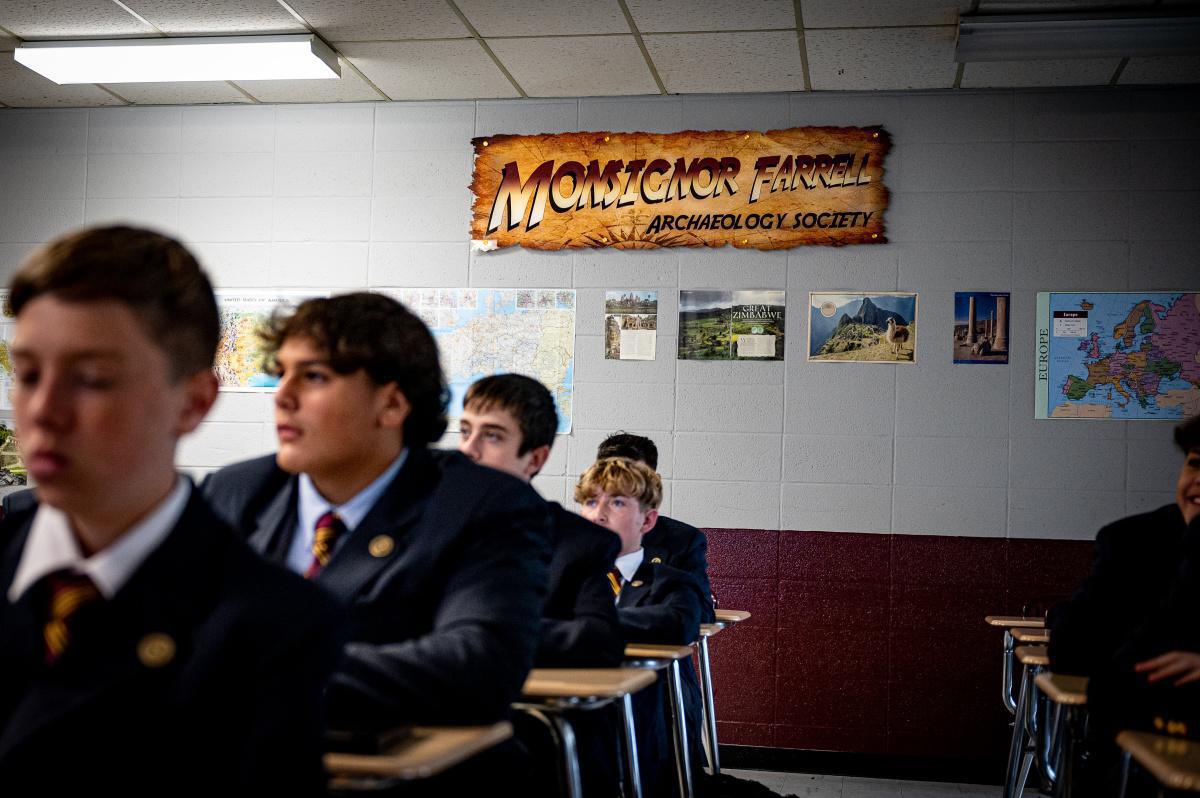 A sign for the Archeology Society hangs in the back of Mr. Williams's classroom.

"The full Farrell experience, it's not just playing sports, it's not just getting good grades. It's the whole picture, and that's why Farrell has so many extracurriculars. It's being the whole person and taking advantage of academics, sports and extracurricular. So that's another piece of it."
The club meets after school on Thursdays in Room 112.