Faculty Spotlight Q&A with Miss Dawn Guerriero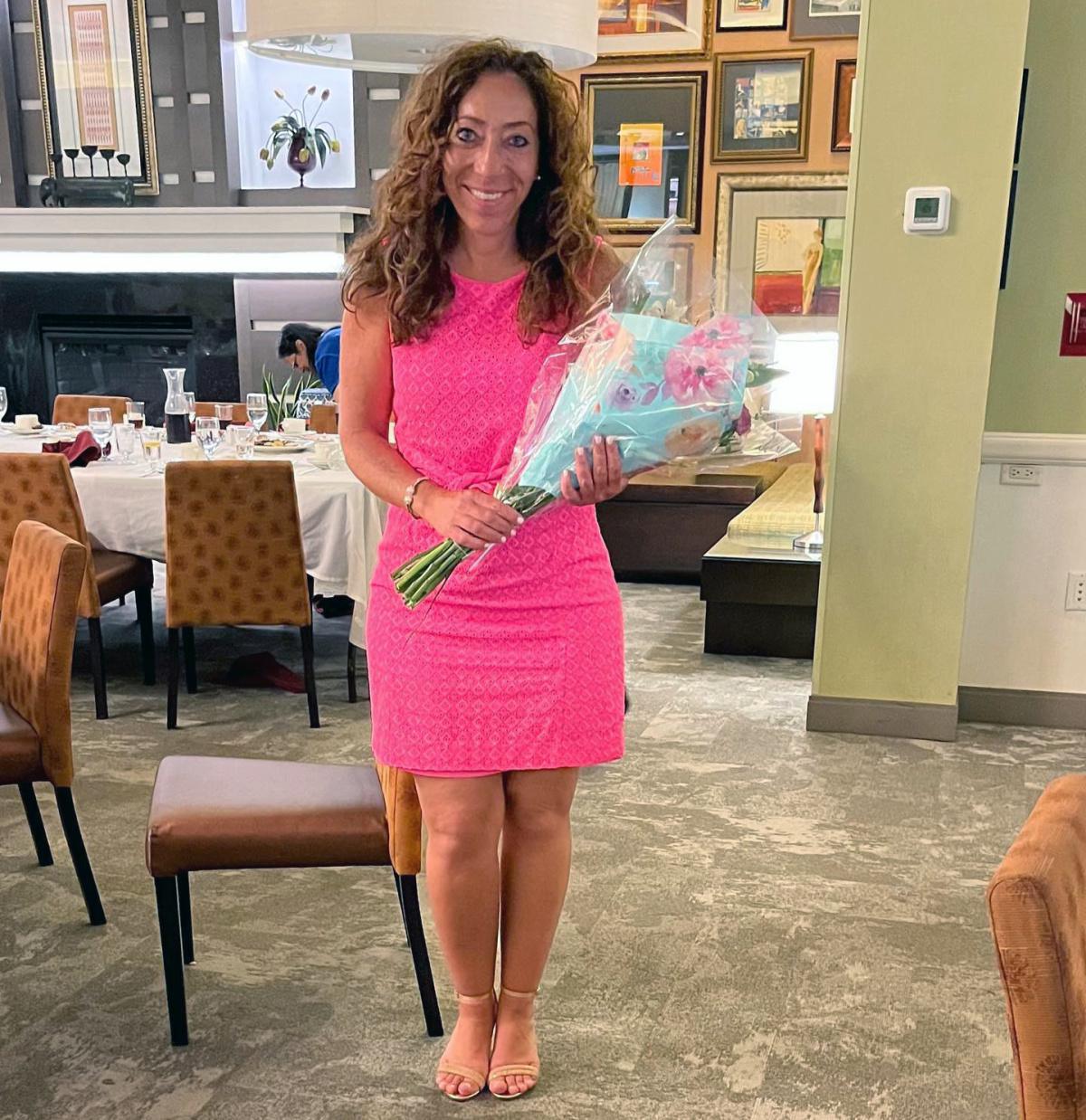 Pictured above: Miss Dawn Guerriero was honored as the outstanding literacy teacher of the year by the Staten Island Reading Association in June 2022.

Ms. Guerriero is a longtime English teacher at Monsignor Farrell who currently serves as the Chairperson of the English Department and the Director of the Writing Studio. Ms. Guerriero, who taught at Farrell from 1997-2015 before returning in 2020, currently teaches courses to junior and senior students.
Ms. Guerriero teaches American Literature to junior honors students and World Literature to seniors, in addition to teaching a senior elective, The Art of Speech, Communication & Conversation. Ms. Guerriero loves to share her love for literature with her students and help inspire the next great writers, dramatists, and thinkers.
As the Director of the Writing Studio at Farrell, Ms. Guerriero assists seniors with their college essays, in addition to coordinating events such as poetry slams and guest writer/speaker appearances.
Ms. Guerriero took time out of her busy schedule to sit down with The Lion to discuss her passion for teaching and her many ongoing projects and initiatives at Monsignor Farrell.
We thank Ms. Guerriero so much for her time.

What do you do here at Farrell?
I am the Chairperson of the English Department, Director of the Writing Studio, and Editor of The Senior Memory Book. I enjoy teaching The American Dream in Literature to junior Honors students, The Epic Adventure in World Literature to seniors, and an English elective, The Art of Speech, Communication, & Conversation, to seniors.
If you could teach any other subject, what would you teach?
I think I would really enjoy teaching an Art History class. I love visiting museums where I can discover, appreciate, and acquire knowledge of works of art from varied cultures through the ages.
What are some of your favorite parts about being a teacher?
I hope that I can share my passion for reading with my students so that they do not merely say they love books; rather, they say I am the book. I see my students become Gatsby, reaching for the green light. I see them become Dante, enduring trials with grace. I see them become Thoreau, "sucking all the marrow out of life." I see them become Don Quixote, dreaming those impossible dreams.
Receiving emails from alumni or seeing them return to campus years later, reminiscing about books or experiences in the English classroom, is truly rewarding. Encouraging and challenging students to become genuinely passionate about the learning is my favorite part of teaching — knowing that they are excited to come back to class tomorrow, improving and performing with confidence.

What are some of your hobbies?
In my leisure time, I enjoy hitting the tennis courts at the Colts Neck Racquet Club, where I am a member. I love to dance and enjoy musical theatre productions, reading a good book, and relaxing at the beach down the Jersey shore.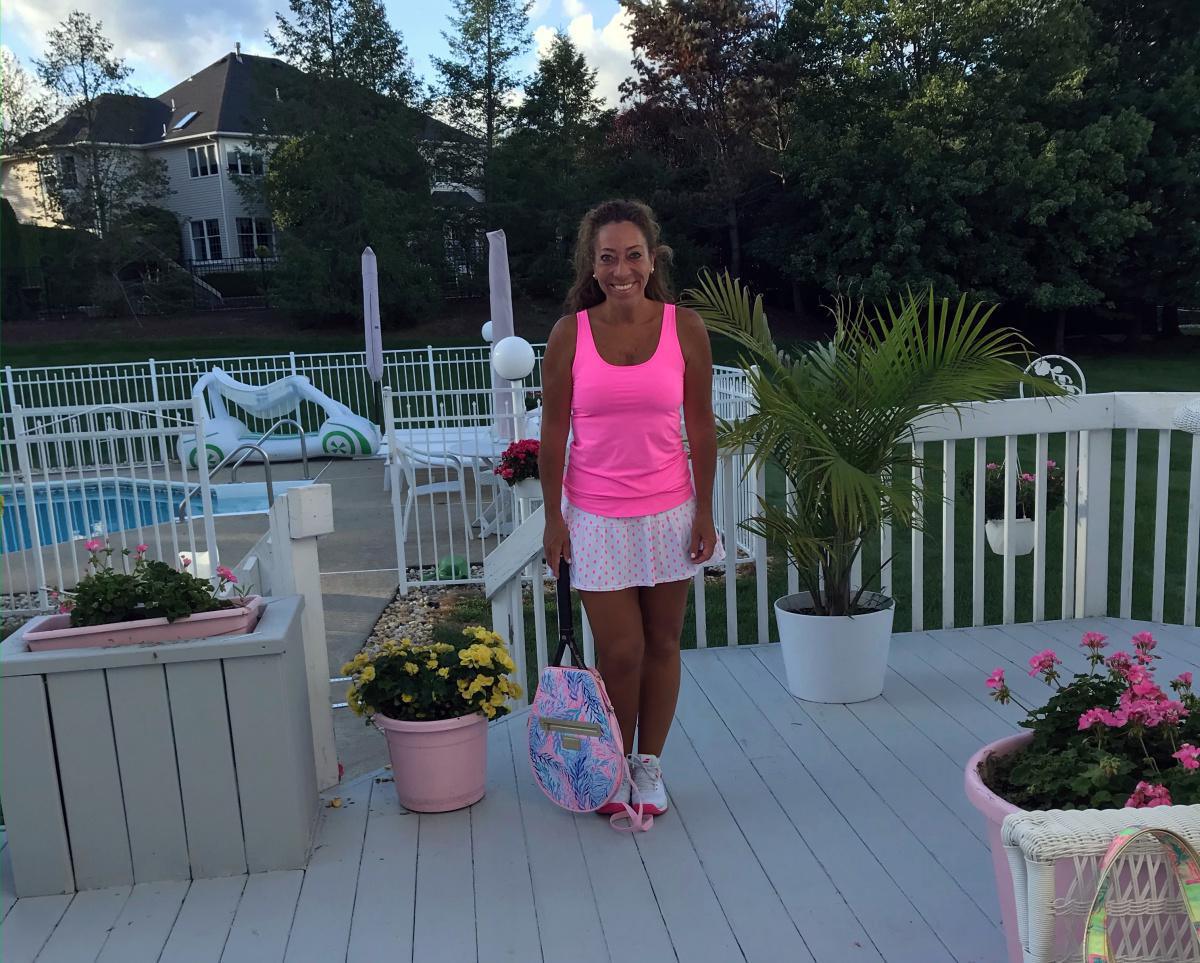 For those who don't know, what is the Writing Studio and what do you do there?
The Writing Studio is an exciting initiative that aims to encourage, support, and inspire emerging writers across the curriculum. The Writing Studio especially looks forward to helping our current and rising seniors effectively brainstorm, outline, and polish their college essay drafts, encouraging students to achieve greater maturity of style. The Writing Studio hosts guest speakers and writers and promotes local and national writing contests so students can exercise their writing chops. Studio staffers are excited to initiate poetry slams throughout the year.
You bring in various guest speakers for the Writing Studio. Who have been some of the most memorable?
Dr. Paul Contino, '76, Dante Scholar and distinguished Professor of Great Books at Pepperdine University, and writers Rob Hart, '00, Peter Marzano, '68, Michael Garland '70 (writer and illustrator), and Carl Sinagra have shared great insights about the writing craft and their authorship journeys. I also enjoyed collaborating with Beth Gorrie, Director of Staten Island OutLOUD, for our Big Read events.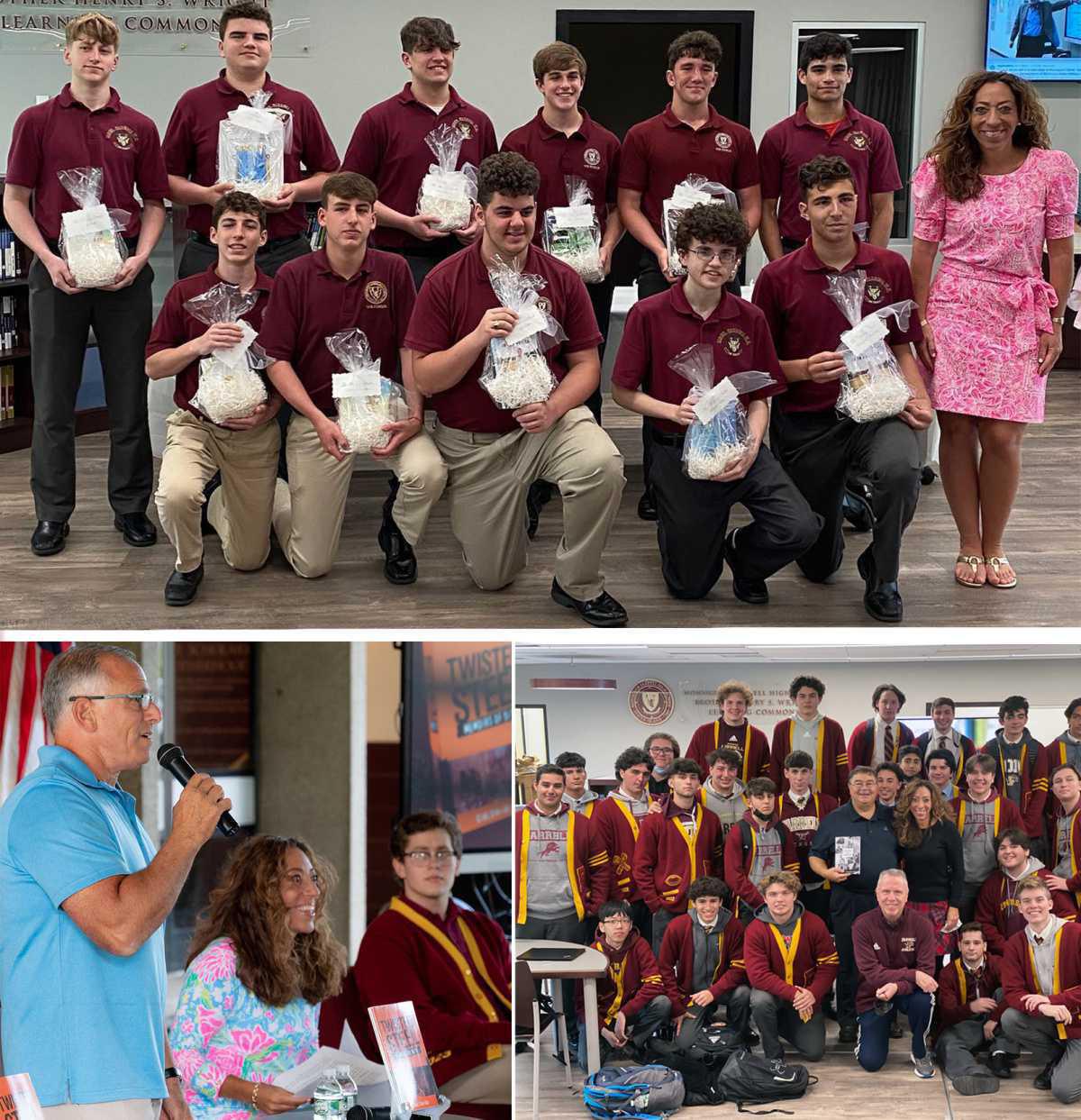 What in your mind makes a great writer?
A great writer is like a skateboarder. A skateboarder is daring enough to fly down ramps, sidewalk surf with hands-free steering, and perform tricks down stairs and rails. Skateboarding emphasizes creativity and individuality. Skateboarders are adventurous. And so it is with great writing. A great writer is brave enough to bare his voice, balance generalization with specific, illustrative detail, maneuver diction and sentence structure, experiment with figurative language, listen to feedback, and revise his work. A great writer grabs your attention with his introductory jump, transitions smoothly, and lands with style.
What is your favorite book?
Hands down — The Great Gatsby. I believe we are all Jay Gatsby. We all possess an "extraordinary gift for hope" in the face of challenging dreams.

Have there been any clubs in the past that you've been a moderator for?
In the past, I was the moderator and Assistant Coach for the Varsity Tennis Team.
What are some of your favorite memories of Farrell since you started here?
I have always enjoyed extending my students' learning beyond the classroom. To enhance my curriculum, I organized many field trips to the MET, Broadway plays, and Christmas shows at Madison Square Garden. And topping off the trips with lunch at John's Pizzeria in the theatre district was always fun for my classes!
The Christmas Tree Lighting event and the Luau Poetry Slam and Pig Roast have also created great memories! It is so exciting to see my students pass the tiki torch and showcase their talents with students and faculty. And of course, it's lots of fun celebrating our poets afterward with Mr. Tobacco's traditional Hawaiian pig roast and barbecue!
Ms. Guerriero, who is in her 21st year of teaching at Farrell, hopes to inspire the same love and passion she has for books in her students.