Student-Athlete Spotlight Q&A with Sean Keegan '23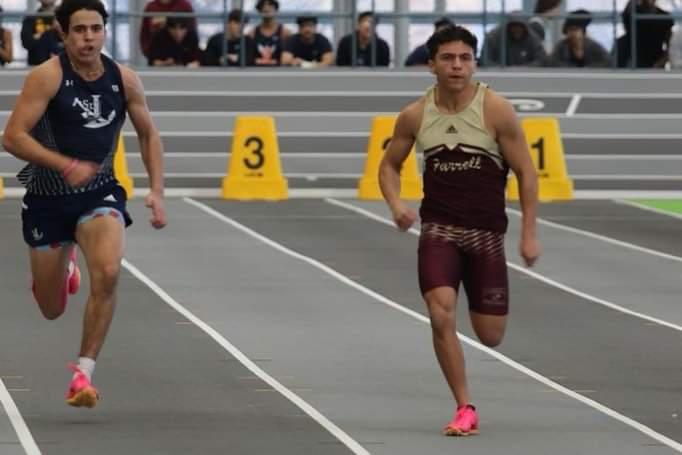 Pictured above: Sean Keegan, '23, (right), a captain on the Monsignor Farrell Track & Field team, set a new record in the 300-meter dash.

Shawn Keegan, '23, is a part of athletic programs at Farrell such as Track & Field and Football. Keegan has had a huge impact as a part of the Track team, breaking records and helping to win meets, including the Island Championship. In mid-January, Keegan broke the school record in the 300-meter dash that stood for almost 20 years! The old record had been 35.89 s, and Shawn defeated that record by putting up a time of 35.75 s.
The Lion recently got a chance to sit with Shawn and ask him a few questions on his accomplishment and how it feels to be named the captain of the sprinters. The Lion thanks Shawn for his time.

What does becoming the captain of the Farrell sprinters mean to you?
I am truly honored to have been named the captain of this team. Setting the example for the guys is something important to me and I know a lot of the guys have so much potential to be great runners. I want to motivate them to do the right things and max out their potential.
How do you plan to motivate and encourage team members to be the best they can be?
I want people to see the example I set and the work that I put in every day. Not much has to be said, just the work I put in shows, along with everyone on the team that has been doing the same week in and week out.
What is your attitude going into meets, is it more of trying to PR ([get a] personal record) or trying to win?
My attitude going into meets depends. A PR is a great accomplishment -- we all try to run, jump, and throw better than we have the previous weeks. But I would take a team win over any of those.
What achievement in your track career have you been most proud of so far?
Breaking the 300-meter school record. From last season, being a whole three seconds off, it was not even a thought in my mind that I was going to attempt it. [Sprinters] Coach Pete [Liota] told me to go for it I put my focus towards that goal. In the end, I made it happen.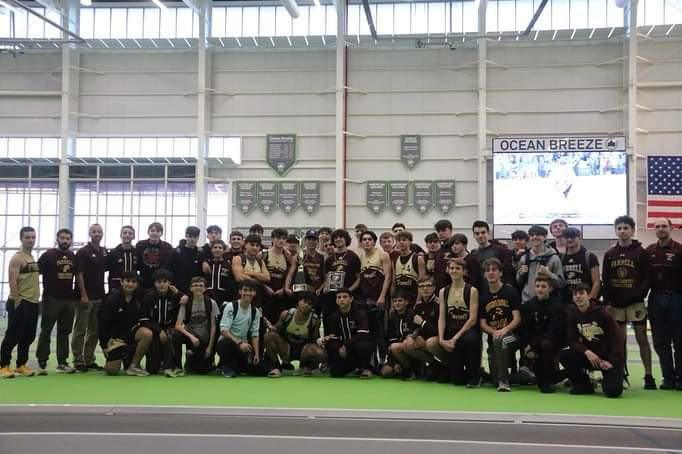 Pictured above: The Monsignor Farrell Indoor Track & Field team claimed the Staten Island Indoor Championship in January, the 44th time in school history that the Lions have won the event.

How would you describe the season we are having currently in one word?
One word to describe the season we are having is special. We have a truly special group of guys that have really done some amazing things.
What is the most difficult part about being a leader for the team?
It could be difficult sometimes to set the perfect example. Sometimes getting in my own head may lead me to set the example I do not want to set and do not want the guys to follow. That just comes with passion for the sport.
When do you feel successful as the captain?
I feel successful as a captain when I run, and I see my guys cheering for me. It just lets me get the satisfaction that the boys all have my back no matter what.
How has track helped with other sports?
Track has helped me with other sports because it is such a constant grind every day. Every single day is a day to get so much better than the last. It is a mentally tough challenge, which makes me so grateful I decided to run.