A look into sports broadcasting at Monsignor Farrell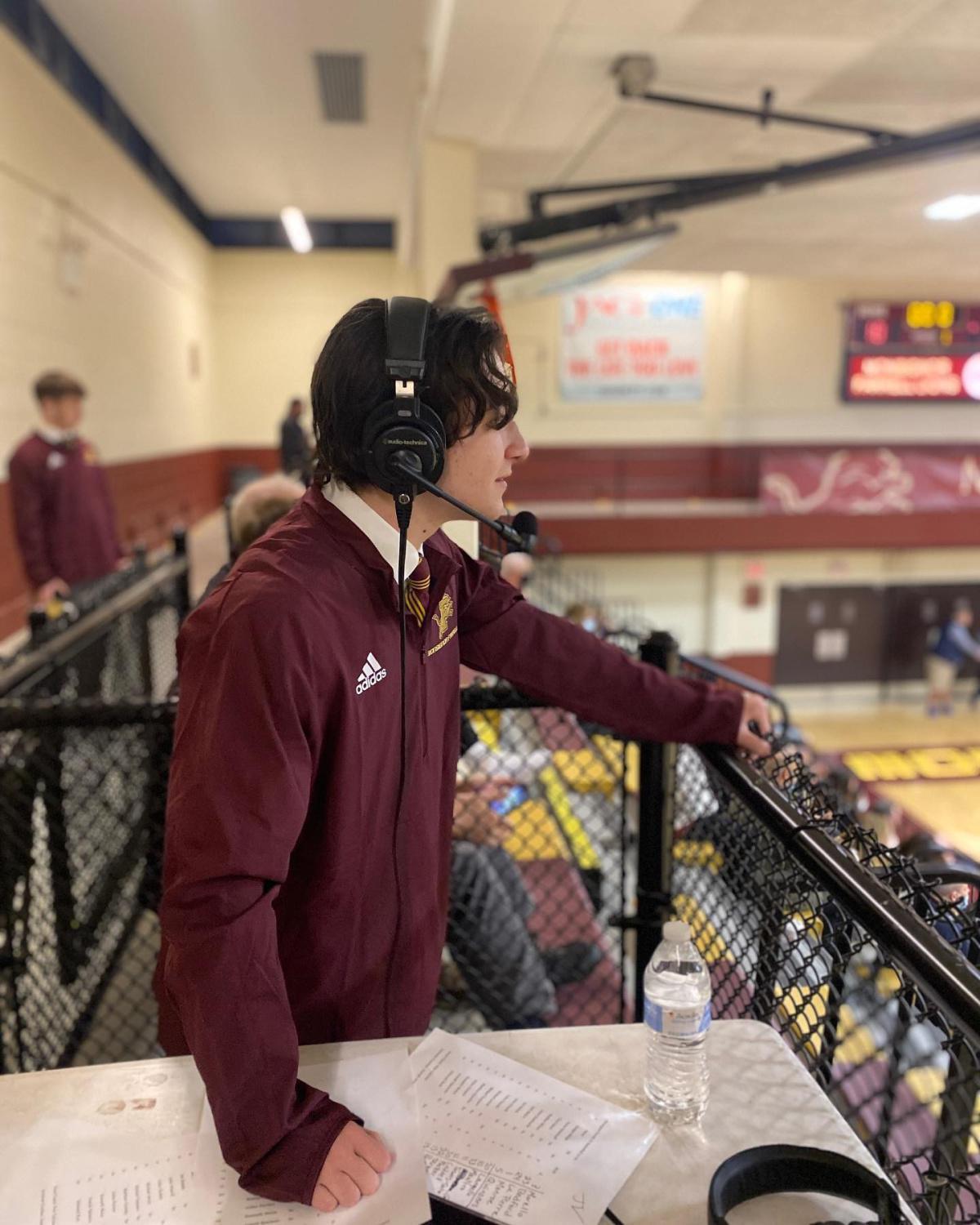 Pictured above: Rob Russo, '23, in the middle of commentating a varisty basketball game.

Picture this: There are five seconds left in a major championship football game. The team is on the five-yard line, with perhaps one last chance at a play to clinch the game and title. Imagine the roar of the crowd as the championship play is completed.
Now imagine not only is the team getting praise, but so is the broadcaster, whose voice keeps the home audience in tune with the game and delivers the memorable game-winning call. This is the experience that could await with Farrell Sports Broadcasting and the Monsignor Farrell Media Network.
Farrell sports broadcasting is an opportunity to become an announcer of the Farrell sports. Students will have the opportunity to commentate sports such as basketball, hockey, lacrosse, football, and soccer. Mr. Kennedy, '12, serves as moderator, while Rob Russo, '23, is the main commentator of Farrell Broadcasting, along with Joe Logan, '23.
In Farrell broadcasting you learn the skills that it takes to become either a play-by-play commentator or a color commentator for Farrell sports matchups that air on LocalLive.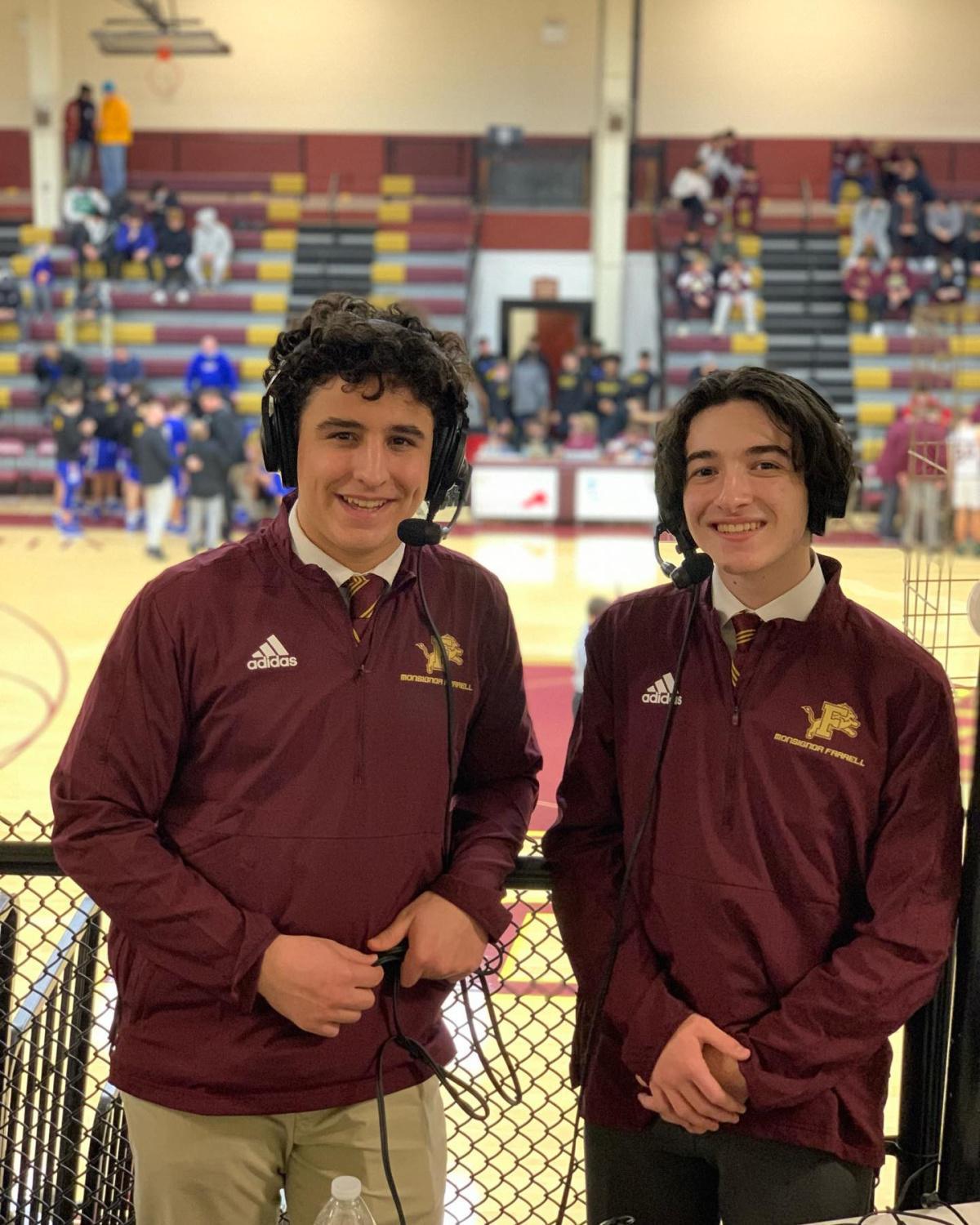 Pictured above: Rob Russo, '23, (right) and Eric Rodriguez, '25, pose for a photo prior to commentating a Farrell basketball game.

The play-by-play is the person who tells everyone all the information-based parts that the people need to know. The play-by-play man informs the viewers what's taking place on the field or court.
The color commentator is more of an analyst. The color commentator breaks down what the play-by-play is talking about and makes it a more interesting broadcast for the viewers.
The main reason for someone to join Farrell broadcasting is a love for sports. Russo's motivation for joining was that he "had a love for sports and public speaking [his] whole life."
"When this program opened up at Farrell, it seemed like the perfect opportunity to combine two of my passions," Russo said.
There aren't many requirements to join the group. You only need to be interested in the club, and over time may come the opportunities for bigger games.
"No one will be turned down the chance to broadcast a game. But you have to take it serious and work to get better. Are you going to do Farrell vs. Sea Varsity on a Friday night [for] your first game? Probably not because you need to get some experience." Kennedy said.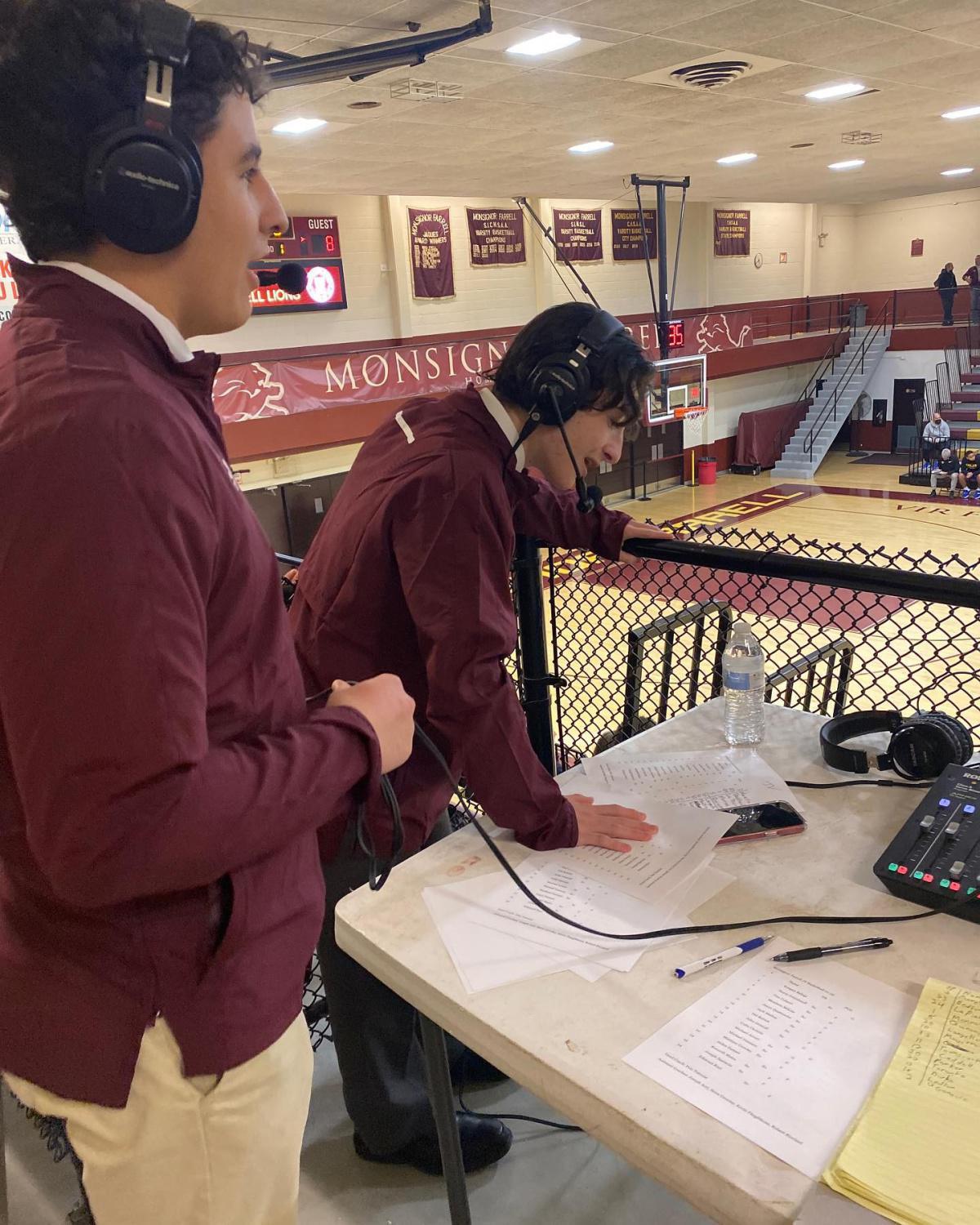 Farrell sports commentators, in addition to calling the games, are responsible for gathering information to bring up during broadcasts.

With Farrell broadcasting there is also a great deal of responsibility that goes along with it.
"On gameday, I'll take some time compiling information for both teams – records, player stats, college commitments, notable achievements – to mention on the broadcast," Russo said. "I usually arrive about an hour before game time to set up, test equipment, and speak to coaches and players about the upcoming matchup."
Russo explained some of the responsibilities he has as a broadcaster, including accurately reporting stats, having a strong understanding of the rules of each sport, setting up equipment, and properly pronouncing the names of each player – the latter of which he admits can sometimes be a challenge.
The program has received a lot of praise, with people praising the broadcasters for adding to the excitement of the game. Student broadcasters, such as Russo and Logan, have been given lots of recognition for their broadcasts of the games.
People said the broadcasters kept them in the game and made it more enjoyable. According to Mr. Kennedy, there could be as many as 4,000 people watching a game you are commentating on.
Even a non-varsity sports matchup averages about 400 online spectators, which allows for the newer and younger commentators some experience while growing in their roles. Many people are still watching and listening to you, which remains a great part of the club.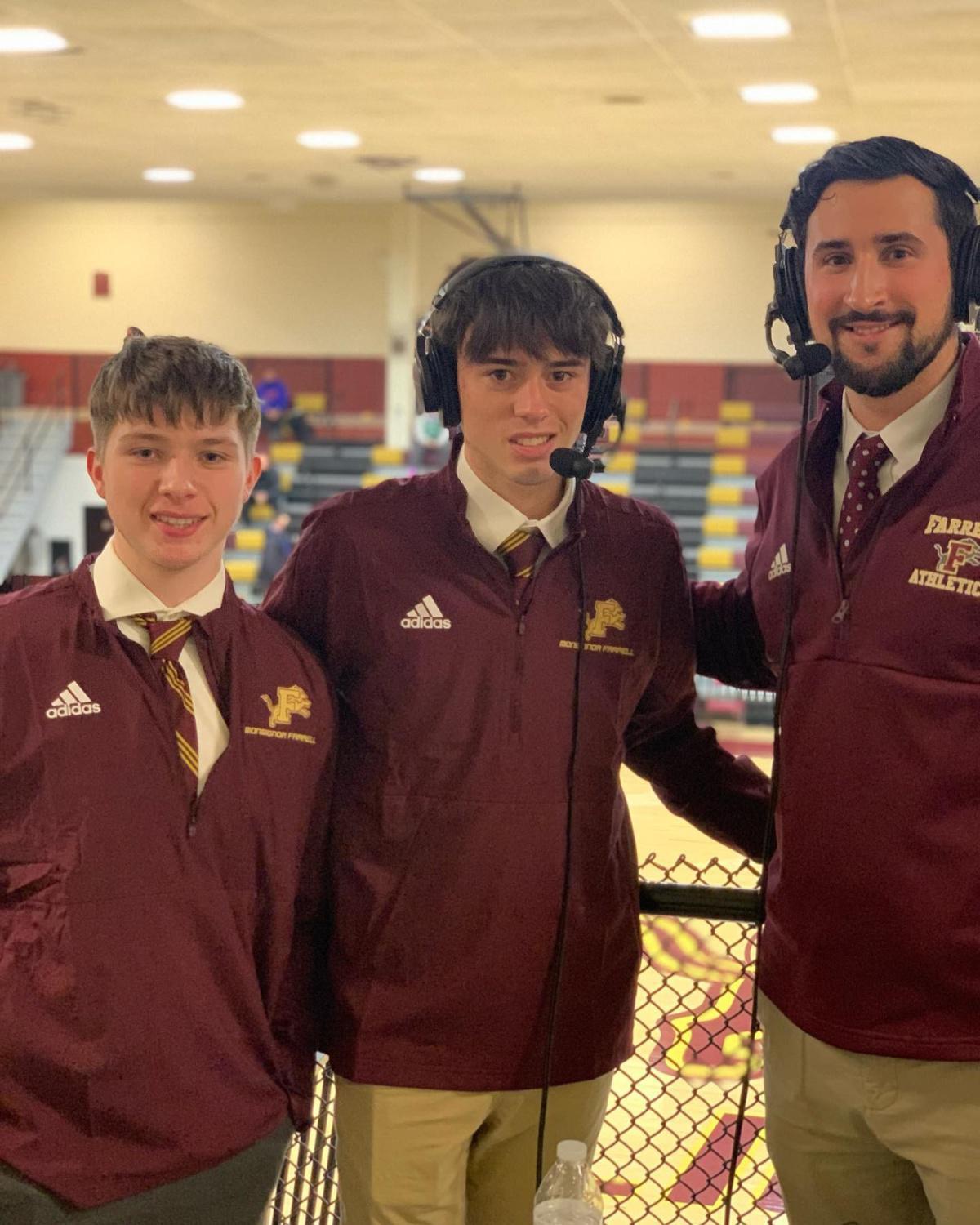 Pictured above: Mr. Kennedy (right), Director of Alumni Affairs, moderates Farrell Sports Broadcasting and the Farrell Media Network.

Logan is a founding member of the network, and he called varsity football games alongside Mr. Kennedy for three seasons. He has seen the program grow from its infancy into the organization that it is today and has earned praise from peers and coaches alike.
Mr. Kennedy recalled the time where a meeting following the first win of Varsity Football head coach Rocco Del Priore featured Farrell's broadcasting team earning praise.
"And the person running the meeting said congratulations to coach Rocco, and then said, 'And by the way, who were those broadcasters? That was an incredible game to watch with those guys speaking,'" Kennedy said.
When asked what's in store for the broadcasting club's future, Mr. Kennedy said the hope is to expand to all types of digital media.
In fact, the Farrell Media Network has recently launched on YouTube with its first podcasts -- J&R Sports Talk with James Westgate, '25, & Ralph Donniacuo, '25 and Lunch Table Talk with Nicholas Foster, '25, & Eric Rodrigues, '25.
They hope to expand in not only sports, but all aspects of the media, including Marvel.
This club gives a chance for anyone to exercise and expand on their creativity through podcasting or broadcasting.
It doesn't take much to join the club if you're interested in doing so. Simply said, you must care for the club.
It is not a problem if you are concerned about juggling schoolwork – there isn't a lot of setups prior to the game, and you mostly call home games. If you're concerned that you'll miss class, don't be; everything happens after school.
"When you love something, and you need time for it, you make time for it," Russo said.