Dom Insogna, '97, now an executive at NBC, detailed careers in media and went behind the scenes on production of television shows and movies.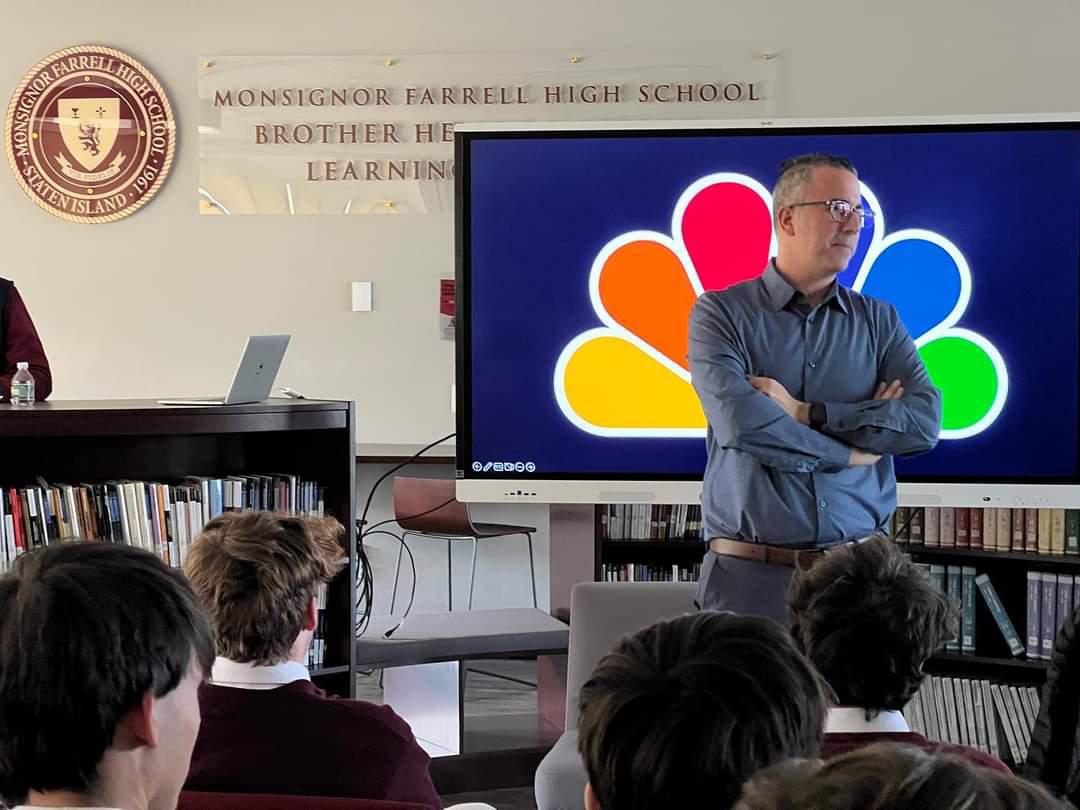 Pictured above: Dom Insogna, who graduated from Farrell in 1997, currently serves as Vice President of Media Operations at NBC Universal.

Have you ever wondered how your favorite television shows come to your TV? Imagine working a job where you got paid to watch television shows and the commercials in them. Think of the possibility of being responsible for a number of big-name TV programs and getting them aired across various channels.
That's the kind of life that Dom Insogna, '97, and his colleagues at NBC have daily.
Insogna, the vice president of operations at NBC Universal, visited Farrell on March 8 to discuss careers in the media industry with students. Insogna was accompanied by two of his colleagues from NBC, Michael Connolly and Kenny Gats.
Insogna oversees three different locations of studios across the United States. Insogna and most of his team is located at the studios in Englewood Cliffs, NJ. But there are also studios in Dry Creek, CO, and Universal City, CA.
The primary difference between the New Jersey and Colorado offices is that the one in New Jersey is responsible for most content – whether it's a TV show or a commercial – that airs in the United States. The Colorado studio is mostly responsible for international broadcasts.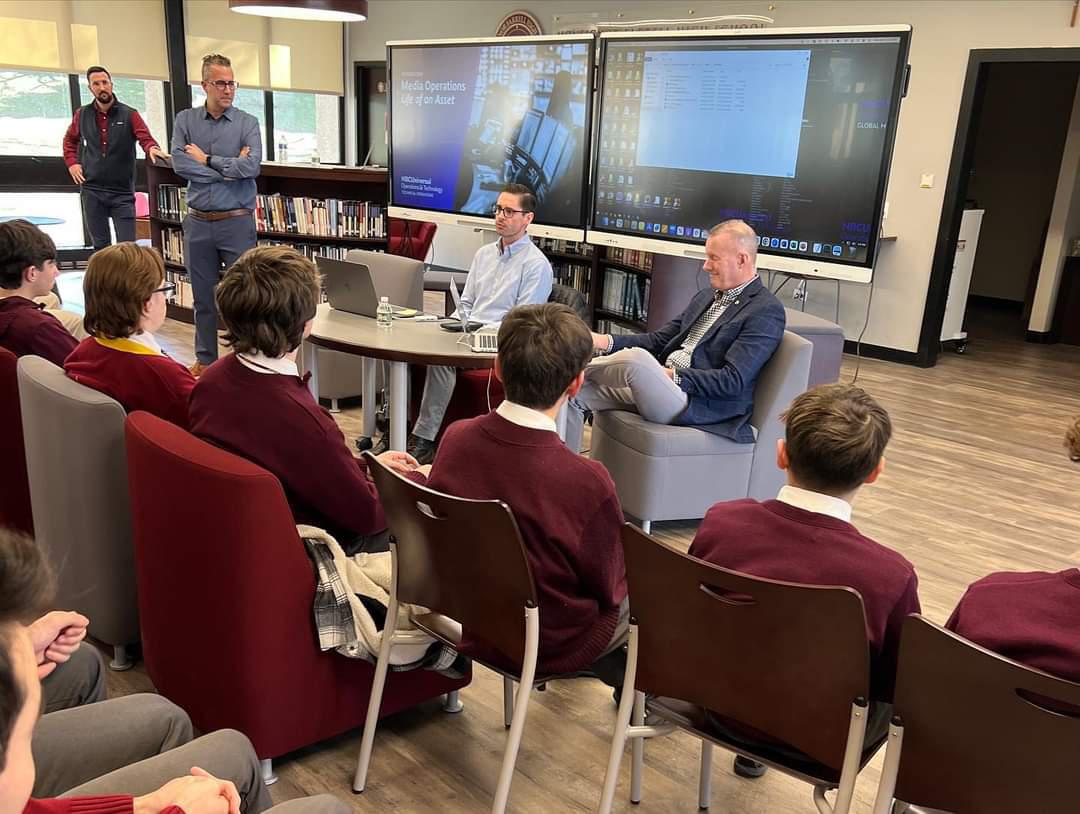 Pictured above: Dom Insogna, '97, was joined by two of his colleagues at NBC Universal, Michael Connolly and Kenny Gats, as he discussed carers in media with Farrell students on March 8.

"The easiest way to explain this is [New Jersey] is all your domestic English prep…in Colorado, they focus more on international," Insogna explained. "I will say because they're geo diverse, they back each other up from a disaster recovery perspective. So, what that means is if you're watching Syfy, predominantly, the signal is coming from Englewood Cliffs. But if there's some kind of catastrophic error, or some kind of outage, a weather system, whatever it is, that's preventing our systems from sending that signal, with a flick of a button, we can switch [the feed] to Colorado."
The team in California is what Insogna called a Quality Control, or "QC," team. These people get a major opportunity to oversee films before they are released. They check for spelling errors, issues with the audio channels and dialogue, the coloring of the video, the quality of the video itself – including making sure nothing like a boom mic is present in the scene – and more.
Insogna and his co-workers brought up an example from the television series Game of Thrones. In 2019, social media erupted when there was a Starbucks cup present in a shot during an episode that aired. There was no cross-promotion with Starbucks; it just happened to be left there accidentally.
"They were able to go in and erase that Starbucks cup out. So by the next day, if you were to watch it on demand or on HBO Max, it wouldn't be there. So they were able to sometimes, even after it airs, swap it out so that when it re-airs, you don't see that same mistake twice."
This led to a discussion about dealing with actors and actresses and their creative control – as well as what happens when there is a mistake that isn't caught.
For instance, Insogna brought up the example of what producers must deal with when handling business involving Kim Kardashian and her show.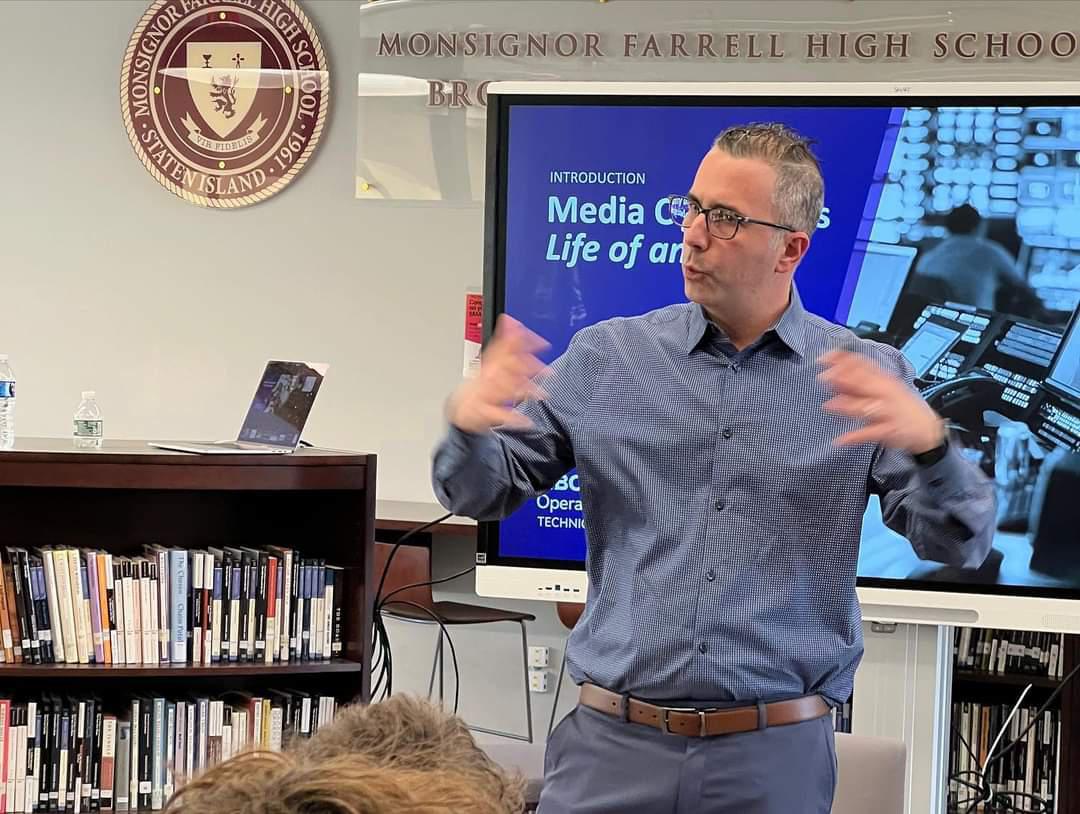 Pictured above: As part of his conversation about careers in media, Dom Insogna, '97, discussed the behind-the-scenes processes that go on withTV shows and movies at NBC Universal.
"The producers will help with put the show together and the editor will edit it. They'll all high five each other and say, 'Our show's done,'" Insogna explained. "Let's show it to Kim Kardashian. Make sure she's cool with it. Kim might go, 'I have a couple of zits on my forehead in this scene.' 'You can't show that many shots of me in that scene.' Or 'I didn't like that joke I made about Courtney. You got to cut that line out.' So, then they'll have to re-edit it to either show less shots of her, or change the dialogue around, move some things that that she specifically didn't want to fly, in time to get your TV screens."
Other times, however, there really isn't much that can be done, especially when it's a movie that's already been released to the theatres.
Students were then taken into a behind-the-scenes process on how a TV show comes to air, with Insogna using an example of one of NBC's hit TV shows, Chicago Fire.
Insogna and his co-workers detailed receiving the episodes from its production company, Dick Wolf Productions, and noting how they have to ensure each episode (whether new or a re-air) will go out to the various television networks in the U.S. and around the globe.
Insogna also went over the various items the team has to keep track of, including metadata (giving information about the show), audio levels, picture quality, the timing of transitions (to help with inserting commercial breaks) and more.
Commercials have to be checked as well and ensured they are aired in their appropriate spots.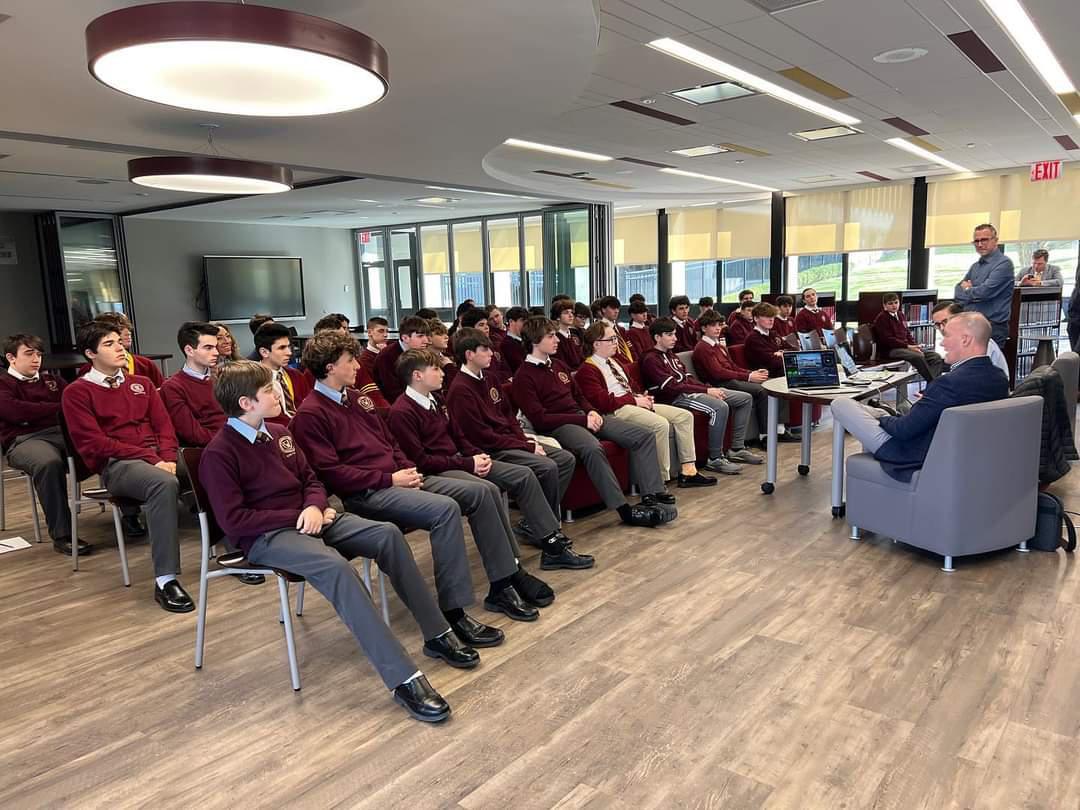 Pictured above: Dom Insogna, '97, and his colleagues at NBC Universal gave students advice on the technical and personal skills needed to enter and succeed in the media industry.

Insogna and his co-workers also detailed an interesting, but well-received experiment conducted by NBC on the day they broadcasted the Super Bowl 52 matchup between the Philadelphia Eagles and New England Patriots.
Using the highly popular This Is Us as a lead-out program, clips of that day's Super Bowl made it into the episode. According to Connolly, they had to record the game at their facility and send pieces to the show's production company (based in California).
While they rehearsed in the days leading up with an old game, and had stock football footage available if something went wrong, the experiment ultimately proved succesful.
Toward the end of their discussion, Insogna and his co-workers discussed advice for those who want to enter the media industry. Some important tips they passed along included keeping up with evolving technology and being open to new ideas.
One of Insogna's colleagues, Gats, even suggested that when applying for internships or a first job, to pick your dream company over your dream position. Then, you can build alliances and gain a reputation based on a hard-work ethic -- and that will perhaps allow someone to build a path to the job they desire and best fit with.
Gats even went to the point of explaining why he doesn't mind picking someone with no experience over someone who is a bit more seasoned -- because someone can be molded on the technical skills if they are a general good person.
"I think it's more important to be a good employee than to build up your skillset," Gats said. "In other words, if you're the best editor in the world, but you're a pain in the neck to work with, and you can't you can't get to work on time, you don't answer the phones nice... you can be the best ever out there, [but] no one's gonna want to work with you.
"It's more important to be a good employee. Make your manager's life easy. Be there when you're supposed to be there. Be engaged and ready to work. Have a positive attitude. Say 'yes' when you can. Smile in the hallways. Just be nice. People tend to hire people they like to work with because you could build up the technical skills."