Faculty Spotlight Q&A with Mr. Sean Goodwin '15
Pictured above: Mr. Sean Goodwin, '15, teaches English to freshmen and sophomore students.

A 2015 graduate of Monsignor Farrell, Mr. Sean Goodwin teaches English 9 and 10, focused on improving students' reading comprehension and writing skills. In addition, Mr. Goodwin serves as a coach for cross-country and track.
Mr. Goodwin took time out of his busy day to sit down with The Lion to discuss working with students academically and athletically. We appreciate Mr. Goodwin for his time.

What do you do here at Farrell?
I teach English 9, English 9 Honors and English 10. And I'm the freshman and sophomore track and field coach.
If you could teach another subject, what would you teach?
I think I would try to teach religion because I believe that morality is the basis of the Vir Fidelis, and that's what we're trying to teach you. Others that I'm interested in would probably be computer science and art.
You graduated from Farrell in 2015. Did it feel like a homecoming when you first came back?
It definitely felt surreal having gone through four years of sitting in that chair, and then looking at that same exact chair. Another interesting tidbit, I actually teach English in the room that I learned it in, which [speaks] to the serenity of the moment.
What is it like now on the teacher side of things?
The teacher side is definitely different. You could definitely see everyone's phones when they have their phones out. You could definitely see who's poking who. But that's the fun part, right? Making sure everybody's staying on task, seeing that light bulb moment go off for some students, that nod of 'Yeah, I understand what you're talking about.' All of that really pulls together and makes it worth it.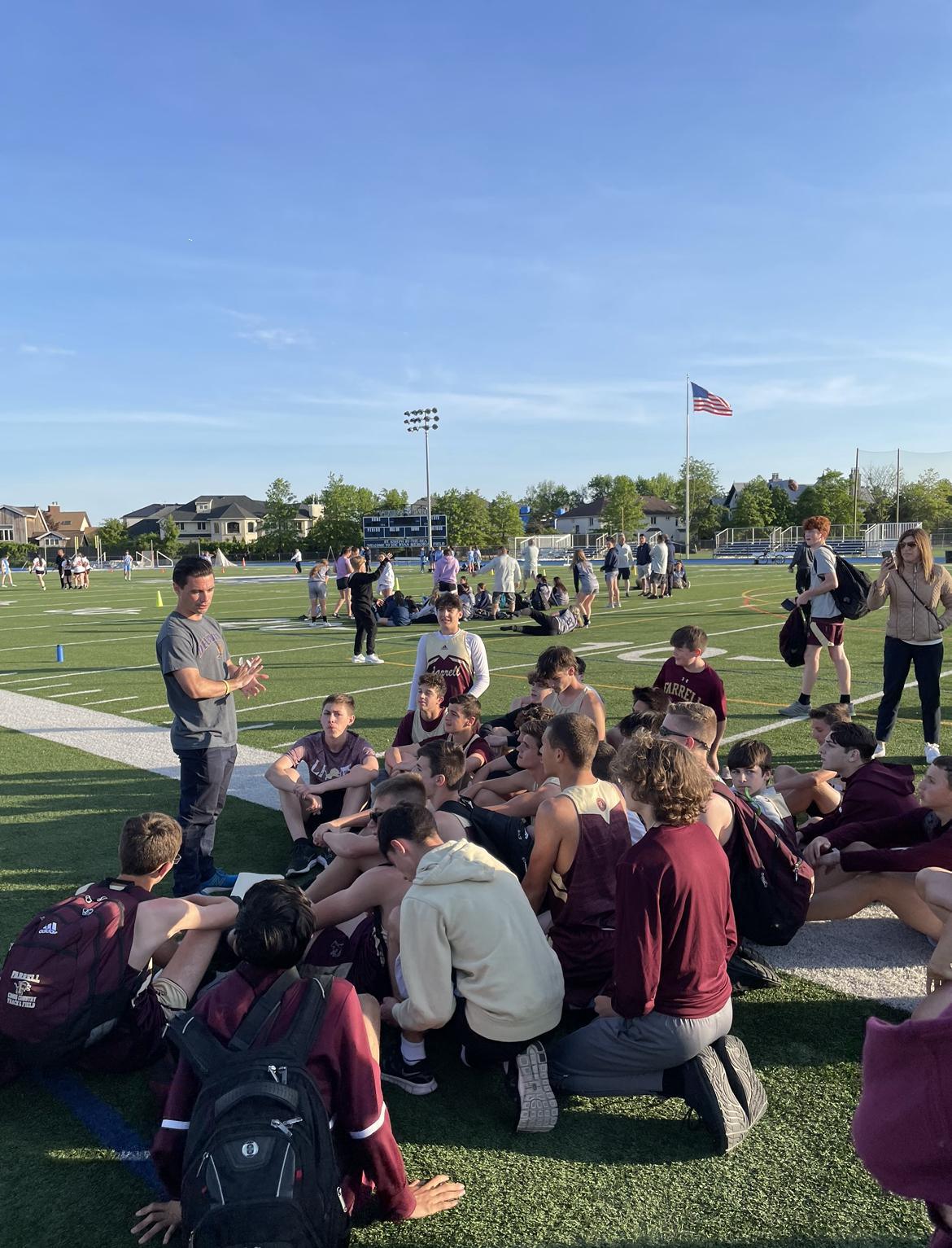 Pictured above: In addition to teaching English, Mr. Goodwin also serves as a track and field coach for freshmen and sophomores.

What are your favorite memories inside of the classroom when you were a student?
Some of my favorite moments from when I was a student probably include classes like Mr. Weir's class. I had the pleasure of learning under Bishop Whalen as well. Those are some of my most memorable classes. I took accounting with Ms. Pohlman, which was another great class. I just loved the experience. I'd say I'm a student at heart so that was a natural.
What about on the teacher side of things? What are some of your favorite memories from that so far?
It's just those 'You kind of had to be there to experience it' moments. A kid cracks a funny joke, or does something kind of hilarious and you just play into it a little bit. Specifically, though, in recent memory, I would have to say, both my sixth-period class and my eighth-period class have kept me on my toes.
What are the Farrell students like, from the perspective of a teacher who was in their shoes not long ago?
Well, we always want to embody the Vir Fidelis, right? And I feel like if the freshmen can start to grasp those concepts, the sophomores can enhance those concepts and eventually become the seniors that master those concepts. I believe that every student in this building will, at one point, become that model of your Vir Fidelis as long as they dedicate themselves to it.
You did track while you were a student here, what were some of your favorite memories from that?
Some of my favorite memories from track were definitely inspired from some of my close friends that I still hang out with to this day -- best friends that you make that just understand everything about you. And track is naturally something that brings out both the best and the worst of you. So for my friends to accept me under both of those pretenses, they're great guys, and I hope that we'll stay close forever.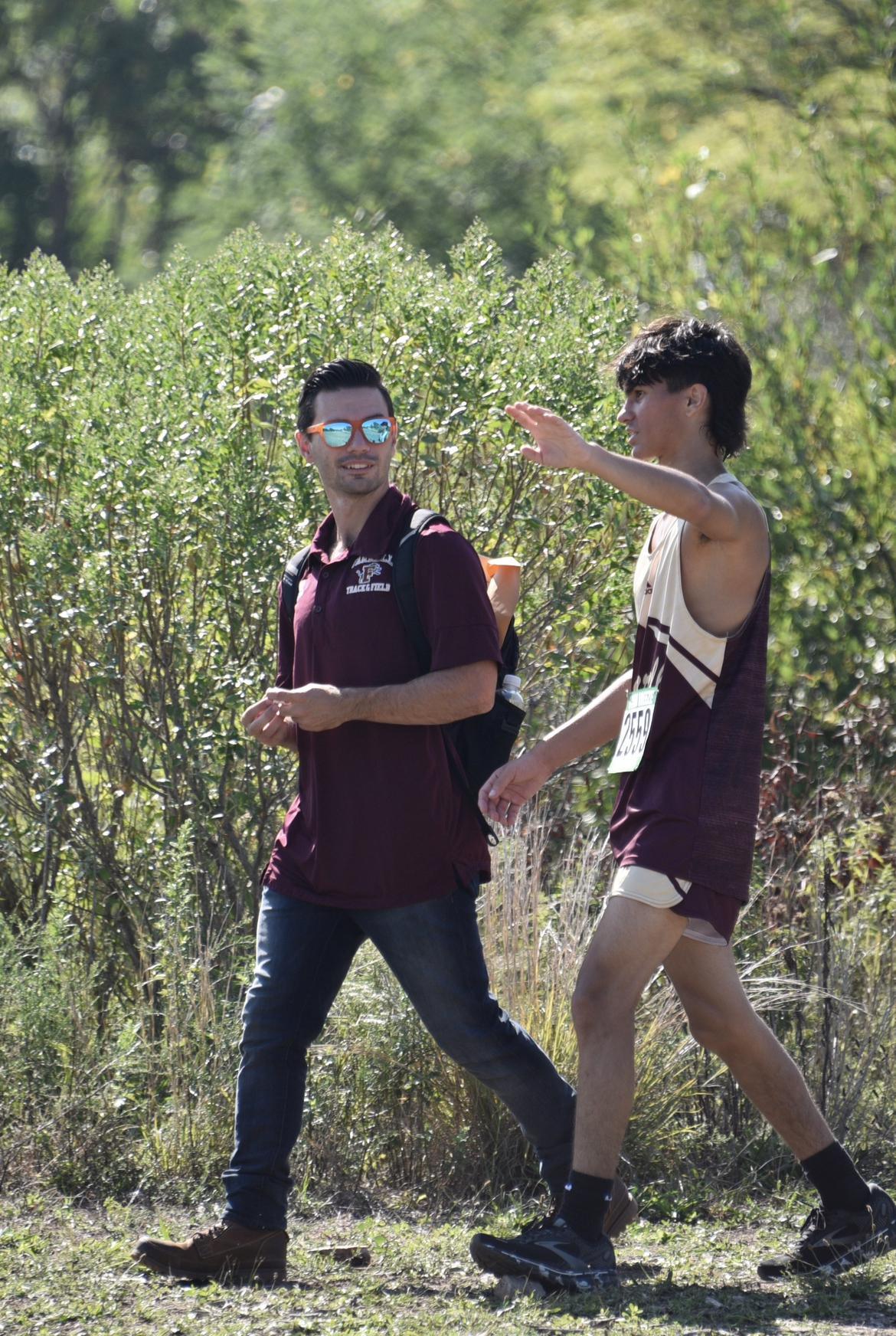 Pictured above: Mr. Goodwin looks to bring the best out of his students, both academically and athletically.

Why did you decide to become a track coach?
Track is my favorite pastime. So it was kind of a natural fit. It's something that I have done since I was six years old. I also led the Delaware cross country and track and field team when I was a senior at the University of Delaware. And I love that experience of not only coaching the team, but [also] running the finances, organizing buses, and taking care of recruitment. I love that aspect of leading that team.
What are their requirements for a track/cross-country athlete to truly succeed?
Dedication is number one. Dedication does not come easily. You have to be out there on days where it's sunny and 65, days when it's raining and 22, snowing. It takes a special type of person to get out there and get after it, day in and day out.
The second thing is that I would encourage all track and field athletes to develop his patience -- with themselves, with their progress, with their teammates. Because with patience, you become a whole man, a more patient man. And that's critical to your development in life.
How does the track team look as the outdoor season is now here? (Note: This interview was recorded prior to the Track and Field team's Outdoor Championship)
Well, as I mentioned, I currently work with the freshmen and sophomore group. Those 30 individuals have been working day in and day out, absolutely crushing the workouts that I've prescribed to them. Again, showing that dedication that we mentioned earlier, asking the right questions and being true students of the sport.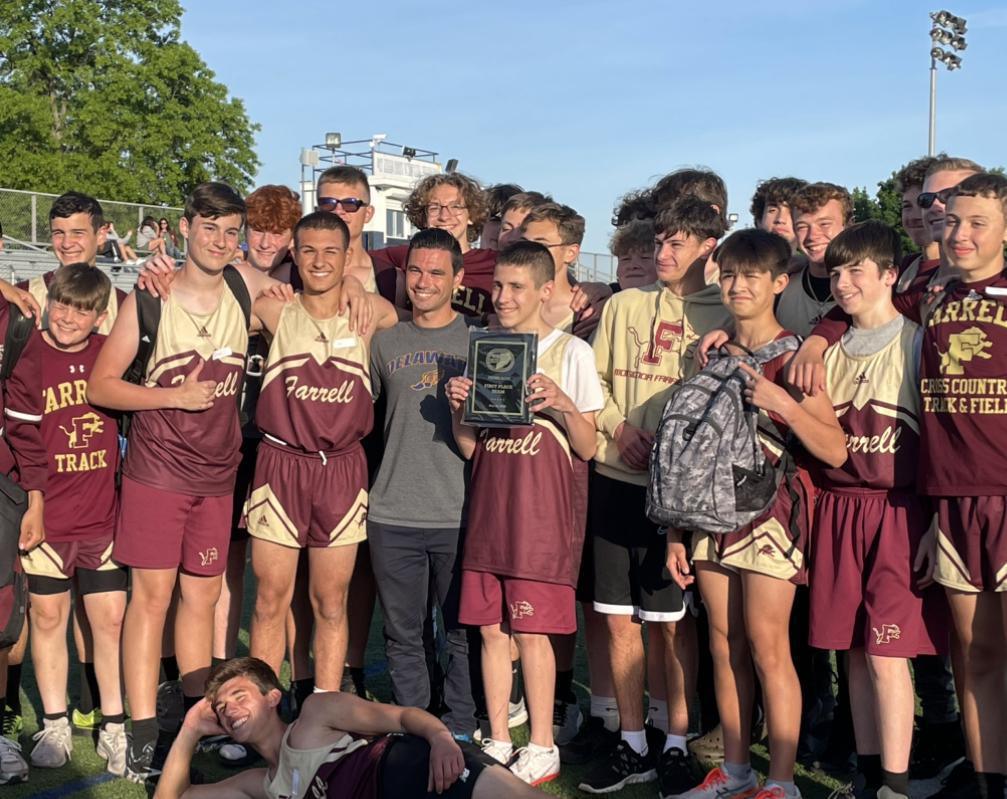 Pictured above: The Monsignor Farrell Track and Field team, which Mr. Goodwin is a coach for, won the Staten Island Outdoor Championship on May 7.

What advice do you have for students who might want to join track or any sport?
Specifically join track. Give it a shot. If you like it, stick with it. If you don't like it, walk away from it. It's an open and revolving door where we want to encourage everybody to get better. We will not turn you away based on your ability. We want to see your progress, and most of all, we want to see your enjoyment.
As far as anything and the other sports go, or any other clubs for that matter, Farrell is your sandbox. And I want I want to encourage everybody to just try it. Dip your toes into that water of uncertainty and and see where you land right. Some people will try something and not like it. Some people will try it and fall in love with it. You need to give yourself that opportunity.
Anything else you want to add?
Best of luck to the graduating seniors. You were my first class and I hope to channel everything that I taught you into the students that I'm going to teach in the future.