Another year, another Outdoor Track and Field championship for Farrell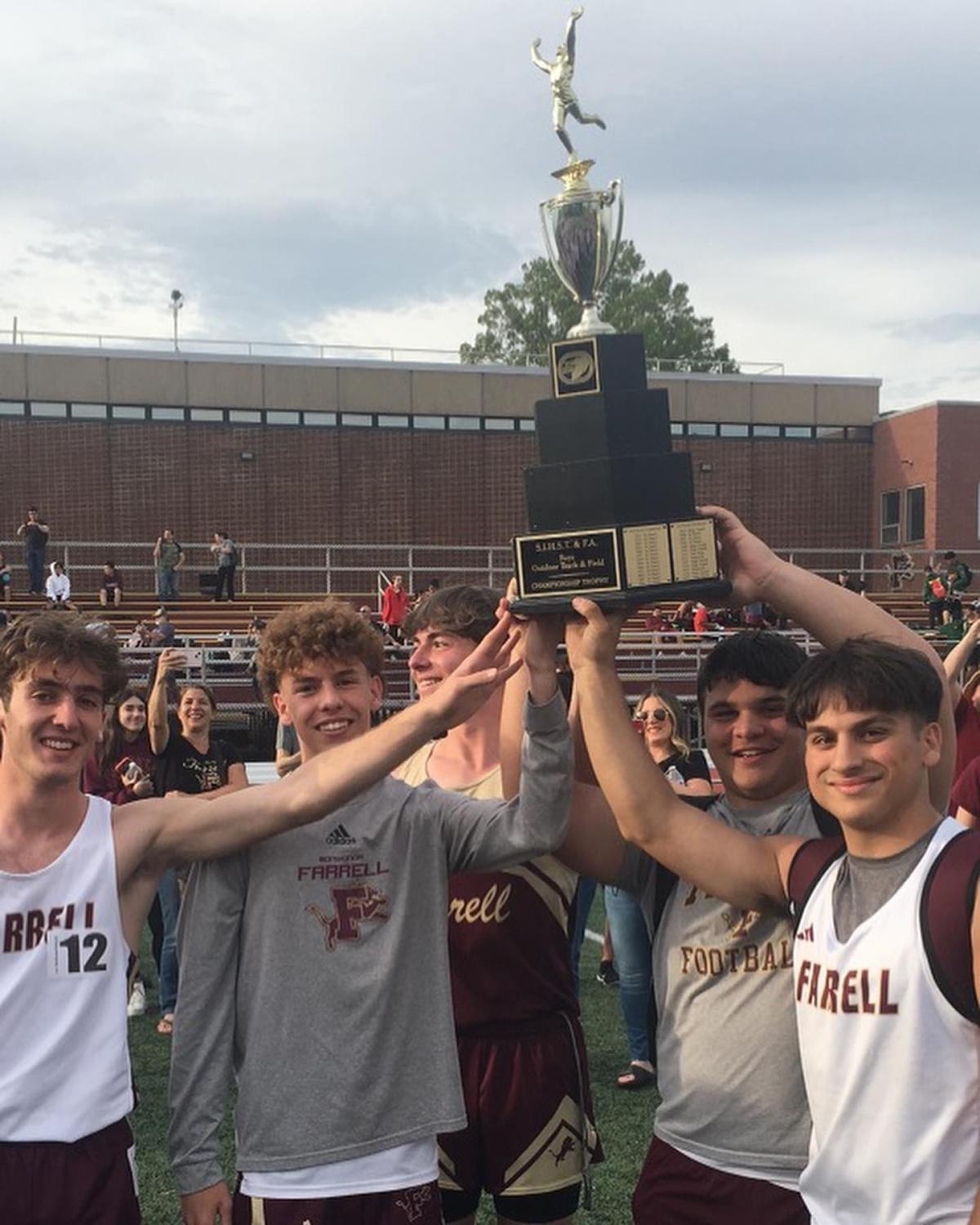 Pictured above: The Farrell Lions captured its 45th Staten Island Outdoor Track & Field Championship on May 7. Several of the team's junior athletes hold the championship trophy in celebration.
Track and Field roots can be found in human prehistory and in Greece. It tests the human capabilities in athletics in a variety of activities inclduing meter-runs, hurdles, javelin, long jumps, pole vaults and more!
For the 45th time in Monsignor Farrell's history, the Lions have won the Staten Island Outdoor Track and Field Championship. The team clinched the title at home on May 7.
The seniors, including Messiah Burch, Nick Barbaro and Shawn Keegan, among others got to complete their season with a bang!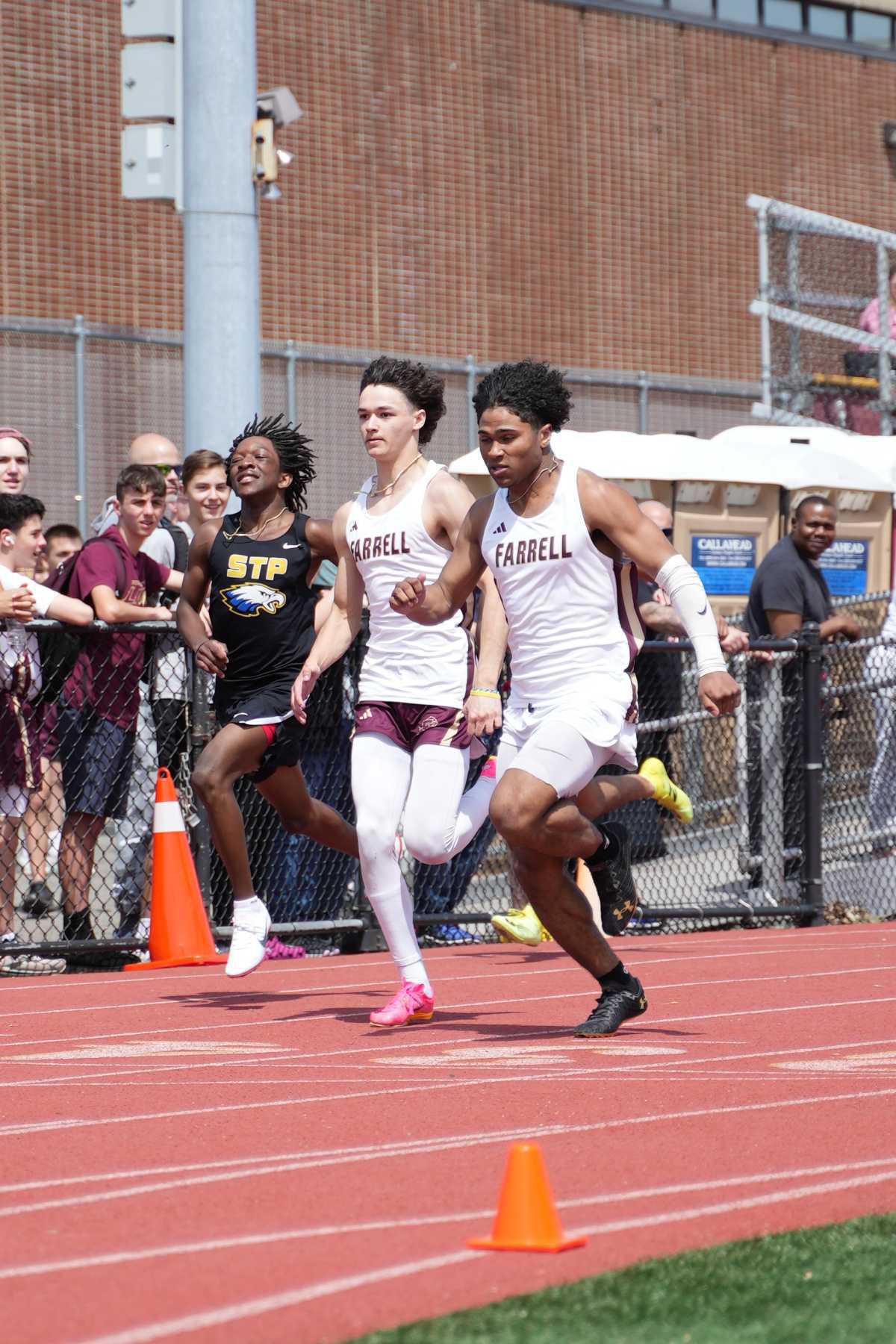 Pictured above: Messiah Burch took home first in both the 100 and 200-meter dash at the Staten Island Outdoor Track and Field Championship.

In particular, Burch accomplished this greatly with key performances to help lead the team, taking home gold in the 100-meter and 200-meter dashes. Barbaro had his own success by coming out on top in the 800-meter run.
Other notable first-place finishes came from junior Ty Lawless (in the triple jump) and junior Louis Martinez (in the shot put).
Farrell also swept the top-three in the discus thanks to the efforts of Enzo Rapacciuolo, Martinez and junior Yasire DeJesus (who also finished fourth in the shot put).
Farrell additionally took home first place the win the 4x800 and 4x400 meter relays and third in the 4x100.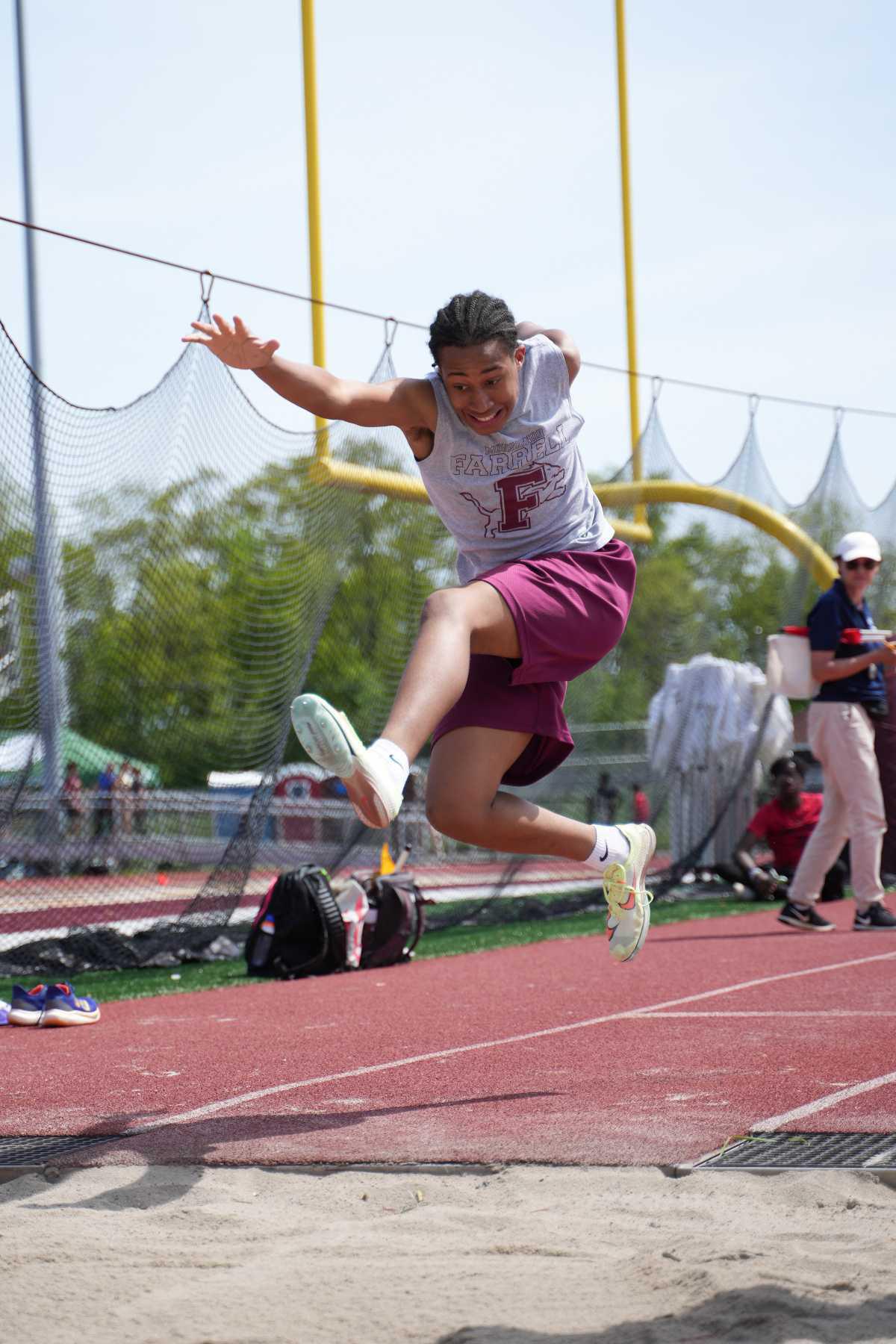 Pictured above: Freshman Jose Encarnacion took part in the triple jump, where he placed fifth.

Other notable second-place finishes came from Lawless (high jump) sophomore Tyler Rivera (100-meter dash) and sophomore Brandon Mullen (javelin).
Bronze medalists included Keegan (400-meter dash), senior Joe Logan (800-meter run), senior Michael Mason (1600-meter run), freshman Anthony Lenza (110-meter hurdles), junior Argishti Martirosyan (high jump), junior Matt Toomey (javelin)
Other noteworthy performances came from the following: ​
Senior John Leone - Fourth in the 1600-meter run
Sophomore Joe Castellano - Fourth in the 110-meter hurdles
Junior Angelo Spatola - Fourth in the long jump
Senior Jayden Loffreno - Fourth in the pole vault
Sophomore Max Samarin - Fourth in the high jump
Freshman Jose Encarnacion - Fifth in the triple jump
Junior Matthew Hevaghan - Fifth in the shot put
Sophomore Joseph Costa - Fifth in the high jump
The coaches and athletes truly showed their determination and dedication toward another championship, and we congratulate them for their success!