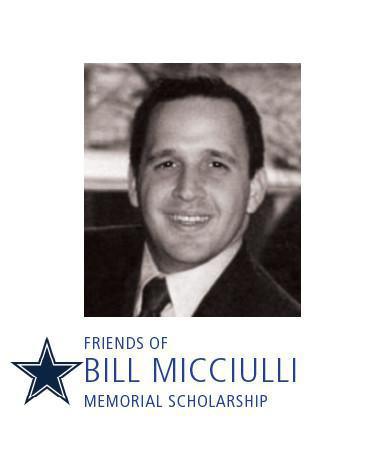 Billy Micciulli, Class of 1989, was killed on September 11, 2001, during the terrorist attacks on the World Trade Center. Only 30 years old, Billy was already a Partner and Senior Vice President with Cantor Fitzgerald where he worked as an International Equities trader on the 104th floor of the North Tower.
After earning his Bachelor's degree from Fairfield University, Billy received his MBA from St. John's University where he was a member of the Beta Gamma Sigma honor society.
Billy lived with his family in Old Bridge, NJ. He is survived by his wife, Colleen, their two daughters, Emily and Sara, and his parents William and Joan. His Monsignor Farrell legacy lives on in the Monsignor Farrell men who have been fortunate enough to be named Billy Micciulli Scholarship recipients.
​Billy with his daughters Emily and Sara​​
The Bill Micciulli Scholarship Has Awarded Over $200,000 in Scholarships to Monsignor Farrell High School Students
The primary goal is to give an annual scholarship in Billy's name to his alma mater, Monsignor Farrell High School. Supported by the great success of their annual golf outing, the Friends of Bill Micciulli Foundation has granted more than twenty-five full scholarships to rising Monsignor Farrell seniors, amounting to over $200,000 in grants. Each grant is a full scholarship to cover tuition for a student's senior year. At least one scholarship has been granted each year since 2003, with multiple scholarships being granted within the same year on several occasions.
The Micciulli Scholarship committee uses an application process aimed at assessing the full, well-rounded student. Each candidate is given information about Bill to help them understand his achievements in life and his character. They are then asked to write an essay about how they may have demonstrated, or how they strive to emulate those same characteristics. The recipient of the Micciulli Scholarship is a student who works hard in academics and in service, and who demonstrates themselves to be a young man who is concerned with the well-being of his community, much like Bill was.
Current Monsignor Farrell High School Juniors are welcome to apply for the Bill Micciulli Memorial Scholarship by downloading the application via the button below. The application deadline is Friday, April 30, 2021.
More About Bill Micciulli '89
Bill Micciulli, Class of 1989, was a husband, father, son, brother, and friend who was outgoing and lived life to the fullest. He believed in getting together with friends and family, so all could enjoy each other.
Those words from the Friends of Bill Micciulli (FOBM) website only begin to describe a man who valued relationships, and who left a legacy of bringing people together to support one another and celebrate life. In his memory, a foundation was formed with the initial objective to provide scholarships to students at Monsignor Farrell High School but grew into much more.
Nick Mehnert '89, Bill's close friend since starting as freshmen together at Monsignor Farrell, recalls the moment when the foundation and memorial golf outing had its start. "One Saturday about a month after 9/11, a bunch of us gathered to play golf at Battleground Country Club where Billy was a member. It was more crying than playing golf, and Billy's dad was there. A bunch of us told him we needed to do this bigger since Billy was larger than life. So goes the start of Friends of Bill Micciulli."
Every year, family, friends, and friends of friends who may have never met Billy have gathered in June for the Bill Micciulli Memorial Golf Outing. Every year, the golf outing sells out, and the event has grown so much since its inception that it now occupies two 18-hole courses at Royce Brook Golf Club in New Jersey.
The "Micciulli Outing" is a true testament to the strength of the bonds of friendship that Bill sewed during his life. "Billy was the ultimate host and loved getting together with friends. The outing is our way of continuing that in his memory," says Joe Saraceno '89, board member of the FOBM foundation and part of the tight-knit group of friends that included Billy and several of his Monsignor Farrell brothers. "Farrell meant so much to him. Raising money for a Farrell scholarship just makes the whole thing perfect."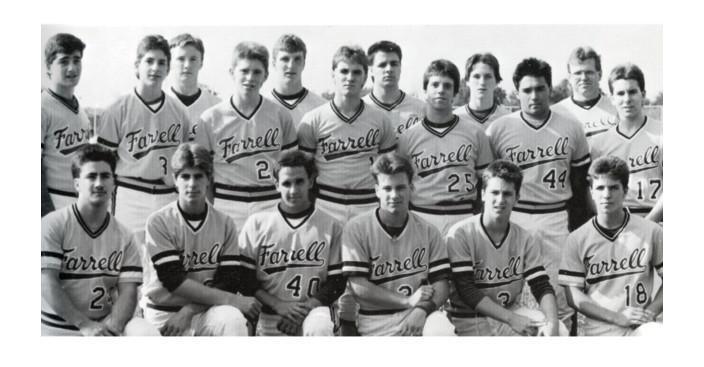 The 1988 Monsignor Farrell Baseball Team. Top Row: John Lanza, Ed Sibilia, Bryan Hickman, Rich McGivney, Steve D'Aquila, Mike Regan, Joe Meyer, Mike Canavan, Mike Kress, Jamie Pate, Coach Larry Musanti, Tom Murray. Bottom Row: Chris Romano, John Papa, Billy Micciulli #40, Nick Mehnert, Jason Burke, Joe Cardello.
​
A Baseball Coach Remembers a Team Leader
Other than loving to bring people together, a defining characteristic of Bill Micciulli was his love of baseball. Billy played little league at Great Kills, high school ball at Monsignor Farrell, and then went on to play Division I college baseball at Fairfield University in Connecticut.
When asked about the 1988 - 1989 Monsignor Farrell baseball team, head coach Larry Musanti can still rattle off the roster, position by position. He remembers each player vividly for their style of play and their personality. But on a team of talented players, and some memorable characters, Bill Micciulli stood out to his coach. "Billy was smart, knowledgeable on every aspect of the game. He could play every position, but he was too valuable as a pitcher for me to put him anywhere else on the field," recalls Musanti. "When he wasn't pitching, it was like having another assistant coach on the bench next to me. I always appreciated his insight because he could spot things that most other players wouldn't see."
"Bill was a giver in every sense of the word. Always there for family and friends, whether close or extended. And he loved a good gathering. That's why our annual golf outing and the resulting scholarships given in his name are such great ways to celebrate and cherish his spirit." - Tom Collins '89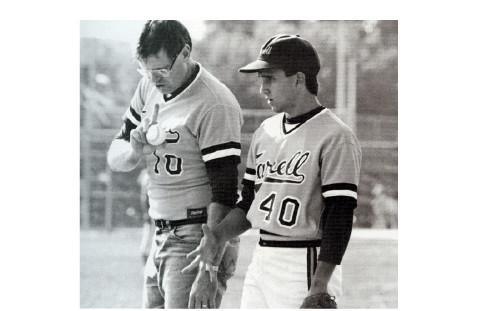 Bill was a starting pitcher on a Monsignor Farrell team that won the overall Staten Island championship, defeating perennial power-house Tottenville. The team also played for the CHSAA championship at Yankee Stadium, where they lost a close game to St. Raymond for the City Catholic School title (2-1). Billy was named a New York Post All-City All-Star as a pitcher that season and Larry Musanti still remembers the picture that ran in the paper accompanying the recognition. "The picture was from a playoff game, and it showed Billy, as a pitcher, covering a play at first base. There's Billy, in his typical hard-nosed playing style, sliding into the base to make an out on a bang-bang play…. what a play!"
To the coach, the picture in the New York Post simply caught the character of Bill Micciulli. "Billy was all heart. He was not big, but for a guy so thin it was amazing how hard he could throw.
His teammates called him 'bulldog' and I think the picture in The Post when he was named an All-Star captured the essence of how he played and how hard he worked at everything. He was such a valuable member of those teams. He was well-liked, and very well-respected by his teammates. He was a great kid, just a great kid."
Bill Micciulli is remembered by many people for a variety of reasons. He was a great teammate, a loving father and husband, a cherished son, the gracious host of Dallas Cowboy game-watching parties, the man that friends and family could always lean on for strength and count on for an uplifting smile. He is not only remembered once a year at a memorial golf outing, but he is remembered every time the Friends of Bill Micciulli Foundation helps someone, and he is remembered every day by the friends and family who carry on his memory. "Billy touched our hearts in many different ways," writes his cousin Charlie McAteer '90 on the foundation's website, "and every day we carry with us those wonderful memories of his friendship, love, and laughter, which is Billy."
Larry Musanti and Billy during his senior season at Farrell
FOBM Supporting the Community
The Micciulli Foundation has expanded beyond its original goal and has become a source of support to other causes that fit closely with Billy's character.