The new and improved Monsignor Farrell
Out with the old and in with the new! This school year, Farrell unveiled the new Brother Henry S. Wright Learning Commons in the place of the library. This new space is equipped with a classroom/seminar space with brand new SMART boards, LED lighting, a multi-function research and working space for students, a printing center, and one of only a handful of retractable and soundproof NanaWall glass wall systems in the entire country.
I had the chance to interview one of the teachers who is taking full advantage of this new space, Miss Guerriero. She was a teacher here for eighteen years before becoming the English department chair at her alma mater, Staten Island Academy. Now, she has returned to Farrell and she now teaches in this new space, directs our brand new writing studio, and is going to head up many more exciting activities that will take place in the Learning Commons.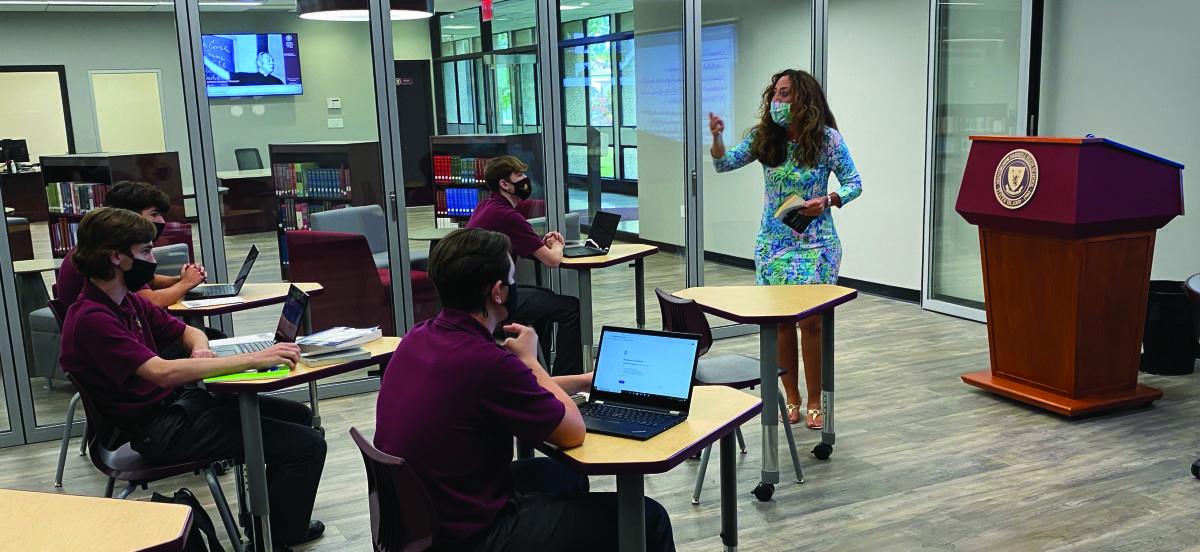 Miss Guerriero teaching in the brand new Brother Henry S. Wright Learning Commons.
Q: What do you think of the Learning Commons in general, and how is it teaching in this environment instead of a traditional classroom?
A: So, I've really been extremely lucky to get the chance to come back to Farrell and have the opportunity to teach here once again. I guess I have more of a personal attachment to the new Learning Commons because of the person they are named after. Brother Wright is a dear friend of mine for many years. He was the first teacher that I met when I started teaching at Farrell. He became not only a mentor, but really a best friend. He embodies the values that I think every educator aspires to: enthusiasm, devotion to his craft, and the relationships he has with his students and the faculty. It is truly unlike anything you have ever seen. To just be in the space that is named after my personal friend and mentor is an honor every single day.
Q: What exactly is the writing studio?
A: The writing studio is an initiative that we have that aims to support, encourage, and inspire emerging writers from across the curriculum. We're looking at this as an avenue for Farrell writers to develop a confident voice, communicate a clear argument, and discover the joys of the writing process. We want students from all disciplines to be able to come in here and really finesse those writing skills that have been ground into them since freshman year. Our staff, whom we call "studio staffers", will be National Honor Society members alongside students who thoroughly enjoy the craft of writing. The goal is to provide guidance and feedback to help writers become explorers and architects, in a sense. What I mean by that is we want students to explore the writing craft while also helping them design and blueprint their own literary structures. I am truly excited to see what we will make of the writing studio this year.
Q: What is the Visiting Professor Lecture Series and what is your role in its emergence here at Farrell?
A: The Lecture and Conversation Series is something the writing studio wanted to branch into. Mr. Tobacco is allowing us to connect with professors from the top 100 universities in the nation. We want these professors to come in and do a lecture, discussion, and conversation with our students about a particular topic that we may be doing in class at the time. This is another way we can expose ourselves to the writing and speaking of others. The way this started was with a Farrell alumnus that I connected with named Dr. Paul Contino '76, a professor at Pepperdine University in California. I met him when I was teaching Dante's Inferno here at Farrell several years ago. Dr. Contino was in Staten Island at the time and I asked him to come do a lecture on this work that we have been studying. The kids were engaged, and he was engaging. It was a terrific collaboration. This year for summer reading, my students had to read The Lord of the Flies. As I kept reading it over the summer before coming in and teaching it, I kept thinking of all the allusions to The Inferno that there were. I questioned whether or not there was a way to connect the characters and themes between these two works. I took Mr. Tobacco's challenge to heart and reached out to Dr. Contino. He agreed to come in for this lecture, and is extremely excited to be the first to participate in this new Lecture and Conversation Series taking place on November 4th.