Alumni Lead Student Stock Portfolio Challenge Teams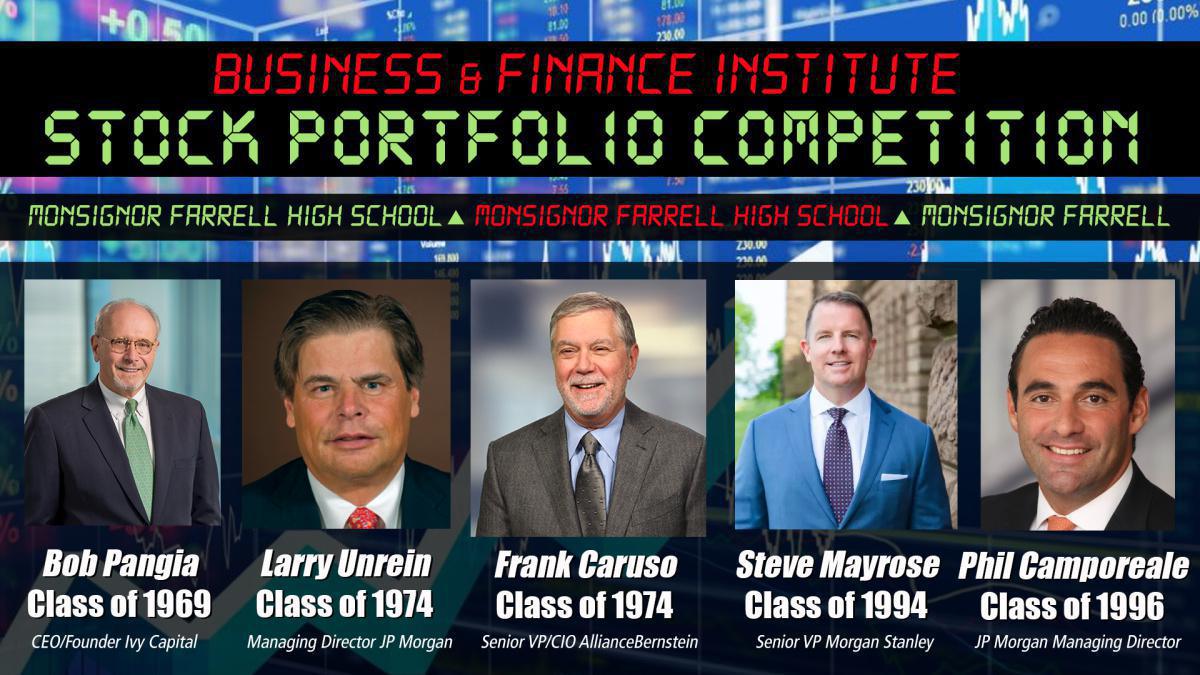 The opening bell on November 1 marked the official start of the Monsignor Farrell Business & Finance Institute's Stock Portfolio Competition.
Unlike many stock-picking competitions that send inexperienced student investors out into the wild of the financial markets without the tools necessary to make informed financial decisions, the Monsignor Farrell difference, as it often does, shines through the enthusiastic participation of our accomplished alumni!
Over 75 members of the Business & Finance Institute have been split into 5 portfolio teams, guided by their older Farrell brothers who bring a wealth of stock analysis and broad financial market experience to regularly scheduled team meetings. Our Faithful Men have the opportunity to learn how to carefully analyze the companies whose stocks they are interested in buying, from portfolio managers who have managed, in total, hundreds of billions of dollars in assets for investment management giants like JP Morgan and Alliance Bernstein.
The competition, which is run out of our state-of-the-art Bloomberg Lab, puts our students into a real-world market environment as they enter and manage their trades through Bloomberg's trading platform. All portfolio decisions will be generated and executed by the students with mentorship and guidance from experienced pros, making the Monsignor Farrell Stock Portfolio Competition yet another unique learning experience for our Faithful Men!
Alumni Portfolio Managers for the 2022 - 2023 Competition:

Bob Pangia '68
Ivy Capital Partners - Co-Founder/CEO (retired)
​
Prior to founding Ivy Capital Partners, an orthopedic-focused private equity firm, Bob served as Executive Vice President for Paine Webber/UBS, heading a division of the firm's global investment banking business.

Larry Unrein '74
JP Morgan - Managing Director and Head of Private Equity Investments (retired)
​
Larry co-founded JP Morgan's Private Equity group which today oversees the management of $28 billion in investments on behalf of institutional and private clients.


Frank Caruso '74
Alliance Bernstein - Senior Vice President, Portfolio Manager, and Chief Investment Officer of Growth Equity
​
Alliance Bernstein is one of the top 50 investment management companies in the world based on assets under management, and Frank is responsible for over $75 billion in stock investments.


Stephen Mayrose '94
Morgan Stanley - Senior Vice President, Financial Advisor
​
Steve is a CFA (Chartered Financial Analyst) Charterholder and Certified Financial Planner (CFP). Steve has managed assets for clients for over twenty years with Paine Webber and Morgan Stanley.


Phil Camporeale '96
JP Morgan - Managing Director and Portfolio Manager, Multi-Asset Solutions Team
Phil joined the Multi-Asset Solutions team in 2011 and prior to his current role, he managed the Investment Specialist team focused on US Funds. Phil has appeared in various media outlets including CNBC, Bloomberg, and The Wall Street Journal.