Mr. Tom Albano '12, Moderator

Members of The Lion staff during a production meeting in the Communications Center, home of The Lion. Clockwise from top: Adrian Apreza, '26; Angel Mercado, '26; Vincent Proscia, '25; Editor-in-Chief Matthew Toomey, '24; Brandon Ritchie, '24; Assistant Editor Jack Lyons, '24

The Lion is a collection of online content created by Monsignor Farrell Students and moderated by Department of English faculty member and alumnus Mr. Tom Albano, Class of 2012.
The Lion staff creates content that is featured exclusively on msgrfarrellhs.org. Their responsibilities include holding production meetings, writing and editing articles, conducting interviews, covering school events, photography, graphic design, and more.
Any student who is interested in joining The Lion staff should

contact Mr. Albano

.​

From the Moderator......
When starting to write this end-of-year message, I had a flashback to 11 years ago – when I was a student at Monsignor Farrell and the outgoing Editor-in-Chief of The Lion. With days to go until graduation, I sat alone in my bedroom, thinking about everything I wanted to say as I left Monsignor Farrell as a student for the last time.
Life has a funny way of working out sometimes, doesn't it? Fast forward to now, and here I am at the end of my second year as an English teacher at Monsignor Farrell High School. And once again, I find myself sitting down and trying to type out the right words, but in a different circumstance – at the end of my first year as moderator of The Lion.
When I was asked by Mr. Tobacco to be the new moderator of The Lion, I knew it would be a challenge – but one that I was excited to take on.
The times are very different from when I was a student member of The Lion. The days of physical newspapers are, perhaps, becoming passé (granted they are still around, and I do appreciate them!) In its place is a digital age filled with new social media, new tools and new strategies to best produce content. It also means things age much faster, so updated content is needed more frequently. And that also means a need for more creativity, innovation, and dedication.
It also meant I needed to find students who were willing, excited, and passionate about being a part of The Lion.
While it took a little bit to get used to, I can say that I'm very proud of the product
The Lion
staff has produced. It's different to look at everything from "the other side" going from student to faculty moderator – and in two different eras of the media sphere – but I was motivated to get
The Lion
off the ground running in the best way possible. Taking my experience and education in the media field into this project, I was ambitious to ensure success from volume one in this 2022-23 school year.
Click here
for archived
Lion
articles.

I am more than happy about The Lion student staff. Whether they joined out of a love of writing, a desire to invest in potential future media careers, or to simply just be more involved in the school community, I can honestly say the students more than delivered.
​- Mr. Tom Albano

These students were responsible for creating and planning at weekly prep meetings, developing different story ideas, crafting their various projects, conducting interviews, attending events, working with myself and The Lion editorial staff on how to approach their stories or how to improve their abilities, utilizing various tools and programs provided by the school as they shaped their stories and, of course, publishing their work in The Lion section of the school website.
The new Communications Center, located in the former Brother's Residence, is home to The Lion. The facility features a conference room with a touchscreen SMART Board where the staff holds production meetings, as well as a suite of iMac computers loaded with the Adobe Creative Suite that the students use to create and edit content.
So, to sum up, they had a lot of responsibilities! But the different articles and content they put out were tremendous, and I can't congratulate and thank them enough!
A special thank you goes out to the editorial staff of Editor-in-Chief Matthew Toomey '24 and Assistant Editors Jack Lyons '24 and Robert Modzelewski '24. As the eldest members of this staff, they were great role models, displaying tireless hard work and passion as they balanced their tasks with The Lion and all their work inside the classroom. I'm super excited to have them back for their senior year and can't wait to see what they will further achieve!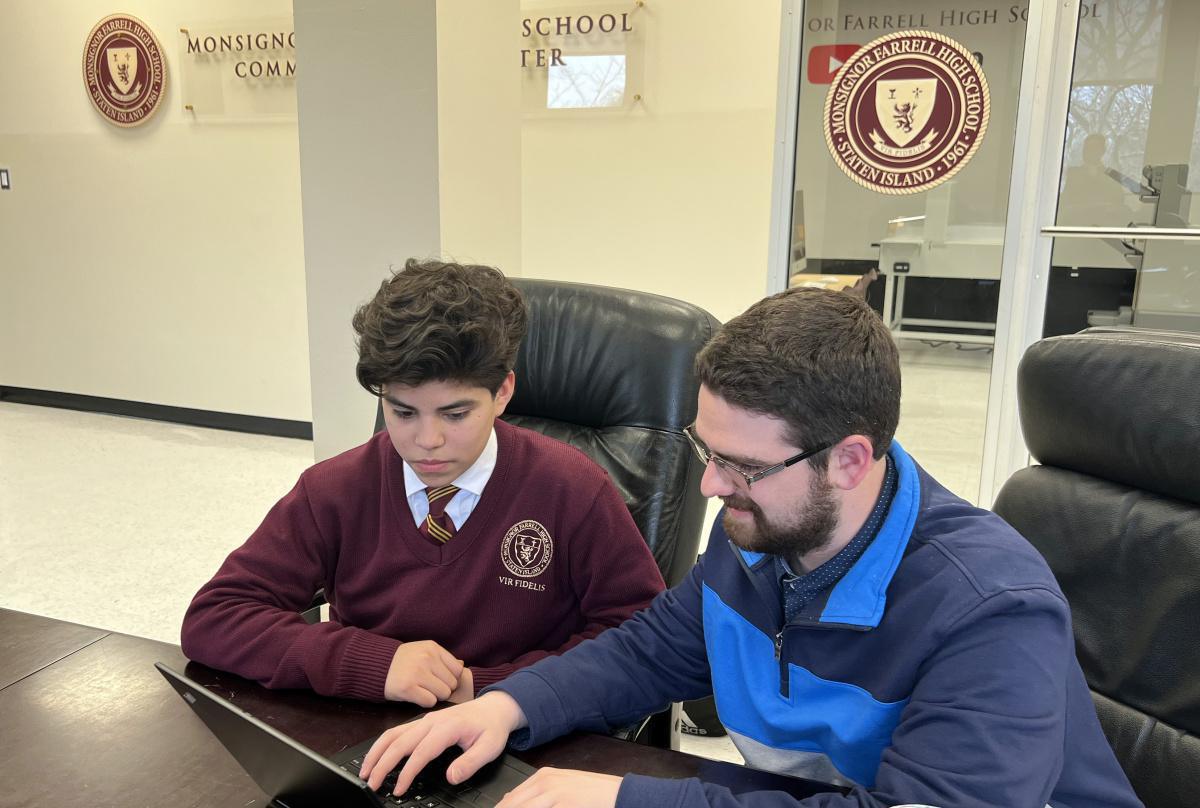 Mr. Albano works with Adrian Apreza, '26, as they develop content for The Lion.
Another big thank you goes out to everyone else who has dedicated their time and efforts to The Lion: Brandon Ritchie '24, Vincent Proscia '25, Adrian Apreza '26, Jeremiah Labarbera '26, Angel Mercado '26, Nickita Zinkovsky '26, and photographers Tyler Gaetano '24 and Nicholas Ustun '26. You all played various roles over the course of the school year in creating terrific pieces for all to enjoy. I'm hoping for continued success when we reunite in September!
The Lion would like to give special thanks to Mr. Tobacco and the leadership team for their continued support and for giving students a phenomenal first step into the fields of communication, journalism, and media. And thanks to them again for trusting me with guiding the students into these first steps.
And, of course, I can't forget the rest of the Monsignor Farrell community – my colleagues, other students, the parents, alumni, and everyone else – for their comments, feedback and praise for the various pieces that have come out on The Lion! (Bonus thanks to all those that allowed The Lion to cover them or their various events throughout the year!)
To the Monsignor Farrell community at large, thank you again for every ounce of support given to The Lion in 2022-23. And to The Lion staff, congratulations again on all the achievements you guys had this year, and I'm looking forward to what more we will accomplish and continue to bring The Lion forward in 2023-24!
See you all in the fall!
Mr. Thomas Albano '12
Department of English
Moderator of The Lion
​
Mr. Albano graduated from Monsignor Farrell in 2012, serving as Editor-in-Chief of The Lion during his senior year. He earned his B.A. in journalism from Rider University and his M.A. in journalism from Hofstra University. He has been a member of the Monsignor Farrell Department of English since 2021.