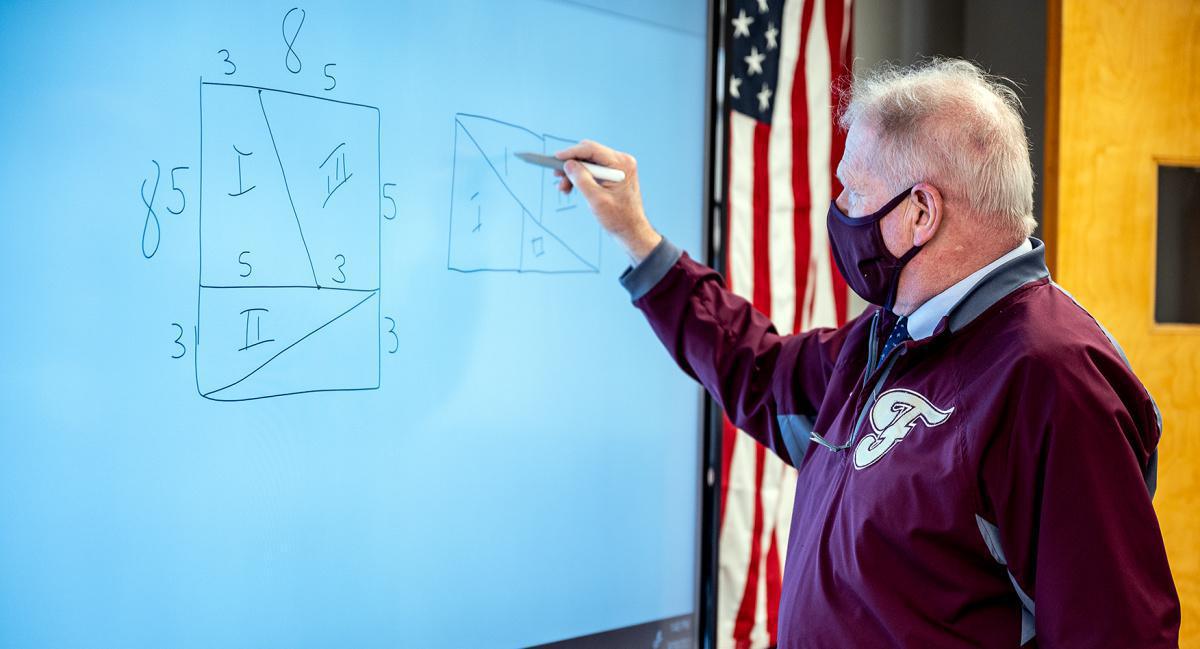 ---
"Mathematics is the queen of all sciences…She often condescends to render service to astronomy and other natural sciences, but in all relations, she is entitled to the first rank." - Carl Friedrich Gauss (1856)
---
Two programs are offered for mathematics: Regents and Honors / Scholars.
In the Regents curriculum, a student fulfills the necessary New York State requirement of taking the Algebra 1, Geometry, and the Algebra 2 Regents by the end of his junior year. Based on his performance on those exams and his overall math average, the student is either recommended for Advanced Algebra/Introduction to Calculus, or Applications in Algebra as his senior required math course.
In the Honors / Scholars curriculum, incoming freshmen who score in the 80th / 90th percentile on their composite and/or in math are invited to be tested for this program. A diagnostic test is given with an experimental algebraic part. Students are chosen for this program based on their performance on these tests. At the end of junior year, the top 20 students in this program are chosen to take AP Calculus BC in their senior year. The others take Calculus R or AP Calculus AB, which are all college level math courses.
Additionally, Monsignor Farrell is involved with the St. John's University's College Advantage Program, allowing students who take Calculus AB, BC, or R, and score well in the course, to be awarded 8 college credits. Accelerated Math 11, Advanced Algebra, and Applications in Algebra students can earn 3 credits through this program.
​
Monsignor Farrell's involvement with the University of Albany's University in the High School Program allows students taking Accelerated Math 11 or Advanced Algebra to earn 3 college credits, based on their performance.
The Monsignor Farrell High School Math Team
Monsignor Farrell participates in Math contests sponsored by the New York Math League. These contests give students an educationally enriching opportunity to enhance their mathematical skills, develop logical reasoning, and gain recognition for mathematical achievement.
In addition, students participate in the National Museum of Mathematics' Mind-Benders sponsored by the momath website.
It is the mission of the Department of Mathematics to prepare students for the variety of careers to which mathematics is the gateway by:
• Assisting in developing students' mathematical understanding
• Creating opportunities for students to reason logically and think analytically
• Enabling students to enrich their communicative and collaborative abilities.
• Engaging students' intellect
Department of Mathematics Course Sequence
Freshman Year
Algebra I with June Regents Exam (Regents Curriculum)
Algebra I & Geometry with June Algebra I Regents Exam
or Geometry with June Regents Exam (Honors / Scholars Curriculum)
---
Sophomore Year
Geometry with June Regents Exam (Regents Curriculum)
Geometry with January Regents Exam and Algebra II
or Algebra II with June Regents Exam (Honors / Scholars Curriculum)
---
Junior Year​
Algebra II with June Regents Exam (Regents Curriculum)
Algebra II with January Regents Exam & Intro to Calculus
or Precalculus / Intro to Calculus (Honors / Scholars Curriculum)
---
Senior Year
Advanced Algebra / Intro to Calculus or Applications in Algebra (Regents Curriculum)
AP Calculus AB or BC or Calculus R (Honors / Scholars Curriculum)
---