Louis R. Tobacco '90, P '22, '27
---
President of Monsignor Farrell High School
---
About Mr. Tobacco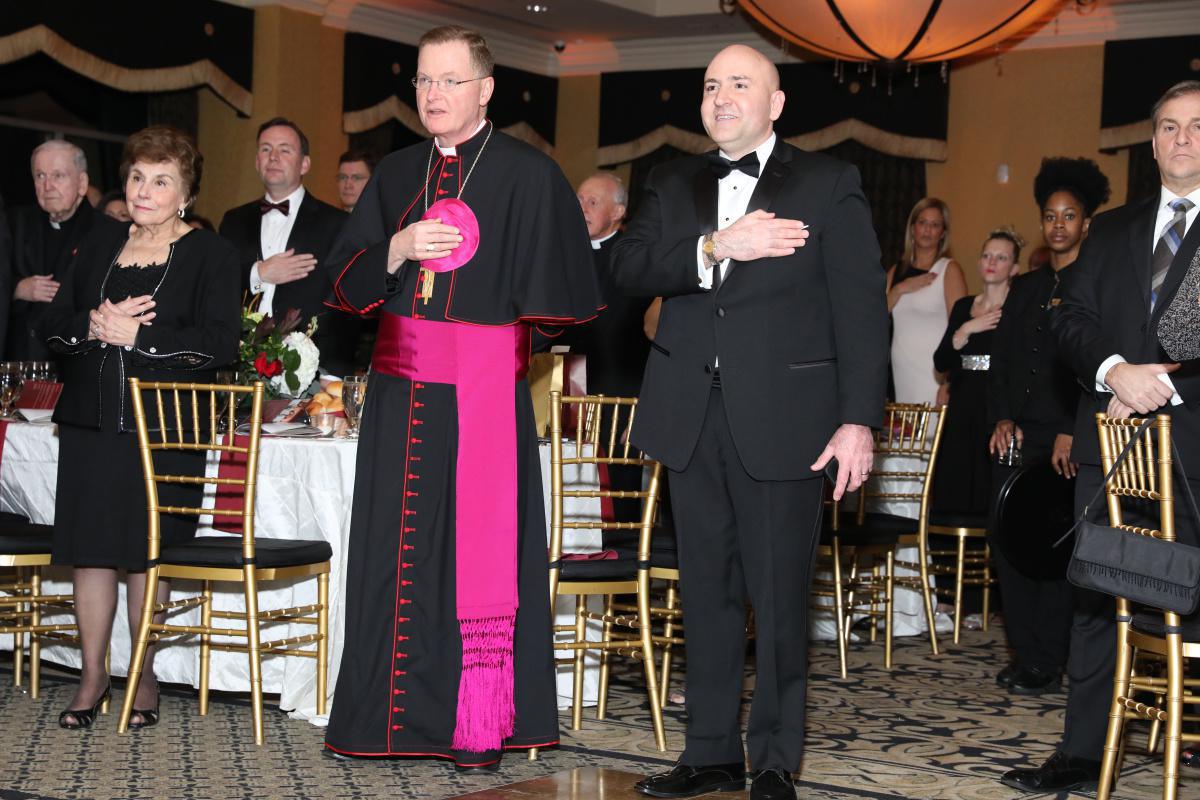 Bishop Edmund J. Whalen '76 and Lou at the inaugural Vir Fidelis Ball in 2020
The Monsignor Farrell High School Board of Trustees named alumnus Lou Tobacco '90 as the first President of Monsignor Farrell High School on Wednesday, May 22, 2019, following an extensive search and interview process. The board selected Lou for his visionary leadership, to enhance the success of its Catholic mission and educational organization, and to ensure the continued viability of its financial and enrollment management.
"I think Lou epitomizes everything that Farrell stands for," said Monsignor Thomas J. Bergin, who served as Farrell's Principal from 1983 - 1992 and Chairman of the Board of Trustees from 2009-2020. "He is a man of faith, a Vir Fidelis - a faithful man, a solid family man, and just the kind of person that we are interested in being the leader of Farrell."
"I am grateful to the Board of Trustees of Monsignor Farrell High School for nominating Lou Tobacco as the first president of the school. As an alumnus, Lou exemplifies what we hope our students become: good men who make a difference in the community because of a firm commitment to our Faith. I expect that Lou will do great things to continue the Farrell tradition."
Transformational Leadership at Farrell
Since being named president in 2019, Lou and his leadership team have made significant improvements to both the campus and academic programming.
Lou is currently presiding over the Strengthen the Legacy capital campaign, which has raised over $7 million dollars since its launch in 2020. By 2022, Lou already initiated and completed the construction of the award-winning Brother Henry S. Wright Learning Commons, the renovation of all science labs and suites, established the STEM and robotics center, the construction of the Business and Finance Center and Bloomberg Lab (the first of its kind in any Staten Island high school), as well as numerous upgrades to the campus infrastructure.
Most recently, Lou oversaw the development and construction of the state-of-the-art Performance and Wellness Center, which rivals Division I collegiate facilities, as well as the creation of Monsignor Farrell's own Bocce Complex.
Lou has also worked with his leadership team to enhance the academic programming at Monsignor Farrell. During his tenure, a number of new pre-professional academic societies have been established, including the Medical Education Development Institute (a partnership with Staten Island University Hospital-Northwell Health), the Leadership Institute, the Marine Biology Society, the Business & Finance Institute, the Writing Studio, as well as the Institute for Law and Public Policy.
Under Lou's leadership, Monsignor Farrell has also seen a significant increase in enrollment. The Class of 2027 is the largest incoming freshman class in a decade.
"I'm proud of what we have accomplished together in just a few short years and I am excited to continue the work of providing the best education possible for our Faithful Men. Great things are truly happening at Monsignor Farrell High School."
- Lou Tobacco '90
Prior to Farrell
Prior to being named president, Lou served as the Associate Executive Director of Community and Government Affairs for Staten Island University Hospital-Northwell Health. He has also held the titles of senior director of external affairs, as well as director of surgical business development at the hospital.
City and State Magazine named Lou as one of the Top 100 Staten Island Power Players every year since 2018, as well as one of the Top 25 Most Influential Staten Islanders of 2017.
Lou is also a former New York State Assemblyman, having been elected to three consecutive terms from 2007 - 2012. Representing the 62nd New York State Assembly legislative district (Staten Island), Lou served with distinction as the ranking member on the Health Committee. He was also appointed to the powerful Committee on Ways and Means, as well as committees on Higher Education, Codes, Transportation, Cities, Corporations, Authorities, Commissions, and numerous subcommittees.
Before being elected to public office, Lou enjoyed over thirteen highly successful years in pharmaceutical sales, first with Novartis and eventually with Pfizer Inc., where he received The Vice President's Cabinet Award, Pfizer's top sales honor.
"Monsignor Farrell High School has a marvelous history and I truly believe Lou will usher in an unprecedented era."​
- James Oddo '84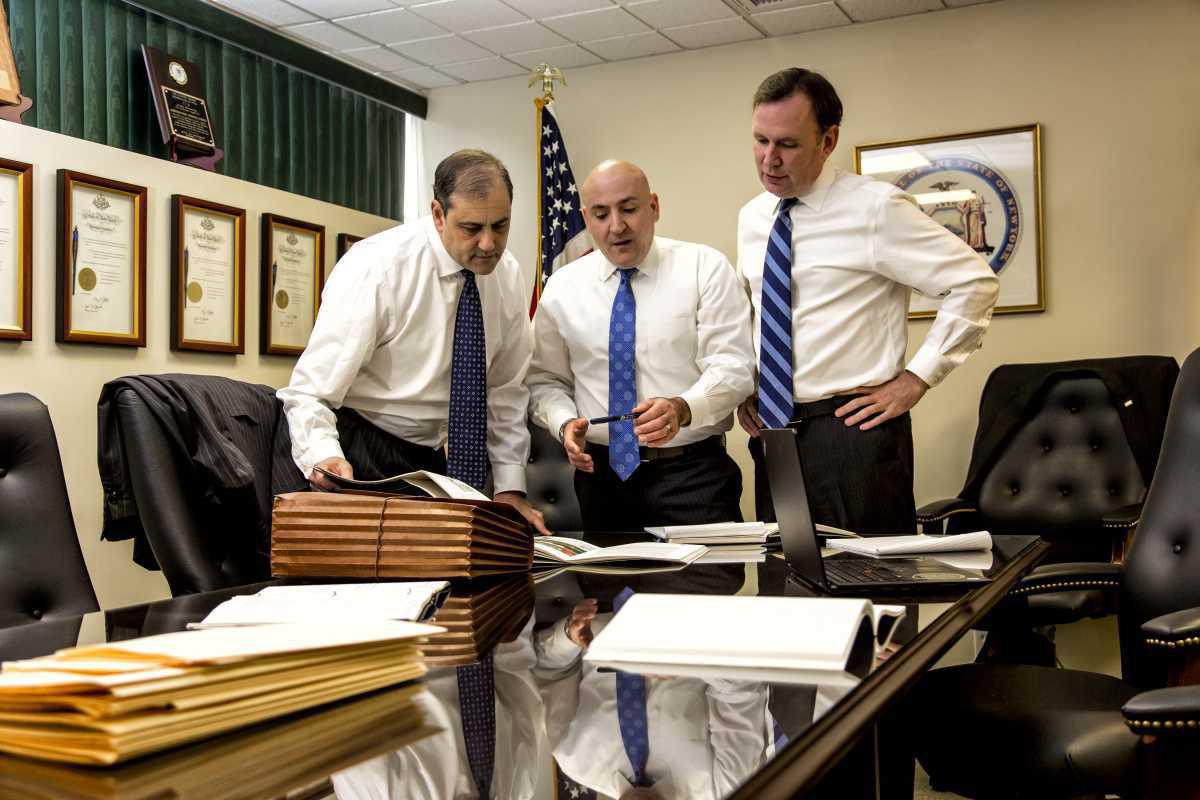 NYS Senator Andrew J. Lanza '82, Lou Tobacco '90, and NYS Assemblyman Michael Cusick '87
Lou started his career in public service in 1994 as the Assistant Director of Contract Oversight in the Office of the Staten Island Borough President. He then served as the Director of Community Relations for the Borough President from 1996-1997.
In 1994, Lou earned his Bachelor of Arts degree in political science with a minor in communications from the University of Albany's prestigious Rockefeller College of Public Affairs and Policy, one of the nation's leading public affairs institutions. While in college, Lou was selected to the New York State Assembly Intern Program, serving in the office of Assemblyman Robert Straniere.
A member of the University of Albany's Chapter of Sigma Alpha Epsilon, Lou was elected president and philanthropy chairman of the fraternity. In addition to being named to the Dean's List, Lou received the University President's Undergraduate Leadership Award at graduation.
A 1990 graduate of Monsignor Farrell High School, Lou served as student council president as well as the Superdance Chairman during his senior year.
While at Farrell, Lou was also a member of the Italian Club, 36 Neediest Families Drive, The Farrell Players, the Mock Trial Team, Prom Committee, Teaching the Christian Message, Big Brother, and Students Against Drunk Driving. He also attained the rank of Eagle Scout at the age of 14.
"As a longtime member of the Board of Trustees of Monsignor Farrell, I could not be more pleased with the selection of Lou as president. Lou will bring great energy, insight, and enthusiasm to this new role. I have no doubt that he will continue the great work started under the leadership of Bishop Whalen and that he will accelerate our plans for Farrell's future."
- Jim Quinn '70, President and CEO of Tiffany & Co (ret.), and former member of the Farrell Board of Trustees
President/Principal Model
Bishop Edmund J. Whalen '76, who served as Farrell's first alumnus principal from 2010 until January 1, 2019, explained the changes in education that led to the decision to move to the President/Principal model. "Why now, you may ask?" said Bishop Whalen, whose Farrell tenure ended after being elevated to the position of Vicar for Clergy by Cardinal Dolan. "Education has changed a lot," noted Bishop. "There is much more to running a school than the academics. Thank God we have the best in principals right now in Mr. Larry Musanti," adding, "You could not ask for a more experienced, caring, and dedicated principal than he."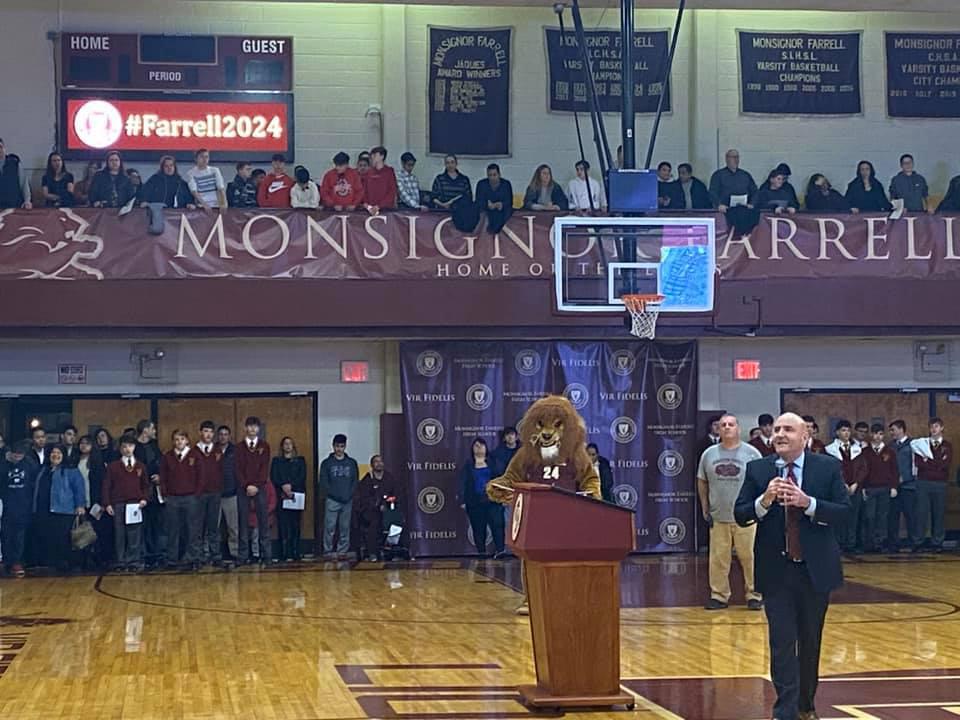 Lou's role as president was further explained by Bishop Whalen. "A president is responsible for pulling together all of the various aspects of what it means to run a school. It also means having to put together financially the wherewithal to make that happen. Lou understands that. Lou knows that the job of president is to bring the rest of the community together to help Farrell to be the unique place that it is; the best in Catholic education. I couldn't be happier to be able to share with you this tremendous news about the future of Farrell, the future of Staten Island, the future of the Church in the world because of what happens here, and Lou is going to make it work. If anyone can exemplify what it means to live as a Vir Fidelis, a faithful man, it is Lou Tobacco."
In addition to past-principals Bergin and Whalen, many distinguished Farrell alumni have shared their thoughts on the news from their alma mater.
Former Staten Island Borough President James Oddo, Class of 1984, recognized Lou as "the perfect choice to be Monsignor Farrell High School's first president." He added, "I have no doubt that he will spend every waking moment trying to help the young men blessed to walk through the doors of this iconic institution fulfill their potential and propel them forward."
"As an alumnus, I'm so excited to be back in these hallways. I stand on the shoulders of the giants that have gone before me, such as MonsignorBergin, Monsignor Finn, Monsignor Nevin, and Bishop Whalen. I look forward to all of us - administration, faculty, staff, coaches, students, parents, and alumni, working together as one team to bring Farrell, in an exciting way, to new heights."
- Lou Tobacco '90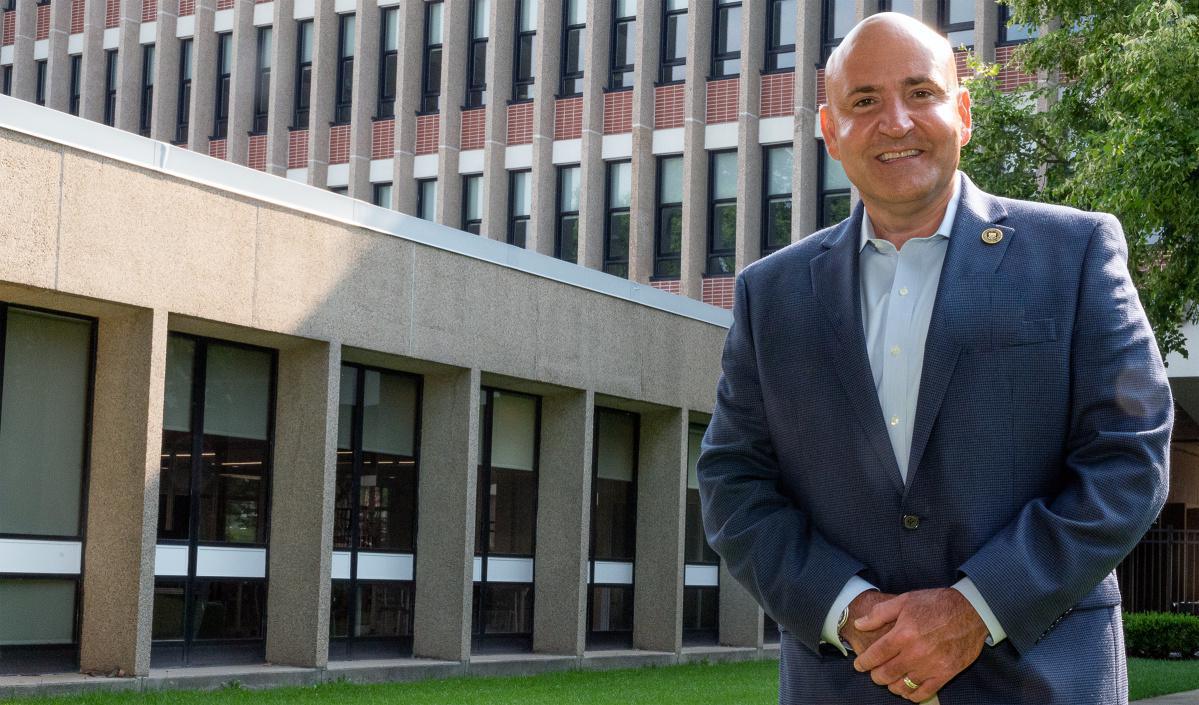 Community Involvement
In addition to Lou's success in business and public service, he is also dedicated to his local community. He currently serves on the Board of Directors for the Staten Island Economic Development Corporation, the Staten Island Chamber of Commerce, the Seton Foundation for Learning, the Police Organization Providing Peer Assistance, the Joseph Maffeo Foundation, where he serves on the executive board and as chair of the annual casino night fundraiser, as well as the Staten Island Not-for-Profit Association.
Farrell alumnus and Richmond County District Attorney Michael E. McMahon '75 also praised Lou's appointment, noting his love for both Farrell and the community. "Having Lou Tobacco serve as Monsignor Farrell's first president is both a brilliant and logical choice. His characteristic warmth, enthusiasm, and energy will serve the school well as he leads it with inspiration. His abiding Catholic faith, deep love of family and friends, his tireless service to our community as assemblymember and hospital leader, and his powerful commitment to Farrell as a proud and engaged alumnus give him the needed tools and make him, quite simply, the perfect choice."
From 2013 - 2017, Lou was a member of the St. Joseph - St. Thomas Parish Core Team during the Archdiocese's Making All Things New initiative. He also served as the parish leader as part of the Renew & Rebuild campaign, helping to raise over $1.5 million for a new parish gymnasium, as well as other Archdiocesan initiatives. Lou also provided assistance with solicitation for the annual Cardinal's Appeal.
A native Staten Islander, Lou is the youngest of three children (sister Gina and brother Dominic '86 - also a Farrell alumnus) and was raised in Sunnyside by his parents Dominic, who was a New York City Police Officer, and Justina, who worked as a secretary.
Lou resides in Tottenville with his wife Jennifer and their children Madison, Christian '22, Ella, and Luke, a member of the Class of 2027.