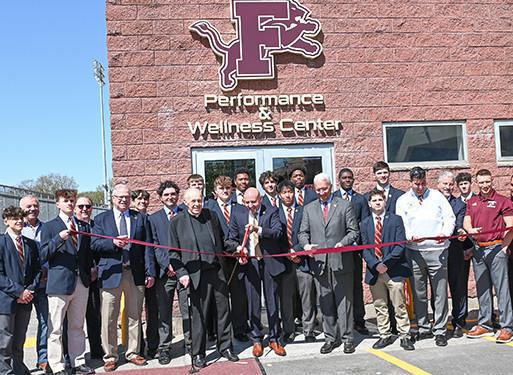 Monsignor Farrell High School officially opened its new Performance & Wellness Center on Friday, April 29th with a ribbon-cutting ceremony at the Oakwood school. Former principal Monsignor Thomas J. Bergin blessed the new facility. "I had the pleasure of witnessing the construction of Monsignor Farrell High School in 1961. The new additions to the campus, most recently the Performance & Wellness Center, allows Monsignor Farrell High School to continue to raise the bar of excellence in Catholic education on Staten Island. What a wonderful gift to Monsignor Joseph A. Farrell's legacy on his birthday," said Monsignor.
"The Performance & Wellness Center is another significant enhancement that we have made to the school over the past few years," - Louis R. Tobacco '90, President
In addition to the Performance & Wellness Center and the Learning Commons, Monsignor Farrell has invested in their students' education with the addition of new facilities including all-new science laboratories and STEM suites, a water testing facility for use by the school's new marine biology program, the Business & Finance Institute and Bloomberg Lab, the first of its kind in any Staten Island High School, and the Island's first bocce complex, to name only a few. "It is a very exciting time here at Monsignor Farrell," said Tobacco, adding "the incredible support we have received from our alumni and parent donors has allowed us to make significant investments in our faithful men - the students of Monsignor Farrell High School." The proud alumnus also teased several major projects scheduled to begin shortly. "Stay tuned for more exciting news," hinted Tobacco.
Stephen Macri, a 1978 graduate and Chairman of the Monsignor Farrell High School Board of Trustees echoed Tobacco's sentiments. "We are truly blessed to have such an energized and generous donor base that allows us to provide the very best in Catholic education to the young men of Monsignor Farrell High School. I speak for the entire board when I say that the renaissance happening at the school is truly exciting and worthy of Monsignor Joseph. A. Farrell's honored name."
Lou Tobacco '90, Monsignor Thomas Bergin, Steve Macri, and Larry Musanti.
The new 3,600 square foot facility was designed by alumnus David L. Businelli, CEO and design principal at Studio 16 Architecture.
Businelli, who graduated from Monsignor Farrell High School in 1983, also recently designed his alma mater's award-winning Brother Henry S. Wright Learning Commons - a university-style facility that is a hub of student activity at the school. "As an alumnus of Monsignor Farrell, it was an honor to be asked to design the Performance & Wellness Center, which will play such an important role in the education and well-being of the faithful men of Monsignor Farrell," said Businelli.
The Facility
Planning for the Performance & Wellness Center began last summer with Businelli submitting preliminary drawings. The project was quickly approved by the board of trustees and construction began shortly after. Construction manager and general contractor Eamon Shields of Daggart Construction, who also built the school's Learning Commons, was excited to again partner with Monsignor Farrell and Businelli. "I'm proud to be a part of the physical transformation happening at Monsignor Farrell High School. It has truly been a labor of love for me and my team," said Shields.
The facility was constructed in the footprint of the previous strength and conditioning center. "We were able to move relatively quickly with respect to the actual construction," noted Tobacco. "The bulk of the work involved removing existing walls to create one large, open space, as well as a focus on ventilation, lighting, and the unique ceiling concept," he explained. Businelli chose ceiling material from Armstrong Ceilings, the same company he used for the Learning Commons, which won awards for best interior and green building from the Staten Island Chamber of Commerce, as well as the award for Outstanding Interior Design from American School and University Magazine. "I designed the ceiling in a random hexagonal pattern with large maroon and white panels that not only add a visual punch but work well with the hi-tech LED lighting," explained Businelli. Also adding to the visual appeal are custom-branded glass doors, interior and exterior signage, and a sleek glass wall complete with the school's Lion logo. "Rich and his team at FAST Signs continue to help us elevate our brand throughout campus," Tobacco said of fellow alumnus Rich Vezzuto from the Class of 1988, owner of FAST Signs, Staten Island.
Tony Garofalo, a 1989 graduate and current Director of Athletics describes the facility as one of the premier high school training facilities in New York State. "Our new facility has everything we want in terms of equipment and the use of technology," Garofalo explained. "All of our students' needs were addressed in this project," he added.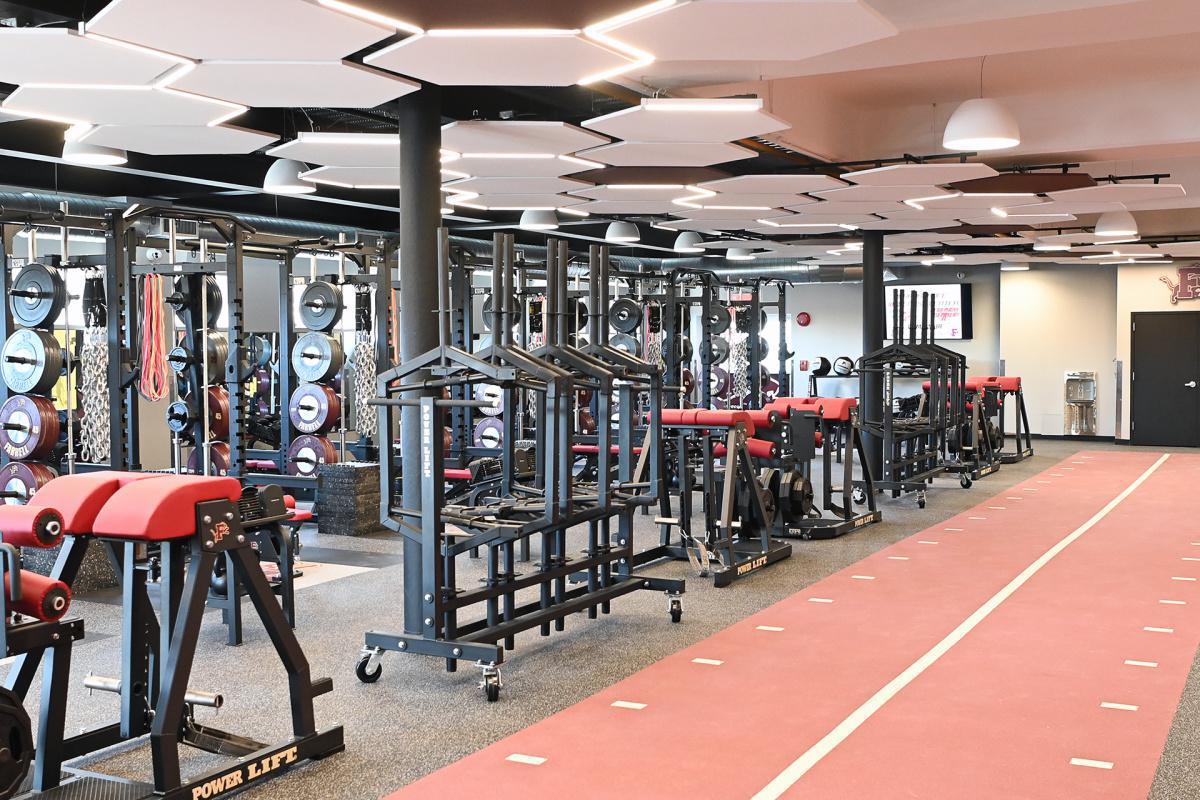 "One of the most important things to us was for this facility to be available to our entire student body, faculty, and staff without any additional fees," said Tobacco. He also stressed that the facility is not intended solely for use by the school's athletic teams. "All of our students will have access to the Performance & Wellness Center and we expect it to become a central part of our science, health, and physical education curricula as well, " he added. Monsignor Farrell Principal Larry Musanti, who has been at the school for over 50 years, identified the benefit of the Performance & Wellness Center to the entire Monsignor Farrell community. "This state-of-the-art center will enable our teachers, trainers, and coaches to not only improve the performance of our student-athletes on the field but to educate and encourage all of our students in their pursuit of a more healthy lifestyle."
Tasked with the management of the Performance & Wellness Center is Monsignor Farrell's Assistant Director of Athletics for Student Wellness and Performance, Robert Schmidt. Schmidt graduated from Monsignor Farrell in 2012 and was a member of the Lion's football program. He continued his football career at Dickinson College in Carlisle, Pennsylvania for two seasons and earned his bachelor's degree in sports science from Long Island University, Brooklyn.
A specialist in the field of exercise and human performance, Robert has been mentored by some of the most highly respected professionals in the field of strength and conditioning, having worked at prestigious colleges and universities such as Ball State University (Indiana), the University of Alabama, the University of South Carolina, and Defiance College (Ohio). Most recently Robert served as Head of High School Strength and Conditioning for the New York Sports Science Lab on Staten Island. He is currently working towards his master's degree in coaching from Ball State.
In his two years as a graduate assistant at Ball State, Robert was responsible for and assisted with the year-round training of the football, women's basketball, and woman's tennis teams. He also implemented and designed an athlete-focused nutrition and recovery center.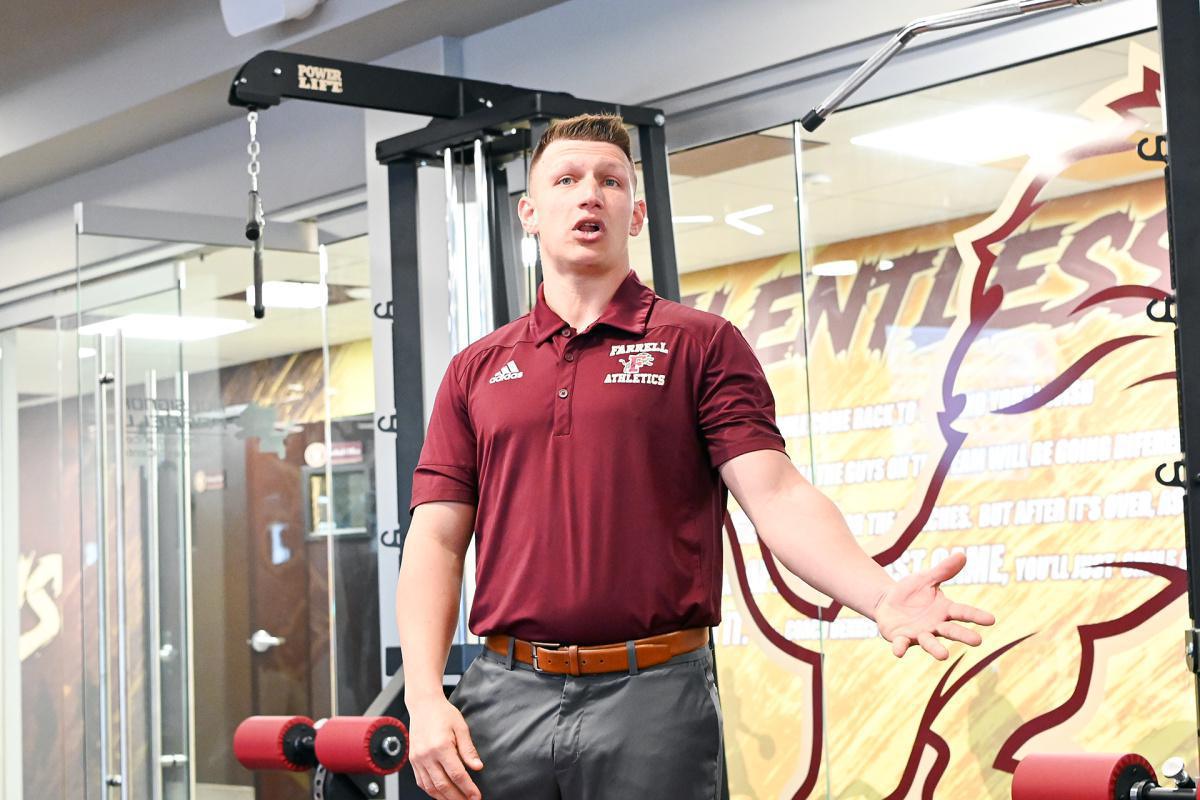 In September 2020, the Monsignor Farrell Administration, identifying the need for a renewed focus on overall student wellness, created the position of Assistant Director of Athletics for Student Wellness and Performance. "Robert was exactly who we were looking for to fill that role," said Tobacco. "His expertise in the field of strength and conditioning and sports science has been invaluable." Schmidt was hired in August of 2021 and immediately began to assist in the design of the new Performance & Wellness Center. "I was extremely excited to return to the place that has helped me tremendously on my life's journey," said Schmidt, who is also a Certified Strength and Conditioning Specialist and a National Academy of Sports Medicine Corrective Exercise Specialist. Schmidt, who has worked in some of the country's elite collegiate training facilities, is excited to have the tools and resources needed to train students properly and safely.
"Our facility now resembles professional and top-tier collegiate performance centers and will help lead our students and teams to the next level," Rob Schmidt '12
Features
The Lion's new facility is loaded with equipment and technology found at the professional and Division I levels.
It features Power Lift racks and the new uniquely designed posterior chain developers - exactly the same equipment used by the Kansas City Chiefs, Chicago Bulls, Anaheim Ducks, the University of Alabama, the University of Notre Dame, The Ohio State University, and Ball State University.
"I'm always a proud Monsignor Farrell alumnus, but even more so today," said Monsignor Farrell Alumni Hall-of-Famer Ken White, who is now in his 19th year as Providence College's head strength and conditioning coach. White, the 1987-88 Warren Jaques Award winner as Staten Island's top basketball player, graduated from Monsignor Farrell in 1988 and is regarded as a Lion's basketball legend - scoring 75 points in a single game against Susan Wagner his senior year. "Monsignor Farrell has, for decades now, provided the resources and ethos to develop boys into 'strong' men - spiritually, intellectually, and physically.
"Today is a great day to be a Lion – the dedication of the scintillating Monsignor Farrell Performance and Wellness Center is one more reason Monsignor Farrell High School is the flagship Catholic high school on Staten Island." - Ken White '88
John Gallucci, another Monsignor Farrell Alumni Hall-of-Famer and a member of the school's Class of 1985 was equally excited for his younger Monsignor Farrell brothers. "It was exciting to be part of the process to construct a center for the betterment of the overall health of the Monsignor Farrell student community," he said. Gallucci, President & CEO of JAG-ONE Physical Therapy, is a leader in the fields of injury prevention, rehabilitation, sports medicine, and athletic conditioning and was instrumental in the development of the new facility. Gallucci has appeared often on radio and television, including ESPN's award-winning "Outside the Lines", MSG Varsity, NJ News 12, and WFAN. He is also a published author. His first book, Soccer Injury Prevention and Treatment: A Guide to Optimal Performance for Players, Parents, and Coaches, was published in 2014. Gallucci holds a master's degree in Sports Science and Athletic Training from Long Island University and both a master's and doctorate in physical therapy from Dominican College. "The Performance & Wellness Center will be utilized for fitness, physical education, rehabilitation, and sports performance, which are integral to the growth and development of my Monsignor Farrell brothers," he added.
In addition to the Power Lift equipment, the Lion's new facility boasts Teambuildr technology. "This professional strength & conditioning training software allows me to program for all of our student-athletes as a whole and also individualize programs when needed," explained Schmidt. "Students will be able to have access to workouts on their smartphones for the entire week for scheduling and will display on iPads while training," he added. The software will also be able to track students' progress over four years to quantify progress and results. This will also allow Schmidt to create individualized training programs for every student.
Teambuildr is currently used by the strength and conditioning staffs for professional teams including the Tampa Bay Buccaneers, Oklahoma City Thunder, Real Salt Lake of Major League Soccer, and the Los Angeles Kings. "Teambuildr will also allow me to work with our guidance counselors to monitor our students' mental and physical health through confidential daily wellness surveys," said Schmidt.
Another professional-grade piece of technology that the facility features is GymAware, which is used by the Philadelphia Eagles, the University of Miami, and the New Zealand national rugby team. "It is a velocity-based training tool that measures peak and mean power and measures the velocity of specific movements in meters/second," Schmidt explained. A compliment of weighted chains and bands will also be used for Accommodating Resistance Training in conjunction with GymAware. GymAware will also be able to create a force-velocity profile for each student, allowing further customization of programs and training styles.
Monsignor Farrell will be utilizing video-assisted feedback to teach students proper technique. Video displays will be used to show instructional demonstrations as well as videos of the students themselves performing the specific exercises. This will allow Monsignor Farrell's staff to teach correct movement and perform biomechanical assessments of each student. This will be utilized mostly for sprinting, jumping, and Olympic-based movements.
Rounding out the list of hi-tech equipment is the Just Jump System, which will be used to measure vertical jump and determine athletes' Reactive Strength Index, and the Brower Laser Timing System - identical to the system used at the NFL combine. The Brower System is the industry standard with respect to wireless timing systems and will be used in conjunction with the facility's 20-yard, two-lane track surface, which will also be used for plyometric training and soft-tissue work.
The Performance & Wellness Center will also have a full complement of fully customized Olympic bumper plates, adjustable dumbbells from PowerBlock, kettlebells, and various strength training machines from Power Lift.
Schmidt is also excited about the versatility of the facility. "It is important to have a wide range of equipment at the high school level," said Schmidt. "The training program that we develop for a 110-pound freshman is going to be different than a program for a 225-pound senior, as will their needs and abilities," he further explained. "We have a variety of training bars and bumper plates all the way up to Olympic and powerlifting bars to accommodate all levels of training."
The facility also features equipment such as the medi-ball wall that will be especially utilized in the rehabilitation of injured athletes and return-to-play protocols.
The Performance & Wellness Center is now open to all students. "I could not be more excited for our faithful men who will benefit from this incredible facility, nor could I be more thankful to the Board of Trustees and the members of our leadership team and staff who were involved in the development of the Performance & Wellness Center, and to all of the alumni, parents, and friends of Monsignor Farrell High School who generously supported this project through donations," said Tobacco. "Together, we continue to do great things!"
Click here for photos