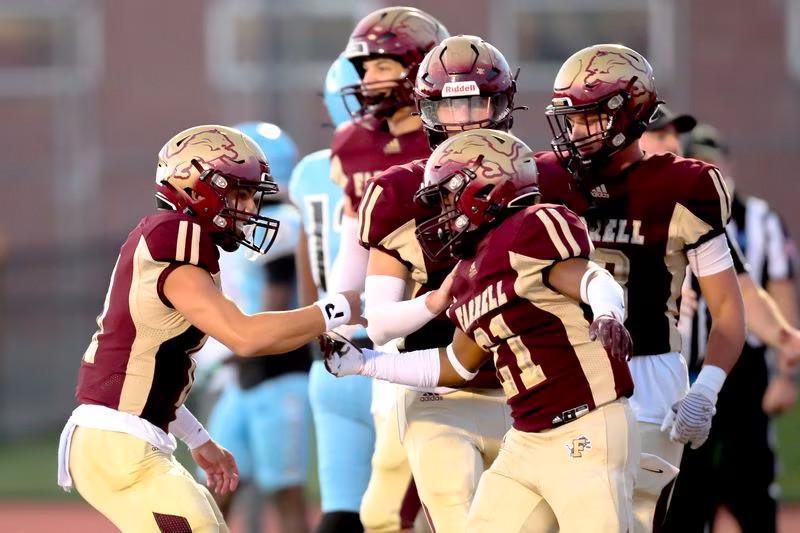 Monsignor Farrell teammates congratulate Nafis Muhammad after scoring the first touchdown against Canarsie. (Staten Island Advance/Jason Paderon)
---
Fudgie the Whale is returning to Monsignor Farrell.
And nobody is happier than head football coach Rocco Del Priore.
The second-year mentor began rewarding players who scored defensive touchdowns with the highly popular Carvel ice cream cake seven years ago, but entering its non-league contest against Canarsie, the Lions hadn't scored a TD on defense since 2019.
That all changed against the visiting Chiefs as both Mikai Gamble and Will Andrade notched pick-6s and quarterback Cristian Pinto added three TD runs as the Lions rolled to a 49-6 triumph Friday in Oakwood.
Farrell, which registered a whopping 12 tackles for losses and held the Brooklyn school to 90 total yards, improved to 2-1 overall.
Del Priore, who admitted Fudgie is his favorite birthday cake, said he likes rewarding his players.
"We work the kids hard, but we like having a good time when the situation calls for it and in 2016, we started rewarding a player who scored a defensive touchdown with a Fudgie the Whale cake,'' laughed Del Priore, who was a defensive assistant to former head coach Tony Garofalo when he started the tradition. "A defensive touchdown can often be a game-changer or back-breaker and we've been waiting since 2019 to get another one.
"Tonight, it was great to get two of them.''
"We are grateful that Canarsie AD Joe Mento called and asked us to play,'' said Del Priore.
Senior defensive end Yasire DeJesus, who registered a pair of sacks and at least one tackle for a loss, said preparing for a different opponent did little to deter Farrell's preparation for this week.
"Nothing changed. We knew we still had to come and play football and we felt as long as we put in the same effort to get ready, we'd be fine,'' said the three-year varsity player. "We got in the classroom and learned whatever we needed to learn on Canarsie and I thought we had good intensity right from the start.''
That might have been an understatement.
Gerard Sheehan celebrates a fumble recovery. (Staten Island Advance/Jason Paderon)
---
Shortly after Andrade electrified the crowd by returning the opening kickoff 76 yards to the Canarsie 6, running back Nafis Muhammad got the Lions on the scoreboard with a 10-yard TD on the left side. The first of kicker Chris DiGiacomo's seven extra points made it 7-0 just 1:37 into the game.
The Lions' defense, meanwhile, made things miserable for Canarsie starting quarterback Dipo Karimu as back-to-back sacks by DeJesus and CJ Palazzola forced a fourth-and-29 from the Chiefs 1. A botched snap on a punt resulted in Farrell getting the ball on the Canarsie 5 and it took all of one play for Pinto to make it 14-0 when he powered his way into the end zone behind a big push from left tackle John Vergona, left guard William Aguirre, center James Murphy, right guard Brady Quinn and right tackle Nick Pica.
Canarsie showed signs of life early in the second quarter when backup signal-caller Dalontai Davis (2 for 2, 39 yards) and running back Micai Reid (23 yards) engineered a 13-play, 80-yard drive that ended with Davis' 6-yard TD run. Farrell's lead was trimmed to 14-6 5:20 before intermission.
Farrell, however, responded immediately as Pinto rushed for 27 yards on five carries and hit senior wide receiver Nick Souffrin with a 38-yard pass before he scored on a 1-yard QB sneak to make it 21-6 at the half.
Del Priore's troops then proceeded to force three turnovers in the first 3:43 of the third quarter to put the game away. After linebacker Gerard Sheehan landed on a fumble deep in Canarsie territory, Pinto scored his third and final touchdown via an 8-yard run 38 seconds later.
Quarterback Cristian Pinto rushed for 51 yards and three touchdowns against the Chiefs. (Staten Island Advance/Jason Paderon)
---
Gamble and Andrade, meanwhile, put the game away when they returned interceptions 37 and 53 yards, respectively to make it 42-6.
"It's tough to run the ball on us, in part, because of our defensive lineman (DeJesus, Seth Clarke, Louis Martinez),'' said Del Priore. "I thought we came out and were aggressive from the start, put them in passing situations and our guys made some big plays.''
NOTES: The Lions held the Chiefs to minus-5 yards rushing before halftime and just 29 yards overall. In addition to DeJesus and Palazzola, defensive back James Westgate also registered a sack while Clarke and DB Rocco Del Giorno each recorded tackles for losses ... Souffrin led the Lions in receiving with a pair of grabs for 52 yards ... Farrell only compiled 170 total yards, but that was a ramification of numerous short fields and, of course, the two pick-6s ... Pinto finished 8 for 51 rushing with three TDs and also competed 4 of 7 passes for 86 yards — all in the first half ... Reserve running back Carson Coleman led the Lions with 55 rushing yards on eight carries ... Canarsie WR Vaughn Washington had a game-high five receptions for 47 yards.
The Lions will host Moore Catholic on Friday, September 22. Kickoff is set for 5:00 pm.
Click here for tickets and livestream information.