Lions Open the Season with a Win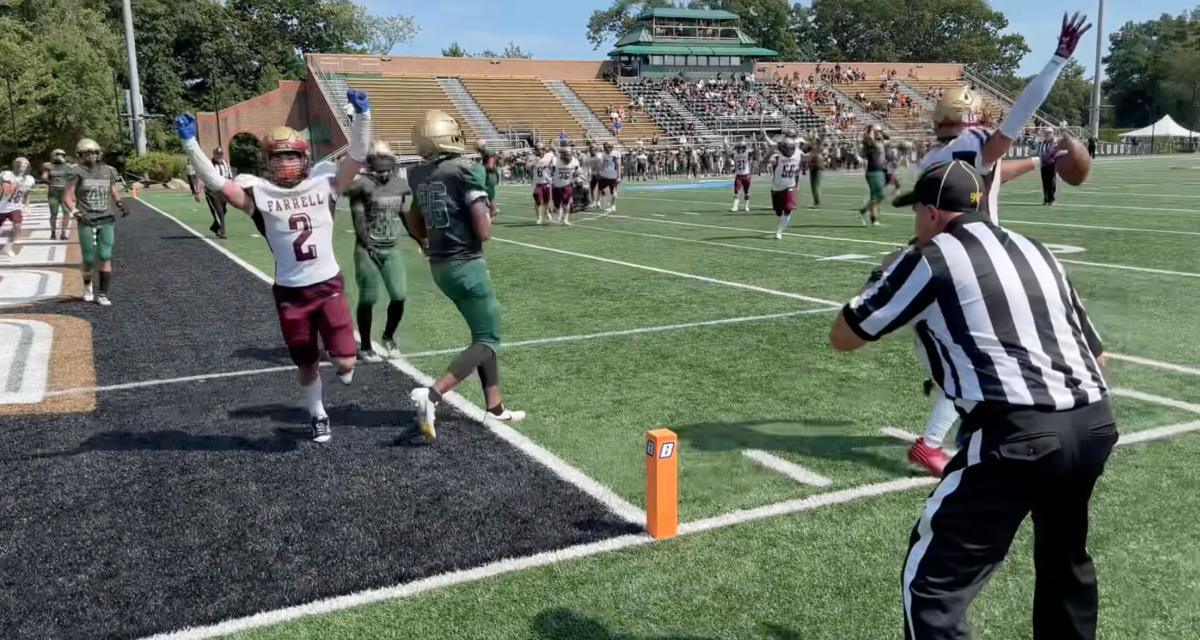 QB Christian Pinto hit Nick Souffrin with a 4-yard TD pass to tie the game. Chris DiGiacomo's extra point put the Lions ahead 21-20 with 20 seconds remaining in the game.
SMITHFIELD, R.I. -- Last year, Monsignor Farrell opened the season at home against Bishop Hendricken with a 31-27 come-from-behind win.
Saturday in the Hawks' home state, the Lions won in similar fashion as they recorded a 23-20, non-league triumph at Bryant University.
"It's a huge win for us heading into our league games," said Farrell head coach Rocco Del Priore. "(Bishop Hendricken of Warwick, R.I.) has a very good coaching staff and program. They have a really legit QB and a big O-line and D-line that gave us fits all day. "
Trailing 20-7 midway through the fourth quarter, Farrell refused to die.
First, William Andrade returned the ensuing kickoff and Farrell kicked the extra point to cut the lead to 20-14.
"That return ignited us," said Del Priore. "For us to score and be only a score away was big. Plus, the way our defense was playing, we knew we going to get the ball back."
And they did.
Paced by defenders Seth Clarke (two sacks, including a strip fumble), Louie Martinez (sack, three tackles for a loss), Yasire Dejesus (three tackles for a loss) Gerard Sheehan (sack) and CJ Palazaolla (sack), the Lions stopped BH on fourth down near midfield with 1:53 left in the game. Sheehan's sack ended the drive.
That's when Farrell senior quarterback Cristian Pinto led the Lions on the winning drive, completing 3 of 4 passes and picking up two first downs via the run.
Pinto capped the 55-yard drive with a 4-yard TD pass to Nicholas Souffrin, which tied the game. Chris DiGiacomo's PAT kick put the Lions ahead 21-20 with 20 seconds remaining in the game.
"His three-year varsity experience really showed," said Del Priore of Pinto. "He wanted the ball. He had an energy about him that we knew were going to win. I saw it in his eyes. He had two nice runs, one coming on a fourth-down play on a designed QB keeper which was great call by our offensive coordinator (Joe Mariconda) that kept the drive going."
The Lions would then record a safety on the ensuing kickoff. BH then recovered the free kick, but Farrell stopped the Rhode Islanders as time expired.
Earlier in the game, BH would take a 7-0 lead right out the gate on a block punt scoop and score.
Farrell's defense would force two turnovers in the first half, the first coming on a 16-yard interception return by Mikai Gamble, but the Lions couldn't capitalize on that.
But a few minutes later they did when Michael Zaremba intercepted a pass, setting up Farrell in the red zone. That's when Pinto scrambled down to the 5. Four plays later, Pinto visited the end zone on a fourth-and-3 play to tie the game at 7 in the second quarter.
Hendricken dominated the entire third quarter as the Farrell offense only ran three plays.
BH would score before the fourth quarter on a 5-yard run, after a 45-yard completion, but it missed the PAT and led 13-7.
BH would go up 20-7 midway through the fourth on 35-yard TD pass, which came on a fourth-and-8 play.
The Lions host highly touted and CHSFL power Archbishop Stepinac on Friday.