Monsignor Farrell's remarkable, second-half comeback bid falls short against state's top-ranked team
Moral victories?
That's really not in Monsignor Farrell's storied football history's vocabulary, thank you.
But you'd be hard-pressed not be encouraged by the Lions' second-half performance despite eventually dropping a 21-16 CHSFL decision to perennial powerhouse Archbishop Stepinac — New York State's top-ranked team — in front of a SRO crowd in Oakwood on Friday night.
Head coach Rocco Del Priore's team trailed 21-0 midway through the second quarter, but did a remarkable turn-around led by a stingy defense that limited the Crusaders (1-1) to a total of 45 yards over the final 28:35, including just 22 in the second half.
"I'm so proud of the effort my guys gave and how hard they worked to get the job done and give us a chance to win this game,'' said Del Priore, whose offense owned a 43-22 advantage on plays from scrimmage after halftime. "We knew we could play with them and a lot of guys stepped up. We've got guys like (offensive lineman) Brady Quinn and (defensive lineman) Yasire DeJesus who not only lead by example, but exemplify the 'next play' mentality that eventually got us going.''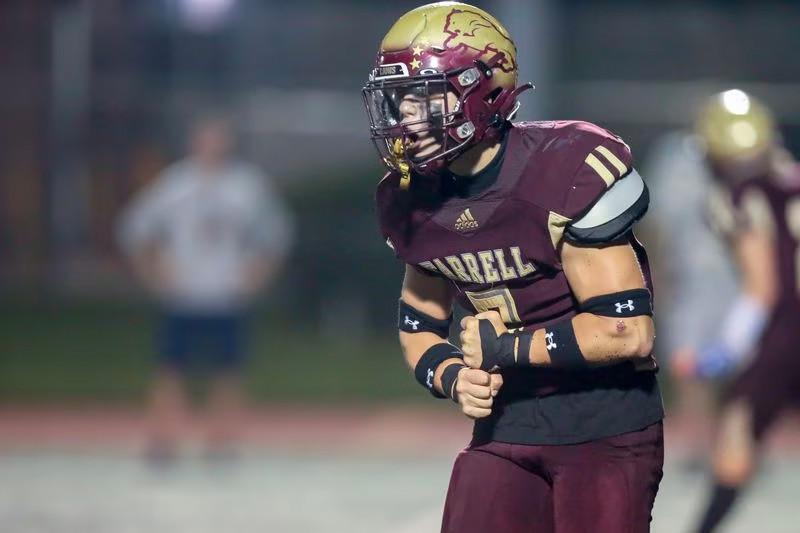 Junior linebacker Gerard Sheehan celebrates after the defense forces a safety. (Staten Island Advance/Jason Paderon)
The top-ranked Crusaders were as good as advertised to open the game as southpaw quarterback Will Currid initially shredded the Lions' defense by connecting a number of passes in the flat with his favorite target being senior wide receiver Troy Worrell (6 catches, 111 yards in the first half). Currid was 15 for 23 for 186 yards with first-quarter TD passes to Darison Hooper (12 yards) and Worrell (70 yards).
When senior running back Lorenzo Robinson rushed for a 53-yard touchdown with 6:44 to go in the first half, Stepinac built a healthy 21-0 lead.
Things slowly, but surely changed for the Lions (1-1), beginning with quarterback Cristian Pinto's 67-yard run on third-and-1 just three plays after Stepinac built a three-touchdown lead. Two plays after Pinto's dash, he scored on a sneak from 1-yard out to put the Lions on the scoreboard. Chris DiGiacomo's extra point made it 21-7.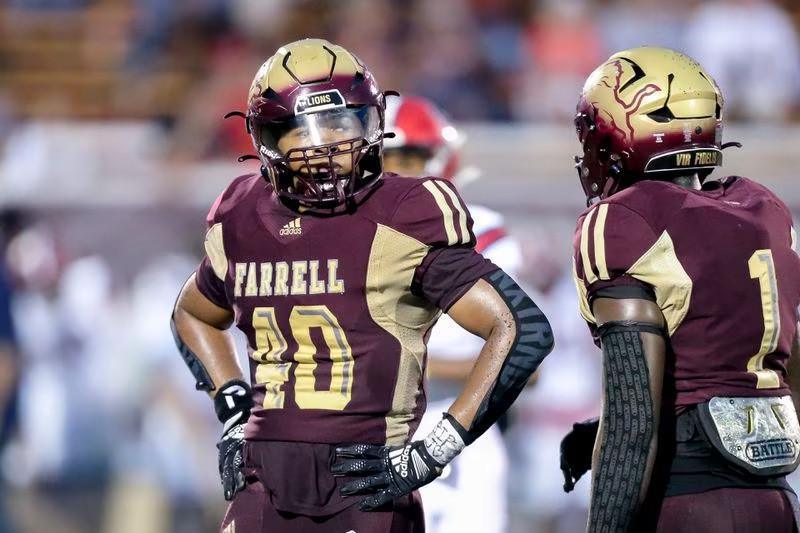 Senior defensive tackle Yasire Dejesus (Staten Island Advance/Jason Paderon)
A defensive switch, meanwhile, made a world of difference for the Lions, particularly in the second half. The Oakwood school initially went with an odd-man front, but switched to four linemen and the likes of DeJesus, Louis Martinez, Seth Clarke and CJ Palazolla suddenly started controlling the line of scrimmage.
"We went with an extra defensive lineman and it allowed us to play to our strength,'' said Del Priore, who received a huge game from linebacker Mekhi Gamble. "We also started tackling a lot better.''
When Farrell's Michael Barzal pounced on an onside kick to start the second half, it gave the Lions further momentum, although they came up empty on back-to-back drives where they moved the ball primarily behind junior running back Nafis Muhammed (25 carries, 101 yards).
A lost fumbled from the Stepinac 1 stymied the Lions late in the third quarter, but with their defense dominating, Farrell got the ball back at the Crusader 35 early in the fourth and Muhammed's 29-yard scamper set up his 1-yard TD run on fourth down to help narrow the deficit to 21-14 with 10:04 to play.
"Our offensive line did an excellent job against Stepinac's big front,'' said Del Priore, referring to left tackle John Vergona, left guard William Aguirre, center James Murphy, right guard Quinn and right tackles Nicholas Pica and Alpha Ba. "We challenged those guys and they responded. We thought we could get to the outside and (assistant head coach/offensive coordinator Joe Mariconda) did a good job of mixing it up.''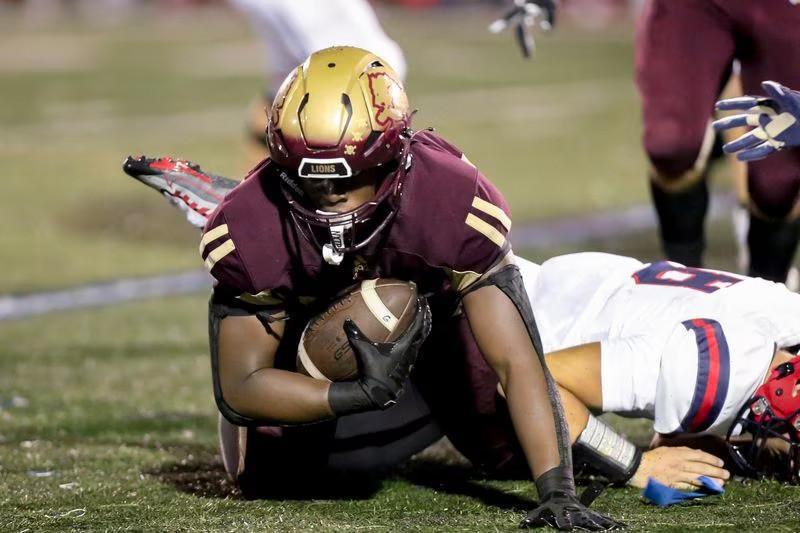 Junior defensive end Seth Clarke recovers a fumble (Staten Island Advance/Jason Paderon).
Farrell's defense responded again as Clarke not only made a tackle for no gain, but one play later pounced on a Currid fumble to again give the host team excellent field position at the Stepinac 26. However, the Lions couldn't cash in as a Julian Ramos 10-yard sack pushed them back and although they later got a safety from Martinez to make it 21-16 with 5:34 left, the Crusaders were equal to the task on the defensive side of the ball.
Linebacker Tommy Cottrell, who had strong, all-around game, teamed with fellow linebacker Eddie Columbo and defensive end Adrian Sukalic to make some big tackles down the stretch. The White Plains school denied the Lions a game-winning drive after the latter got the ball back on their own 34 with just 1:12 left on the clock.
"Our defense really came up big for us, especially when you consider we were often in difficult situations,'' said Stepinac head coach Mike O'Donnell. "They answered the call and we really needed them too because Farrell did a great job running the ball — they had the ball in our end for what seemed like the whole second half.''
NOTES: As was the case in their 23-20, season-opening non-league win at Bishop Hendricken (R.I.) last week, the Lions had a number of players hampered by cramps, most notably Muhammad and Pinto. In fact, backup QB Ryan Walsh, a junior, called signals several times and threw three passes ... Muhammad and Pinto helped Farrell finish with 211 yards rushing (Pinto had 91 on 11 carries) ... Farrell limited the speedy Worrell to one catch for no yards in the second half. "He was out there,'' said O'Donnell. "But because of the bad situations we were in, we couldn't get him the ball.'' ... Gamble and DeJesus combined on a fourth-quarter sack ... Nick Souffrin (2 for 18) was Farrell's leading receiver ... After limiting the Crusaders to a single first down in the second half, Farrell owned a 12-10 edge in moving the chains.