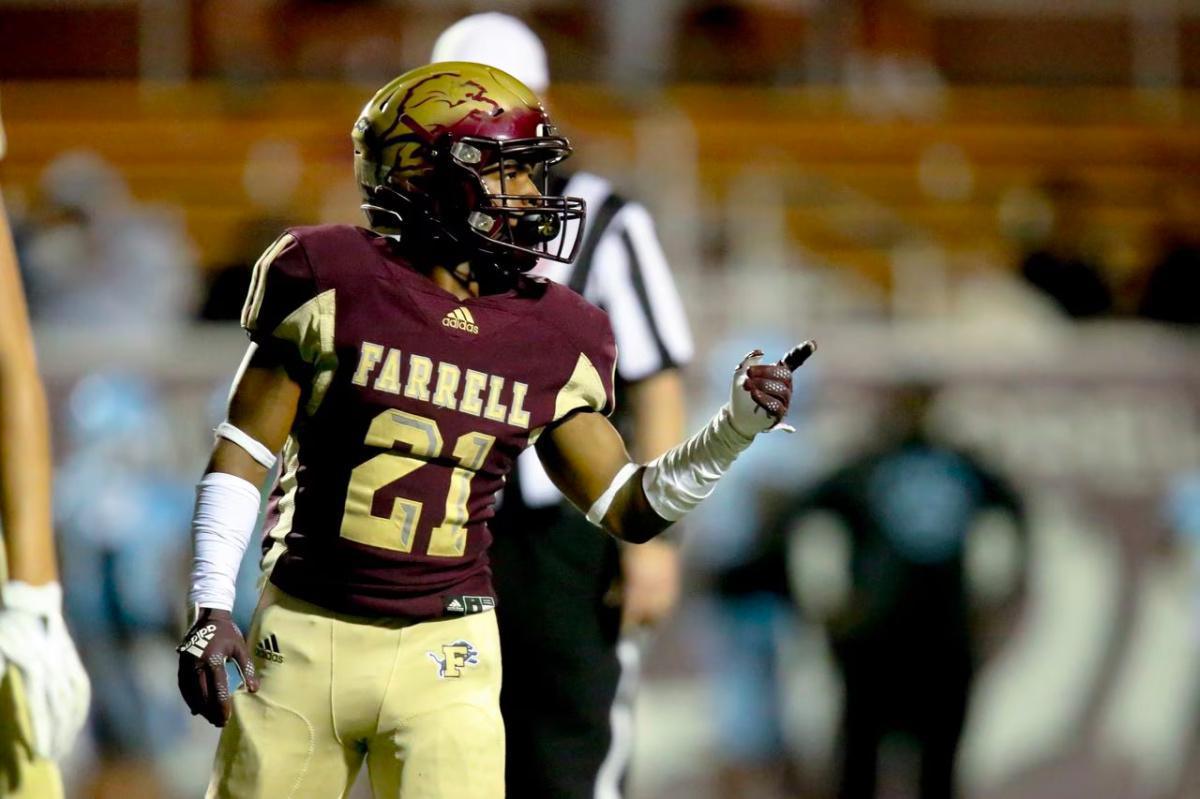 Monsignor Farrell RB Nafis Muhammad exploded for more than 300 yards from scrimmage in Friday's upset win over No. 1 ranked St. Anthony's. (Staten Island Advance/Jason Paderon)
---
Farrell stuns No. 1 St. Anthony's, 27-21, behind Nafis Muhammad's 300-yard day, ferocious Lions' defense
SOUTH HUNTINGTON, L.I. -- Stop the presses! It's the win heard 'round the state.
Monsignor Farrell shocked the local high school football landscape when it rode into Long Island on Friday night and spoiled St. Anthony's homecoming game. The Lions, behind Nafis Muhammad's mammoth 300-yard game and a ferocious defensive front led by Mikai Gamble, churned out a 27-21 victory at Cy Donnelly Field over the state's No. 1 ranked team.
For Farrell, which improved to 5-2 overall and 3-2 in the league, it is the Lions first win over the Friars since the 2000 CHSFL AAA championship game. It's Farrell's first regular-season win over St. Anthony's since 1993, which was the last time the Lions defeated the Friars on Long Island.
The Friars, meanwhile, fell to 5-2 overall and suffered their first loss in league play to drop to 4-1.
"It's a very special win, for not only our boys and the program, but for everyone that came through this program since that 2000 championship game," said Lions head coach Rocco Del Priore. "We had a lot of games where we were right there with them, but unfortunately it didn't go our way."
"I've been a player and a coach in all of (the games since 2000), so I've seen it first-hand," he added. "We've got a real good shot, we're building towards November. We spoke as a group on Wednesday and said no matter what happens tonight, we'll have a war on Nov. 4 (first playoff game)."
INAUSPICIOUS START LEADS TO STATEMENT END
It was tough sledding in the early-going for Farrell, which routinely drove down field but never managed to score in the first half. The Lions fell behind in the first quarter after Friars' QB Gary Merrill called his own number on a 61-yard keeper en route to a 7-0 lead.
Farrell crossed midfield on three of its four first-half possessions, but a pair of missed field goals and multiple penalties squandered the Lions' chances to score. Despite the struggles on offense, a stout Lions' defense led by Gamble, Louis Martinez, Yasire DeJesus, Seth Clarke, Michael Zaremba, and Joe Giovanelli limited the damage and went to the locker room trailing by just one score.
"It was big, the first quarter, that we were able to stay in it and defend them," acknowledged Del Priore. "We had a four-hour bus ride. It was crazy getting out here. Quick warmup."
"We played well, we tackled, and we ran the ball. Our defensive line had great pressure and we were able to put them in a bind," he added.
Farrell opened the second-half with a 76-yard scoring drive out of the gate, spearheaded by the unrelenting legs of Muhammad, who toted the rock 7 times for 54 yards before reeling in a 1-yard TD reception to cap the drive and even the score. On the ensuing Friars' possession, Gamble nabbed an interception at the enemy 39-yard line and brought it all the way back to pay dirt.
And just like that, the visitors led 14-7.
St. Anthony's took back possession, but sent it right back the other way after junior corner Brendan Mullen made it back-to-back picks for the Lions' defense. Armed with a short field, Lions' QB Cristian Pinto (6-for-12, 91 yards, TD) connected with Tyler Rivera on a 17-yard strike before Muhammad added a 24-yard run to set up his own 1-yard score and extend the lead to 21-7.
Del Priore acknowledged that Muhammad came into the week banged up and he was prepared to limit his carries. His play on the field on Friday night, however, dictated otherwise.
The junior transfer from Tottenville continued to churn out hard runs throughout the second half. Over the final two quarters alone, he tallied 21 carries for 187 yards. He finished the day with 33 totes for 270 yards (8.18 YPC) and 2 receptions for 53 yards, amassing a whopping 323 all-purpose yards, to go along with 2 TDs.
"Nafis is a complete workhorse - an animal in the weight room. He's beloved by every person in our building. He lights up a room, is always smiling, and he's got a great personality...and he's a hell of a football player." - Rocco DelPriore
CLOSE OUT
The Lions took a two-score lead into the fourth, but Merrill and company quickly halved it. The junior signal-caller, who finished with 179 yards passing and 157 rushing, led a 67-yard scoring drive to open the final period.
Merrill went 4-for-4 on the drive for 53 yards, finishing it off with a 15-yard strike to KJ Duff, who tallied 6 receptions for 116 yards in defeat.
Farrell took the ball back with 8 minutes to play, and ran off five minutes of clock as Muhammad continued to rack up first downs behind an imposing offensive line. Nick Pica, Brady Quinn, Billy Aguirre, John Vergona, and James Murphy routinely opened up holes at the line of scrimmage.
Muhammad's 43-yard run set up Pinto's 2-yard plunge to extend the lead to 27-14 with less than three minutes to play. Pinto handled 13 carries for 58 yards in the win.
The Lions took possession in the final minute, already in the red zone with a two-score lead, but instead of kneeling they fumbled away possession. St. Anthony's drove nearly the entire length of the field in less than 30 seconds, capped by Merrill's 40-yard TD pass to Duff, which trimmed the lead to 27-21 with 27 seconds to play.
The Friars recovered the ensuing onside kick attempt -- though it was 2-yards short of traveling the necessary 10, and the Lions took back possession. This time, Pinto took a knee, and that was all she wrote.
Farrell faces Fordham Prep (2-2 in the CHSFL AA-1 and 3-3 overall) next week before meeting Kellenberg (3-1 in the AAA and 3-3 overall) to close out the season.
"I'm excited for our kids, for the program, but I understand we'll have another tough one Friday and we have a lot of work to do before the playoffs," concluded Del Priore. "They really only remember November."
---
Notes: For Farrell, kicker Chris DiGiacomo was 3-for-4 on extra points. Clarke and Martinez each had one sack, as did Zaremba. Giovanelli recorded one tackle for loss.
For St. Anthony's, Merrill connected on 13-of-18 attempts for 179 yards, 2 TDs, and 2 INTs. He also handled 10 carries for 157 yards. Christian Alfaro took 15 carries for 73 yards. Davin Foote recorded 3 TFLs. Cam Urso had 1.5 sacks and Preston Carey had .5 sack.