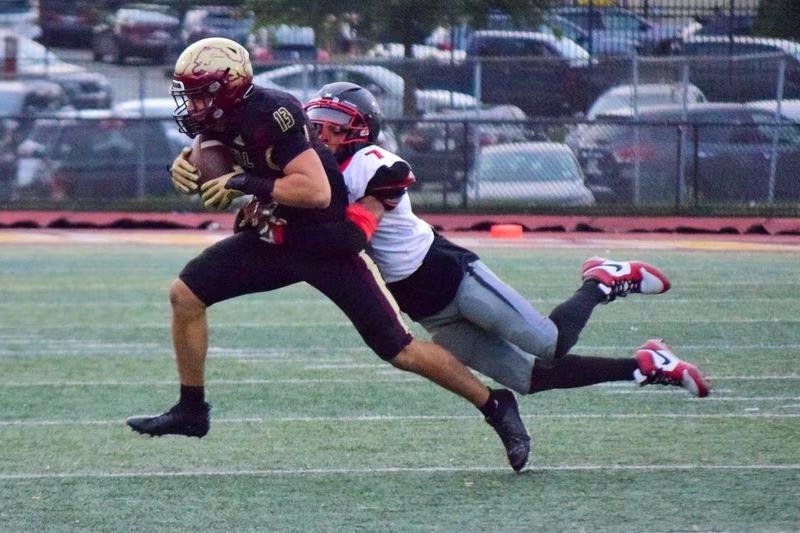 Senior wide receiver Nick Souffrin scored two TDs in the Lions' win Friday night. (Staten Island Advance/Annie DeBiase)
Friday's HS football roundup: Farrell makes easy work of Fordham Prep; MSIT and SW prevail
Monsignor Farrell, which disposed of the state's top-ranked team -- St. Anthony's -- last week, put any fears of a letdown to a quick rest against an inferior Fordham Prep squad in Oakwood Friday night as the Lions jumped out a 12-0 lead six minutes into the game and then built a 32-point advantage at the half en route to a 32-12, CHSFL inter-league victory on senior night.
The Lions, who play in the CHSFL AAA (top tier) improved to 6-2 overall, while Fordham Prep, a CHSFL AA-1 squad, fell to 4-4 overall.
"I could have told you we weren't going to take Fordham lightly," said Monsignor Farrell head coach Rocco Del Prior. "Our senior leadership, led by captains Yasire DeJesus, Cristian Pinto, Brady Quinn and Nick Souffrin have kept this team focused and hungry since January 3rd when we started our off-season program. It was fitting it was senior night because we got great effort from our seniors, namely Michael Barzal, Carmine Indellicati and Andrew Rutherford."
Pinto, the Lions' signal-caller, tossed two TD passes and ran for another, while Souffrin, a receiver, added two scores.
The Lions set the tone early as Tyler Rivera took the opening kickoff to the house -- a 91-yard catch and jaunt down the left sideline in a steady drizzle.
"Tyler has elite speed," said Del Priore. "It was only time before he would break one. Our kickoff return team is a major weapon for us. Coach (Vincent) Minichello has a great plan and the players execute. We work extremely hard Monday to Friday on our specials plan."
Then six minutes later, Nafis Muhammad, the star of last week's 27-21 win over St. Anthony's with more than 300 all-purpose yards, scored on a 29-yard screen pass from Pinto.
Farrell made it 19-0 on Souffrin's 3-yard run on third-and-2 from the Rams' 3-yard line. On the play, the Lions put Souffrin, a wide receiver, in motion and Pinto handed off the ball to him and Souffrin powered his way into the end zone with 9:54 left in the second quarter.
A partially blocked punt help set up Farrell's fourth TD of the first half, a 1-yard keeper by Pinto which extended the lead to 25-0.
The Lions added another score -- a 34-yard TD pass from Pinto to Souffrin down the right sideline -- on the last play of the first half. The PAT kick made it 32-0.
"Just a ridiculous throw in the pouring rain," marveled Del Prior of Pinto's nifty TD pass.
In the second half, the Lions cleared the bench and started looking forward to next week's home game vs. Kellenberg.
Fordham Prep visited the end zone in the third and fourth quarters to make the game more respectable.
"I love the effort we are getting week in and week out from our O-line, our QB and running backs," said Del Priore. "No one is focused on stats; they are focused on team wins."
Defensively, the Lions were stout, especially in the opening half when it mattered.
Linebacker Mikai Gamble registered a sack and forced a fumble. Alpha Ba and DeJesus combined for a sack, while CJ Palazzola and Joe Giovanelli combined for another.
---
The Lions host Kellenberg on Friday, October 27th. The Alumni homecoming reception begins at 4:30pm. Kickoff is set for 6:00pm.