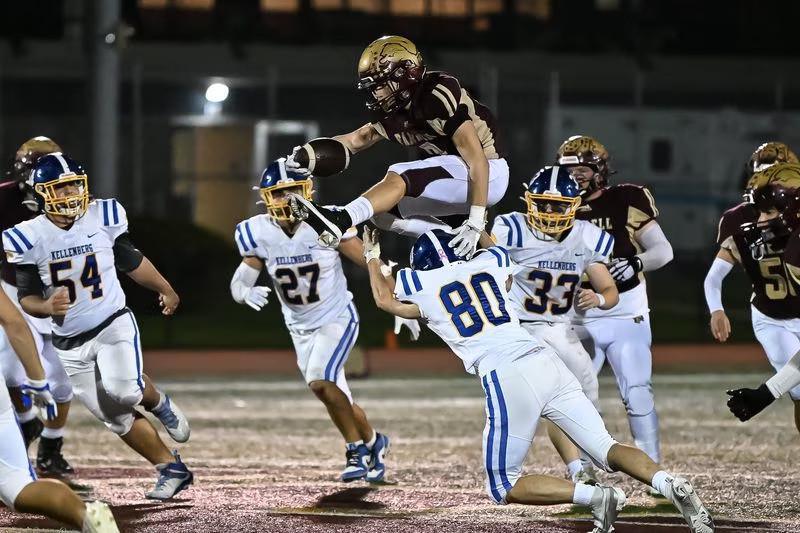 RB Will Andrade, who rushed for 107 yards and a TD, hurdles a defender en route to a first down. (Photo: Ed Seaman)
---
We're playing great as a team and there is no reason we can't win a championship; that's the goal." - Senior Captain Nick Souffrin
---
Lions Defeat Kellenberg at Homecoming; Clinch Home Field AAA Playoff Game
Monsignor Farrell, winners of five of their last six games, including a convincing 27-21 defeat of St. Anthony's (the then No. 1 ranked team in state) on Oct. 13, were trying to avoid the sneaky trap game Friday night as it took on AAA division opponent Kellenberg Memorial on Homecoming in Oakwood.
Despite it being Senior Night as well, the visiting Firebirds looked like the top dog as they held a 7-0 lead at the intermission as quarterback Jimmy Ernst clicked with wideout Jack Geoghan on a pretty 11-yard fade in the right corner of the endzone late in the first half.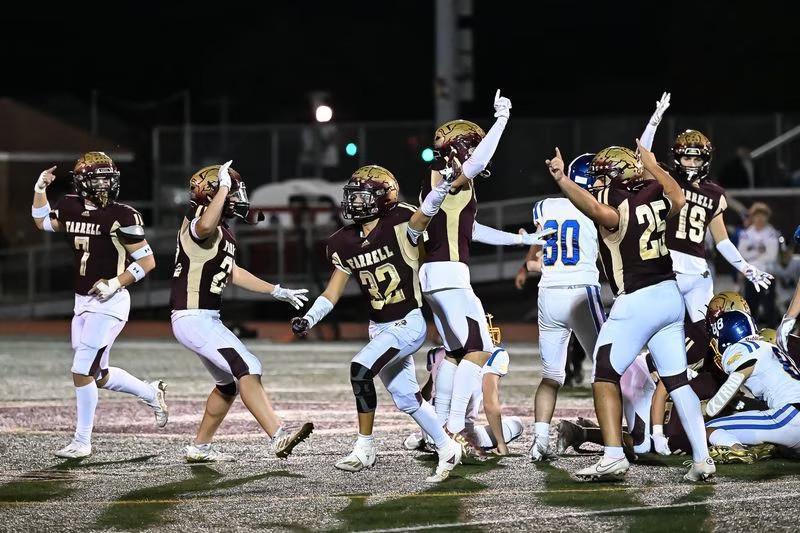 The top-rated Farrell defense celebrates another stop in a 28-7 win Homecoming over Kellenberg (Photo courtesy, Ed Seaman, Monsignor Farrell)
However, the halftime break woke up the Lions.
They burst out of the locker room with 21 points in the third quarter's first six minutes to grab a commanding two TD advantage in a dominant second half on offense, defense and special teams in a 28-7 ambushing in front of a raucous, faithful crowd.
The win keeps the momentum rolling for second-year head coach Rocco Del Priore's troops with the AAA playoffs beginning next Friday. Seedings were not finalized as of last night, but the Lions will most likely be seeded third and host an opening-round game vs. an undetermined foe.
"We struggled at the beginning; we were in our own head a little," lamented Del Priore. "Kellenberg is a solid program; they beat us in the regular season last year and I just think they had a little more energy than us to start. We were flat. I knew this game - like all AAA games - was going to be a war, but we talked at half and I trust my guys and we got it going."
That may have been the understatement of the Lions' season.
On their first possession of the second half, the winners committed to the run. Junior tailback Nafis Muhammad carried three straight times for 18 yards as the Lions began their comeback from the Kellenberg 18. Will Andrade (107 yards rushing) took control from there as the shifty sophomore ran once for five yards then took a pitch from QB Cristian Pinto made one cut inside then jetted up the right sideline 59 yards to paydirt to get the home team on the board and send the Farrell faithful into a frenzy. Chris DiGiacomo's PAT kick knotted the score at 7-7.
After the squads traded three-and-out possessions, the tide swung the Lions' way sparked by their suffocating defense. Edge rusher Seth Clarke's blind side hit on Ernst jarred the ball loose and fellow lineman Louis Martinez scooped up the bouncing ball and rambled 35 yards into the end zone for a 13-7 lead.
---
​"I saw the tackle with his head down and I was masking the coverage. I knew I could get through and I'm just glad I could make something happen and get the team going. It was a big play and a great feeling with my teammates."

- Seth Clarke
---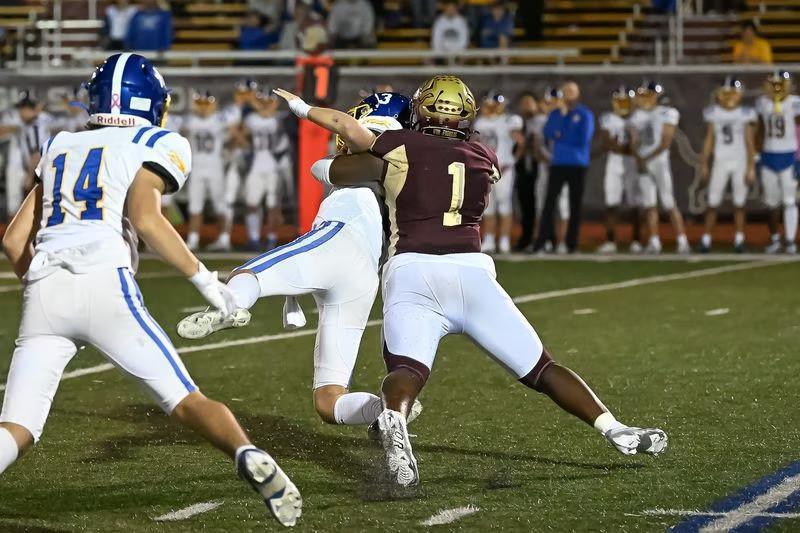 Seth Clarke's sack early in the third period sparked the Monsignor Farrell Lions' 28-7 CHSFL AAA triumph over Kellenberg at Dennis Barrett Stadium, (Photo: Ed Seaman)
"Huge play!" claimed Del Priore. "We really got after it in the second half; that was our fifth defensive touchdown this season. Seth made a great play and Louis finished it up."
With the Firebirds reeling, Farrell's special teams contributed when Michael Zaremba recovered the ensuing onside kick as a host of Lions pummeled Kellenberg's would-be returner.
After a rough beginning, Farrell's offense then took its turn on center stage. Pinto, the Lions' senior signal-caller connected with Tyler Rivera on a 43-yard aerial and the junior wideout raced past his defender and the rout was on. Pinto barreled in for the two-point PAT and Farrell turned a 7-0 deficit into a 21-7 lead.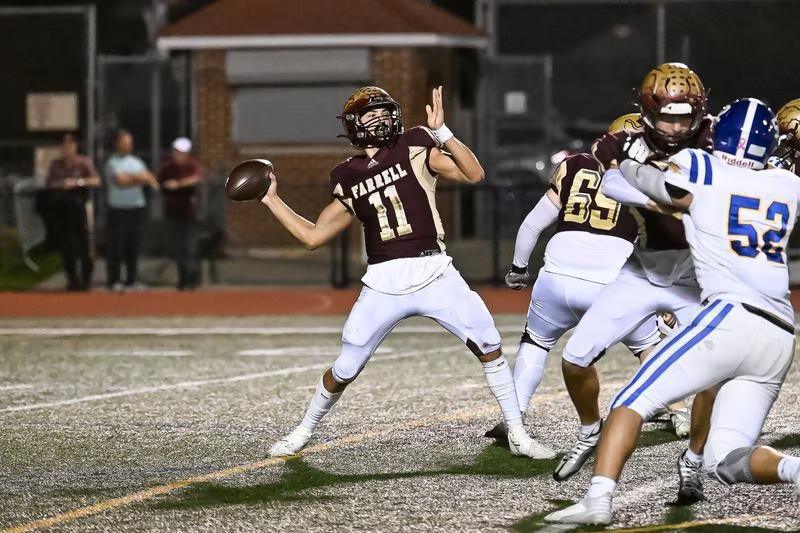 QB Christian Pinto gets set to unload on a TD aerial to Tyler Rivera down the right sideline in the Lions 28-7 CHSFL victory over Kellenberg. (Photo:Ed Seaman)
"Christian is a competitor," praised Del Priore. "The offense was off a little in the beginning after a couple of great weeks, but we stayed the course and took what was given to us."
From there, the Lions' defense took control as Clarke (sack, three pressures), Martinez (batted ball, three tackles), Yasire Dejesus (constant pressure all game long, forced fumble, fumble recovery), and Mikai Gamble (six tackles) dominated in the trenches, while Gerard Sheehan, Michael Barzal (two interceptions) and Andrade also had solid all-around games.
Senior captain Nick Souffrin ended a stellar senior season with a game-high five catches for 91 yards.
---
"There's no better feeling than this right here. It was a great team effort, we're getting a home playoff game, and what a great atmosphere it was to end the (regular) season." - Nick Souffrin
---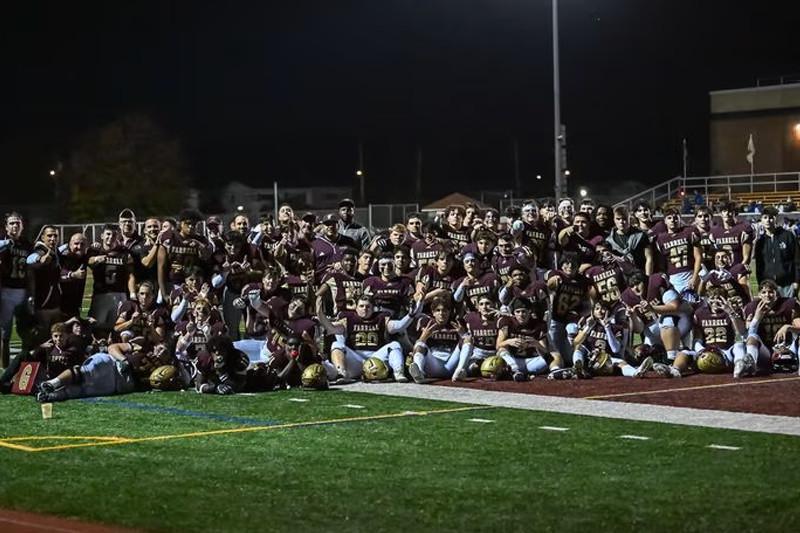 Farrell forced five turnovers on the night as Rocco Del Giorno also picked off a pass. Muhammad (70 yards) rushed 12 yards for the game's final score. The usually automatic DiGiacomo just missed a 45-yard field goal in the first half and also had 38-yarder blocked. The senior did average 49 yards on four punts. Pinto finished with 8-15 passing for 164 yards and also ran for another 31 yards.