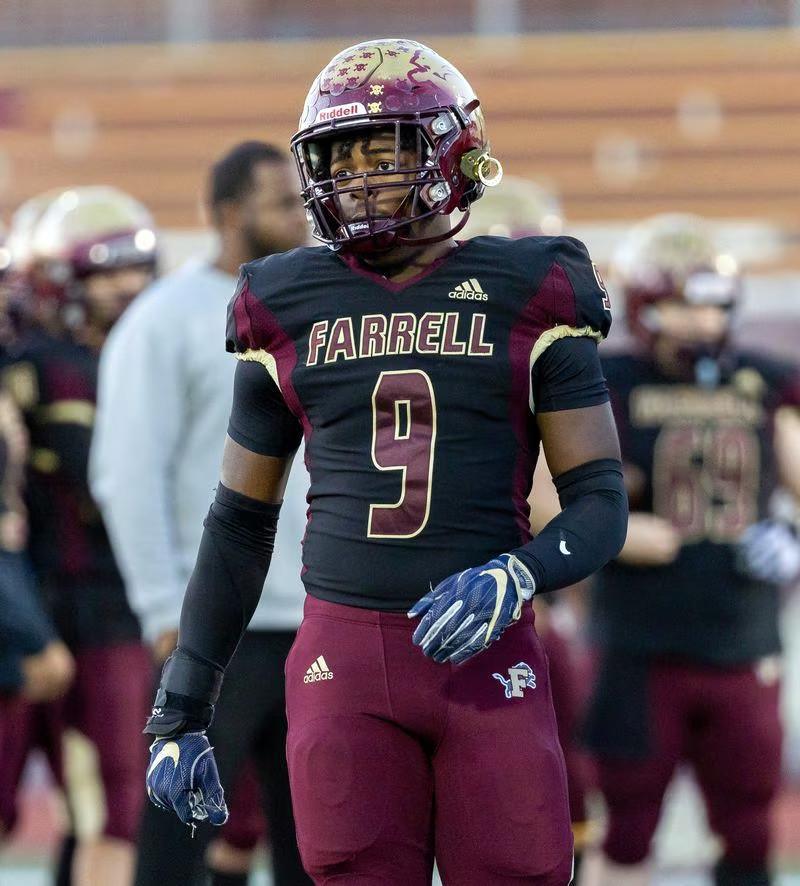 Senior defensive lineman Louis Martinez is one of the leaders of the Lions' top-ranked defense. (Kara Buzga for Staten Island Advance).
Farrell rolls into CHSFL AAA semifinals by sacking Holy Trinity
By Eddie Mayrose/Special to the Advance
Heading into Friday's CHSFL AAA quarterfinal matchup with Holy Trinity, Monsignor Farrell head coach Rocco Del Priore had a pretty good idea of what it would take for the Lions to advance.
"We have to get our ground game going early, stop them from making big plays and get after the quarterback."
Farrell, the No. 3 seed, executed every aspect of that plan perfectly, jumping out to an early 22-0 lead and cruising to a 36-0 victory over the No. 6-seeded Titans.
---
"Every day we're working to perfect what we're doing and we just keep getting better." - Coach Rocco Del Priore
---
"These guys think I bean shoot," said Del Priore after the win. "I knew our game plan would work. I hate that it sounds cocky to say that, but we've put in a body of work led by our seniors and great junior leaders.
The Lions will meet No. 2 seed Iona Prep next Friday in New Rochelle at 6:00 pm in the CHSFL AAA semifinals. Iona Prep, which beat Farrell earlier this season, topped Kellenberg, 49-19, Friday night.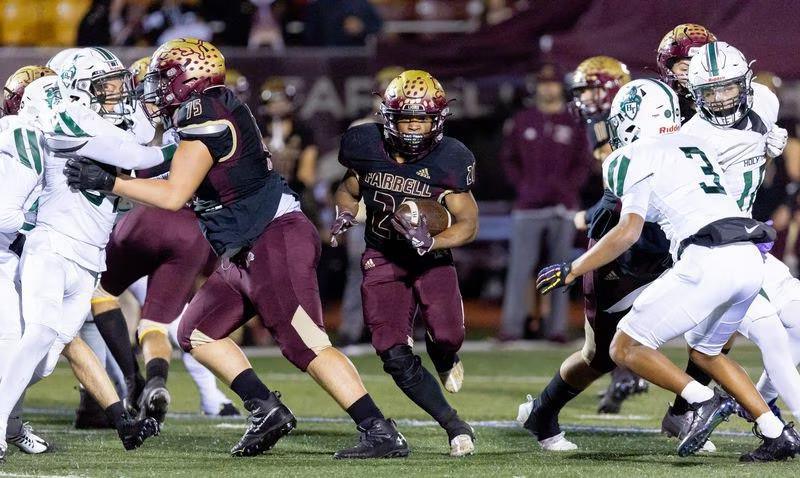 Junior running back Nafis Muhammad (Kara Buzga for Staten Island Advance)
After Trinity took the opening kickoff, Farrell immediately served notice that it would be a long night for the visitors from Hicksville. The Lions stopped Trinity cold and took over on their own 30-yard line, where Cristian Pinto and Nafis Muhammad immediately began to dominate Trinity. The pair accounted for all of the yardage on the 70-yard drive, with Muhammad's touchdown run giving Farrell a 6-0 lead.
"We're a run-first team," said Muhammad. "If our run game is working, we stay with it."
Pinto scored next, after Seth Clarke set the Lions up on the Trinity 1-yard line with a blocked punt.
---
​
"Our O-line just dominated them." - RB Nafis Muhammad
---
"The blocker pushed outside and I hit him inside and said, 'Ooh, is that the ball?'" laughed Clarke. "It was an easy block from there."
On the first play of the second quarter, Pinto rolled right and found sophomore receiver Alex Ustun behind the Titans secondary and connected for a 64-yard touchdown to give Farrell a 22-0 lead. Then, after a Michael Zaremba interception, Muhammad ran 22 yards to put the Lions up 29-0 at the half.
The second half brought no relief for the Titans, as the Farrell defensive line had an answer for anything Holy Trinity tried.
"We studied their film all week," said defensive lineman Yasire DeJesus, whose performance stood out to Del Priore. "We had a great scheme. I just read the tackle and guard and made plays. We all made good plays up front."
The final score of the night came on a 25-yard toss from Pinto to Nick Souffrin, who made a circus catch in the end zone to give the Lions their 36-0 margin of victory.
For Del Priore, next week's semifinal vs. Iona Prep is just another chapter in a very special season.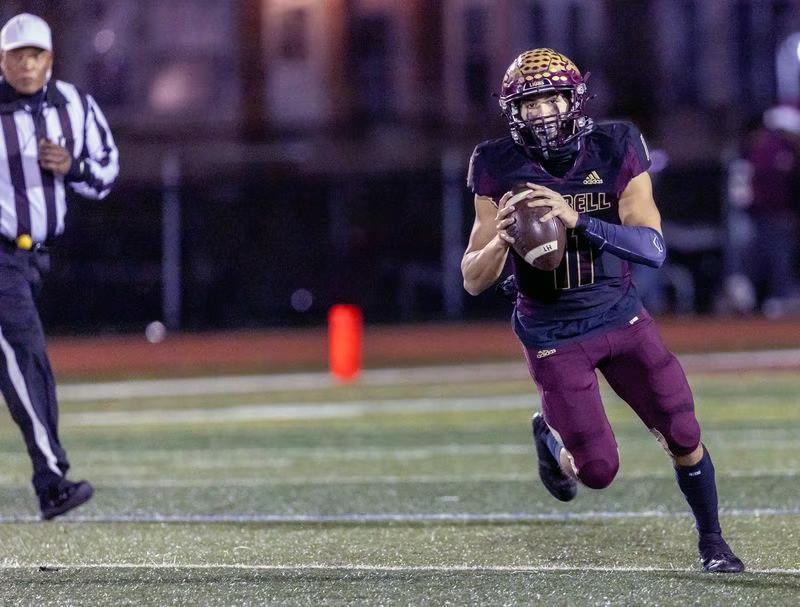 Senior QB Christian Pinto (Kara Buzga for Staten Island Advance).
"It's been special since the first day in the weight room," he said. "A year ago today, we took a beating from Stepinac in the first round of the playoffs. And, now, here we are at 8-2 and in the semifinals."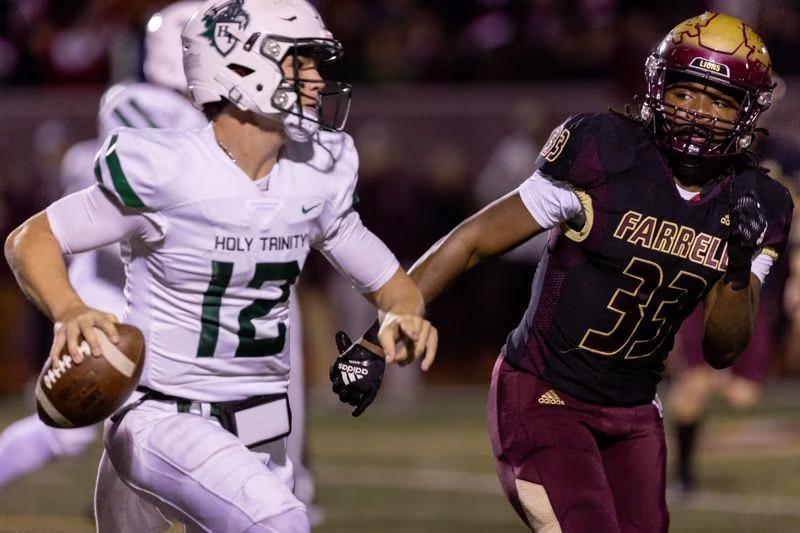 Another of the Lions' defensive leaders, senior LB Mikai Gamble in pursuit of Trinity QB Rocco Rainone. (Kara Buzga for Staten Island Advance).
CHSFL AAA Semifinals
The #3 seeded Lions will travel to New Rochelle to face #2 Iona Prep on Friday, November 10 in the semifinal round. Kickoff is set for 6:00 pm. The Gaels won the regular season matchup 31-20 at Iona on September 30th. They defeated the #7 seed Kellenberg in the quarterfinal game 49-19, setting up a rematch with the Lions.
#1 Archbishop Stepinac will face #5 Cardinal Hayes in the other semifinal matchup.
The game will be streamed live via Iona Prep's LocalLive broadcast.
Go Lions!