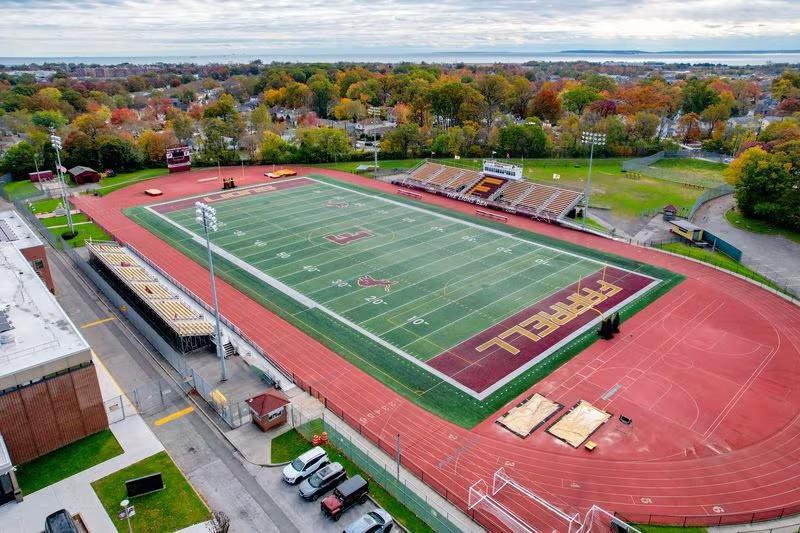 Lions fall to Iona Prep in CHSFL AAA Semifinal 35-13; Finish Season 8-3
NEW ROCHELLE, N.Y. — Monsignor Farrell found itself behind the eight-ball early and never recovered as it dropped a 35-13 CHSFL AAA semifinal contest to host Iona Prep on Friday night.
The No. 3-seeded Lions, who fell behind 21-0 in the game's first 9:35, ended the season with a solid 8-3 mark.
The No. 2 Gaels, meanwhile, advanced to the city championship game for the third consecutive season and will meet the winner of Saturday's other semifinal between No. 5 Cardinal Hayes and No. 1 Archbishop Stepinac, next week.
"They ran a lot of formations with a tight end and H-back tonight and it was business as usual,'' said Farrell second-year head coach Rocco Del Priore. "Their quarterback (Joseph Gaston) was able to get out on the perimeter. He's athletic and can throw or run and they just did a tremendous job designing plays that helped get him out on the edge.
"We needed to do a better job rallying and tackling''' the coach said matter-of-factly. "We just couldn't get into a rhythm tonight.''
The 5-foot-8 Gaston, in fact, scored three rushing TDs and added a fourth through the air. He capped a game-opening drive with a 6-yard TD run off right tackle to help give the Gaels a 7-0 lead just 3:47 in.
Iona found the end zone again less than three minutes later after defensive back Matthew Davitt picked off a pass and returned it to the Farrell 21. Iona made it 14-0 on Kaden Huling's 15-yard scamper up the middle.
The Gaels, who limited Farrell to 125 total yards Friday, picked off another pass on Farrell's next possession and Gaston, once again, took centerstage as his 12-yard TD run helped make it 21-0 with 2:25 left in the opening period.
Farrell, however, showed signs of life during the waning seconds of the first quarter. After Iona's punter had a difficult time handling a low snap, the ball wound up on the ground and inside linebacker Mikai Gamble pounced on it in the end zone to get the Lions on the scoreboard. Chris DiGiacomo, who originally pinned the Gaels deep in their own territory with a whopping 48-yard punt, kicked the extra point to make it 21-7 with 11 ticks remaining.
"Without a doubt, we were feeling good after that,'' said Del Priore. "It all started with (DiGiacomo's punt) and then forcing a three-and-out. We scored there and were hoping it would give us some momentum. We absolutely thought we could do something, but unfortunately, they took (that momentum) right back from us.''
Gaston, in fact, capped another long drive by bumping and grinding his way to another 12-yard TD run that made it 28-7 with 8:16 left in the half.
Iona's defense, which limited Farrell's bread-and-butter run game, didn't force any other turnovers but recorded five sacks in the contest.
"They just neutralized us tonight,'' said Del Priore. "They were really tough up front, they were fast to the ball and just very aggressive overall.''
When Gaston tossed an 8-yard TD pass midway through the third period, the Gaels owned a 35-7 advantage and never looked back.
Del Priore, of course, was hoping for a different ending, but was thankful for the effort his team gave in 2023.
"I'm very proud of how the team competed all year. Losing tonight certainly wasn't from a lack of effort,'' said the Farrell alum, who played nose tackle for the Lions when they advanced to back-to-back CHSFL AAA championships in 2003-04. "We made it to the CHSFL AAA semifinals, where we should be. I have a lot of seniors who had great careers here and I'm very much looking forward to seeing what the future holds for them.''
---
NOTES: Farrell senior and three-year starter Nick Souffrin finished with four receptions for 72 yards, including an 11-yard TD catch ... Junior running back Nafis Muhammad led the Lions with 47 rushing yards on 17 carries. Sophomore Will Andrade chipped in with 19 yards on three carries ... In addition to his touchdown off a fumble recovery, Gamble added a sack ... Senior defensive lineman Louis Martinez also had a sack while junior defensive back Rocco Del Giorno recovered a fumble for the Lions as well.