While at Monsignor Farrell, you will engage in a rigorous course of study designed to challenge you intellectually, and prepare you for college study.
In addition to our core curriculum, upperclassmen may elect to take courses such as AP Biology, AP Chemistry, AP Computer Science, AP Physics, AP Political Science, Accounting, Business Law, Calculus AB and BC, Computer Assisted Design, Creative Writing, Finance, Human Anatomy & Physiology, Studio Art, and many other exciting classes.
Accepted freshmen are placed into a college preparatory (Regents), Honors, or Scholars curriculum by means of various placement exams and primary school recommendations, as well as the sub-test results of the eighth grade TACHS Examination. Students are closely monitored as to assure that they are in the curriculum best for them. The administration may choose to move a student into a different curriculum at the conclusion of freshman year.
Freshmen in the Regents or Honors program can choose to study either Spanish or Italian, while Scholars candidates are required to take a full year of Latin, followed by two years of accelerated Spanish.
All classrooms at Farrell are equipped with SMART Board technology that allows teachers to provide students with multimedia lesson presentations.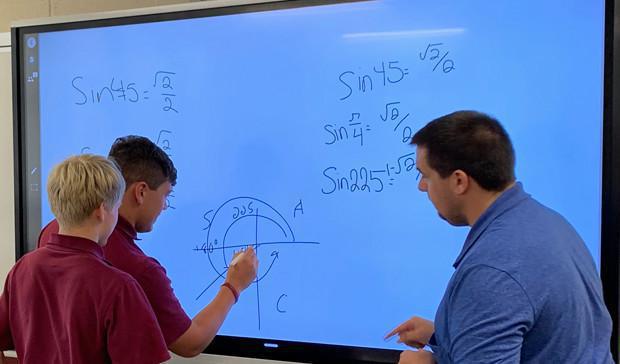 Individual science laboratories are used for biology, chemistry, and physics experiments. Farrell features two computer labs, as well as computer workstations in the library, where students learn various computer applications, including AutoCAD (design, drafting, modeling, architectural drawing, and engineering software), C++, JAVA programming, and AP computer science classes.