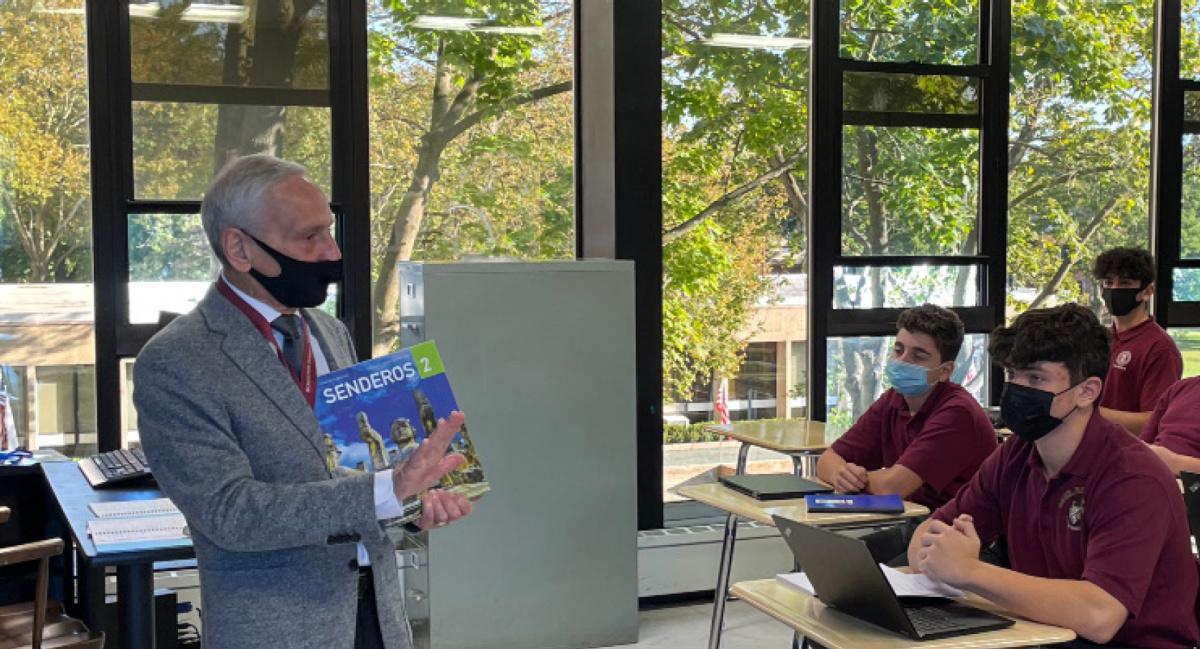 Vir Fidelis. Our school motto, the faithful man, is expressed in Latin, home base of all Romance Languages. In today's global society, the faithful man (and woman) must be able to communicate in more than one language. Studying a foreign language is a unique experience,quite different from any other subject. Students learn new skills while using already acquired skills organized in a very different way. Studying a foreign language is for everyone and for every age group. It is never too late to learn a new language.
In our department, teachers work very hard with their students to develop the four necessary language skills; listening, speaking, reading and writing. Our teachers supplement and enhance class instruction by planning activities and events to promote cultural awareness and appreciation of different communities. We plan trips and visits to the many cultural sights in New York City including museums, theater, and opera and of course restaurants. Knowing a second language increases your son's earning potential and looks great on the college transcript.
Our Level 4 classes offer students the opportunity to earn AP credit, college credit, advanced standing in language and CLEP credits. Learning a foreign language is not a frill. It is a necessary accomplishment in a global economy and in a world becoming more connected every day.
Features of the foreign language program at Monsignor Farrell High School
We offer Italian and Spanish. Except for Scholars (who must study Spanish), students may choose either language in most cases.


Incoming freshmen scholars study Latin. During their sophomore and junior years, scholars will complete the three-year sequence in Spanish in two years. In their senior year, scholars may elect to study Spanish on an advanced college level.


All students are required to study a three year sequence in a foreign language and must pass the DOE Three Year Comprehensive Examination. In their Senior year, students may elect to study Italian or Spanish on an advanced college level.


Currently, our level 4 Honors courses in Italian and Spanish are AP approved, affording students an opportunity to take the advanced placement test in either language.
Department of Foreign Languages Course Sequence
Freshman Year
Spanish I or Italian I (Regents Curriculum)
Latin I (Scholars Curriculum)
---
Sophmore Year
Spanish II or Italian II (Regents Curriculum)
Spanish I/II (Scholars Curriculum)
---
Junior Year
Spanish III or Italian III (Regents Curriculum)
Spanish II/III (Scholars Curriculum)
---
Senior Year
Electives
Spanish IV or Italian IV
---