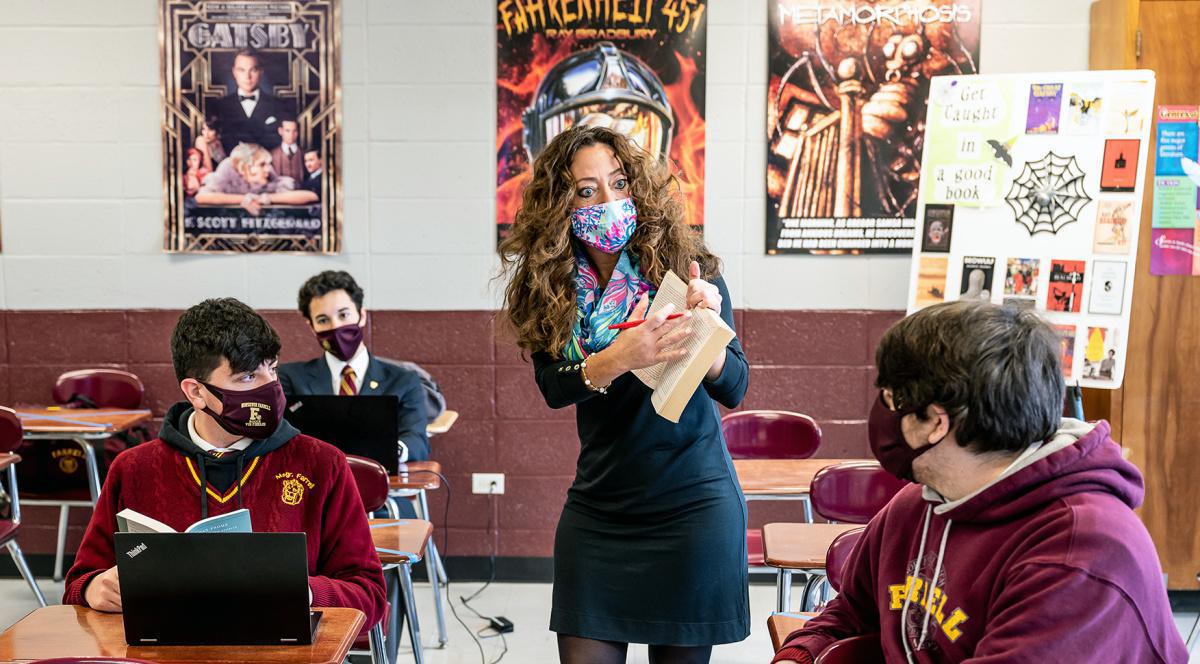 Monsignor Farrell High School's English Department engages students to become passionate readers, critical thinkers, and accomplished writers. Careful and thoughtful reading of literary works from a variety of genres, representing a broad range of historical and cultural perspectives, sharpens students' awareness of language and fosters appreciation of the writer's craft.
Students explore and connect to themes of human experience, such as heroism, community, and identity, in the classic and contemporary texts they discover. An exciting discussion-centered environment enables students to learn to articulate their ideas with confidence. In addition to literature study, there is a distinct focus on writing, using literary criticism and original analysis. Ongoing vocabulary study prepares students for standardized testing.
Qualified upper-level students are provided the opportunity to pursue college-level study in AP Literature and Composition and AP Language and Composition courses. Students enrolled in these courses (and English 4 Honors) can also earn St. John's University college credit through the St. John's Advantage Program.
The English Department embodies the academic rigor and standards of excellence found across the Monsignor Farrell curriculum!
In the journey through the English curriculum from freshman to senior year, students will learn:
A thorough preparation for the NYS Comprehensive English Regents Examination, as well as college entrance examinations (ACT/SAT)
Organization, time management, and study skills, of paramount importance for success at the university level
The capacity for rational analysis, as well as the critical judgment and comprehension of other opinions
The tools for proper research, writing, and the critical evaluation of sources
A recognition of the interdisciplinary nature of English studies with all other academic disciplines
A need to address social issues in light of a moral and ethical framework through an awakened sense of compassion and justice
The ability to view people, place, and culture through a more diversified and worldly lens
To explore the many avenues that writing can offer as a stimulus to a student's creativity
Department of English Course Sequence
Freshman Year
English I - Literary Genres (All Freshmen)
Sophomore Year
​English II - Power and Rebellion in British Literature (All Sophomores - *Scholars take Regents exam)
Junior Year
​English III - The American Dream in Literature (Regents & Honors)
AP English Literature & Composition (Scholars)
Senior Year
English IV - The Epic Adventure in World Literature (Regents & Honors)
AP English Language & Composition (Scholars)
Elective​
The Art of Speech, Communication, and Conversation
​Throughout the course we will examine some of the great speeches in history, learning and dissecting the rhetorical devices used to deem them masterful and memorable. Students will then use their knowledge of rhetorical devices to launch effective original speechwriting. Because speech is also part performance, students will interpret dramatic literature from a performance point of view and mount monologues and scenes for an audience of their peers.
Emphasis is placed on helping students develop voice and clarity of message in their writing and heighten competence as dynamic communicators in small groups and public settings. We will explore various formats of verbal expression throughout the year. Our goal is for Farrell men to enhance their communicative skills, building confidence and poise, leading with a bold voice.